Banking & Finance for Students and Legal Professionals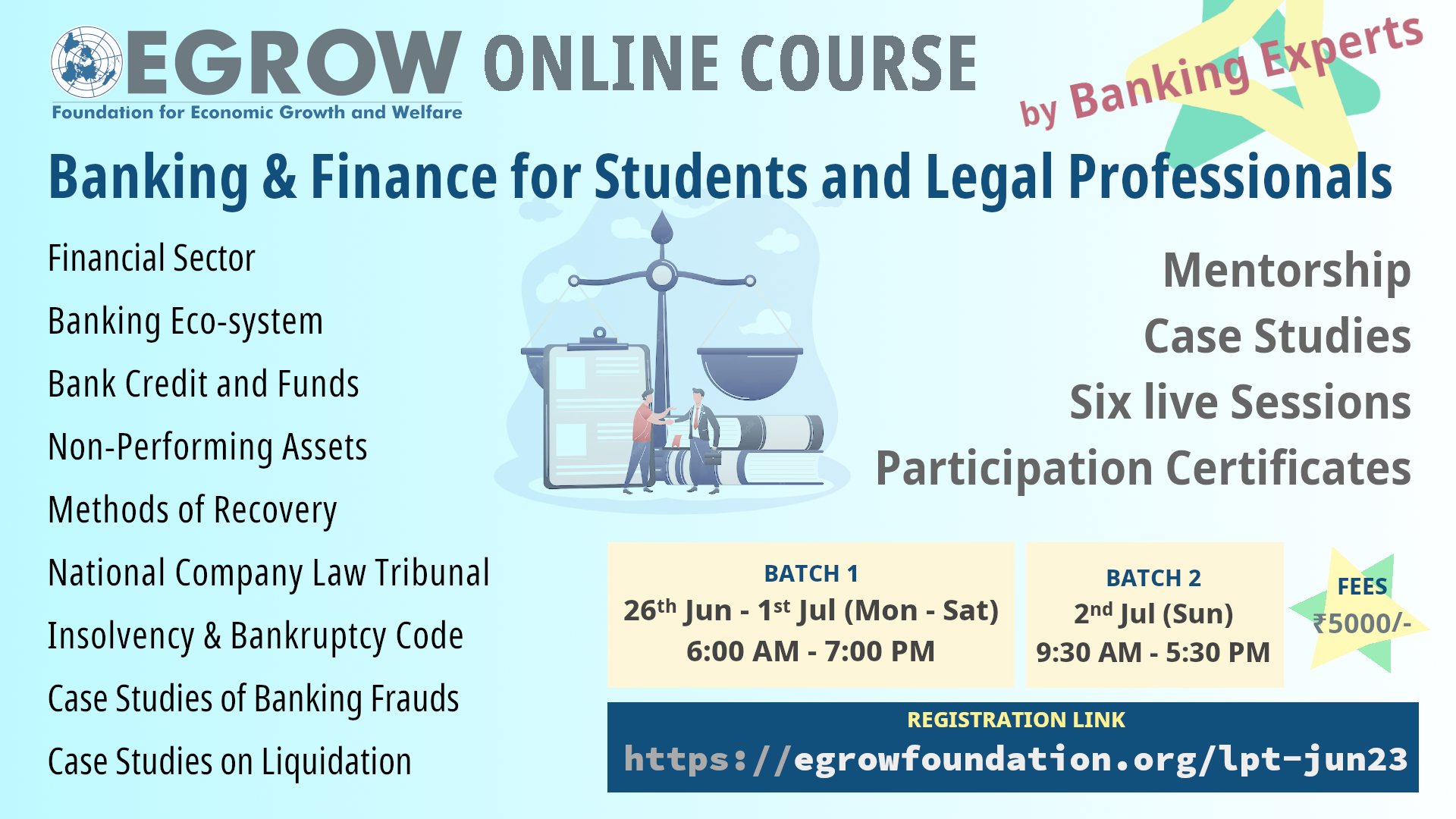 ---
Registration form for Weekday Training - Batch 1 (Closed)
Registration form for Sunday's Traning - Batch 2 (Closed)
---
Need for the Training Program:
The Legal Professionals in their day-to-day functioning usually encounter various issues inter alia involving basic concepts and terminologies pertaining to Economics, Banking & Finance and they find themselves not very well conversant with the technical terms which are in vogue
Recognizing this, the EGROW Foundation has proactively designed an online training program for the Legal Professionals which will provide an ideal platform to acquaint themselves with important basic issues relating to the Finance, Banking and Economics.
Key Program Contents:
Economic, Banking & Finance –Overall Assessment of the Financial Sector.
Banking Terminology, Negotiable Instrument Act, RBI Act, etc.
Understanding NPAs - Their Life Cycle Management, and Impact on Banks' Balance Sheets.
Legal and Non-Legal Methods of Recovery - Role of Civil Courts, DRT, NCLT, etc. and Best Practices Prevalent in Banks.
Regulatory Framework under IBC, NCLT
Types of Bank Credit, Charges, Methodology and Enforcement.
Fund and Non-Fund Credit Facilities – Terminology, Case Studies on Banking Frauds
Training Program Highlights
Objective: To orient the Legal professionals regarding contemporary Economic, Financial and Banking Developments & challenges ahead.
Methodology : The sessions would be mix of online lectures, case studies, success stories and Group Discussions.
Program Director: Dr. Shalini Singh Sharma, Professor & Head Banking Research, EGROW Foundation
Faculty : Experts from the respective field including IIM professors, Advocates, Insolvency professionals and General Managers of topmost Banks will cover different Topics.
Platform : Cisco Webex
Duration :

Batch 1: Daily (Six hours), 26th June - 1st June, 2023 (6:00 PM - 7:00 PM)
Batch 2: One Day (Six hours), 2nd July, 2023 (9:30 AM – 5:30 PM)

Contact Person: Dr. Shalini Singh Sharma
Mob: +91 – 9911641102
Email ID: shalini@egrowfoundation.org
Program fee* : Rs. 5,000 including 18% GST per participant.
Certificate : Every participant who successfully completes the training will be provided with a digital certificate of participation.