Bond Market Development in India: Perspectives on Modeling TSIR, Bond Prices & Bond Option Prices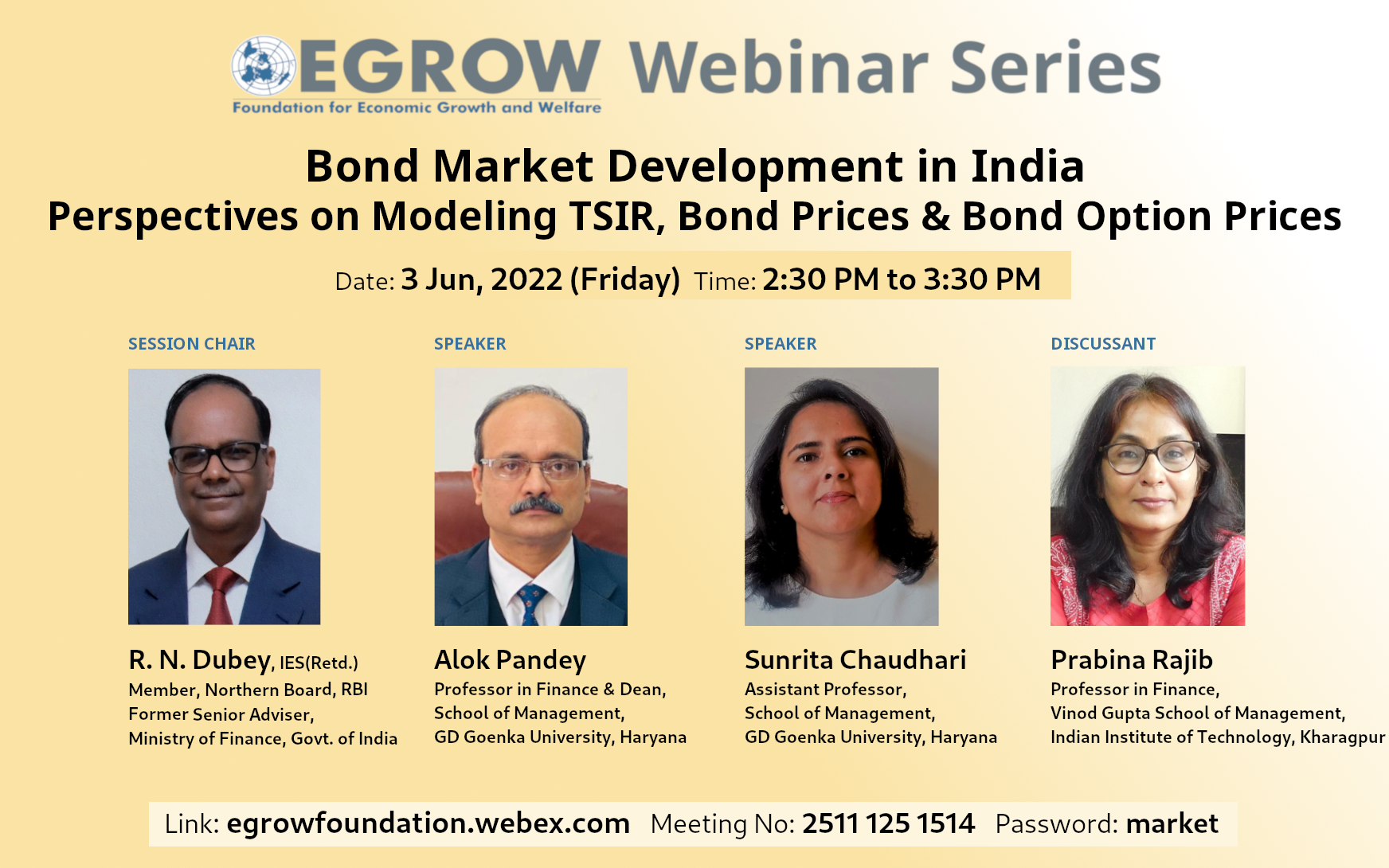 Meeting No: 2511 125 1514
Password: market
---
Abstract
While India boasts a world-class equity market and increasingly important bank assets, its bond market has not kept up. The government bond market remains illiquid. The corporate bond market, in addition, remains restrictive to participants and largely arbitrage-driven. Securitization, which once had the jump on other Asian markets, has failed to take off. To meet the needs of its firms and investors, the bond market must therefore evolve. This will mean creating new market sectors such as exchange-traded interest rate and foreign exchange derivatives contracts. It will mean relaxing exchange restrictions, easing investment mandates on contractual savings institutions, reforming the stamp duty tax, and revamping disclosure requirements for corporate public offers. This presentation reviews the development and outlook of the Indian bond market. It looks at the market participants—including life insurance, pension funds, mutual funds and foreign investors—and it discusses the importance to development of learning from the innovations and experiences of others
About the Speakers
​R. N. Dubey
Shri R. N. Dubey belongs to 1984 batch of Indian Economic Service. He has joined Department of Financial Services, Ministry of Finance w.e.f., 20.11.2015 as Economic Adviser.
Earlier he was working in the Ministry of Defence, since February, 2012, initially as Joint Secretary & Adviser to the Defence Minister till December, 2014 and thereafter as Joint Secretary (Training) and Chief Administrative Officer till 19.11.2015.
He has wide experience in public policy and its implementation having worked as Adviser in the Department of Economic Affairs, Ministry of Finance, Director in the Ministry of Defence and the Ministry of Labour, Deputy Commissioner in the Ministry of Agriculture, Deputy Secretary in the Ministry of Home Affairs and in the Ninth Finance Commission.
He has also worked with the World Bank, Washington under Voice Secondment Programme.
He has Master's Degree in Economics from Rajasthan University and M.Sc Degree in Management and Implementation of Development Projects from the University of Manchester Institute of Science and Technology (UMIST), UK.
Alok Pandey
Alok Pandey is the Professor in Finance & Dean-School of Management at GD Goenka University. An expert in the area of Corporate International Finance, Investments & Derivatives, he holds a Ph.D. in International Finance, from University of Lucknow & Master's Degree in Management from Banaras Hindu University, India. Prior to taking up this assignment served as Director of the Institute of Management Studies (IMS)-Ghaziabad. In addition, he is the Chairman of the Index Advisory Committee at the Multi Commodity Exchange of India Ltd. since November 2019 and has served as an Independent Director on the Board of CSC e-Governance Services of India Ltd. (Ministry of Electronics & Information Technology, Govt. of India) since June 2017. With over 25 years of experience he has also served as Professor at Lal Bahadur Shastri Institute of Management-Delhi (2013-2019), as Senior Associate Professor Institute of Management Technology-Ghaziabad (2002-2011), as Selection Grade Associate Professor at National Institute of Financial Management (Ministry of Finance, Govt. of India) and as the Director-Advance Studies at Institute of Cost & Works Accountants of India (Statutory Body under an Act of Parliament). He has to his credit seven books and his articles have appeared in ABDC listed & Scopus indexed journals, proceedings of conferences and in national newspapers. He has organized several major conferences in the area of finance and management and has conducted several faculty and management development programmes over the years.
He holds a Ph.D. (2002) in International Finance from University of Lucknow a Master's Degree in Management from Faculty of Management Studies, Banaras Hindu University (1995)
Sunrita Chaudhuri
Ms. Sunrita Chaudhuri is as an Assistant Professor in Finance and Economics at School of Management, GD Goenka University. Her areas of specialisation are International Money and Finance, Security Analysis and Portfolio Management, Derivatives, Stock Market Operations and Macroeconomic theory and Policy. She has NET certification from UGC.
Sunrita Chaudhuri also has rich industry experience in the financial services sector. She has worked in institutions like Industrial Investment Bank of India (IIBI), Apeejay Securities and IL&FS Investsmart. Her areas of work have been, Trading in debt securities, Private debt placements, ESOP Funding, Equity and Mutual Fund advisory.
Sunrita is a Masters in Economics, with specialisation in world economy, from JNU and MBA in Finance from IISWBM, University of Calcutta.
Currently she is pursuing a PhD in the area of Yield Curve Modelling and has published research articles in the subject area.
Prabina Rajib
Prof. Prabina Rajib is Professor in Finance at Vinod Gupta School of Management at IIT Kharagpur. She has more than two decade of academic experience and was Dean of Vinod Gupta School of Management from 2017 to 2021. Prof. Rajib has authored two books i.e., 1) Commodity Derivatives & Risk Management, 2) Stock Exchanges, Investments & Derivatives: Straight Answer to 250 Nagging Questions. Prof. Rajib's teaching & research interests include Financial Accounting, Corporate Finance, Financial Markets, Risk Management using Financial & Commodity Derivatives. Prof. Rajib MBA & Ph.D. from IIT Kharagpur & is also a Fulbright Scholar.
---
Certificate of Participants