Can gross fiscal deficit be inflationary?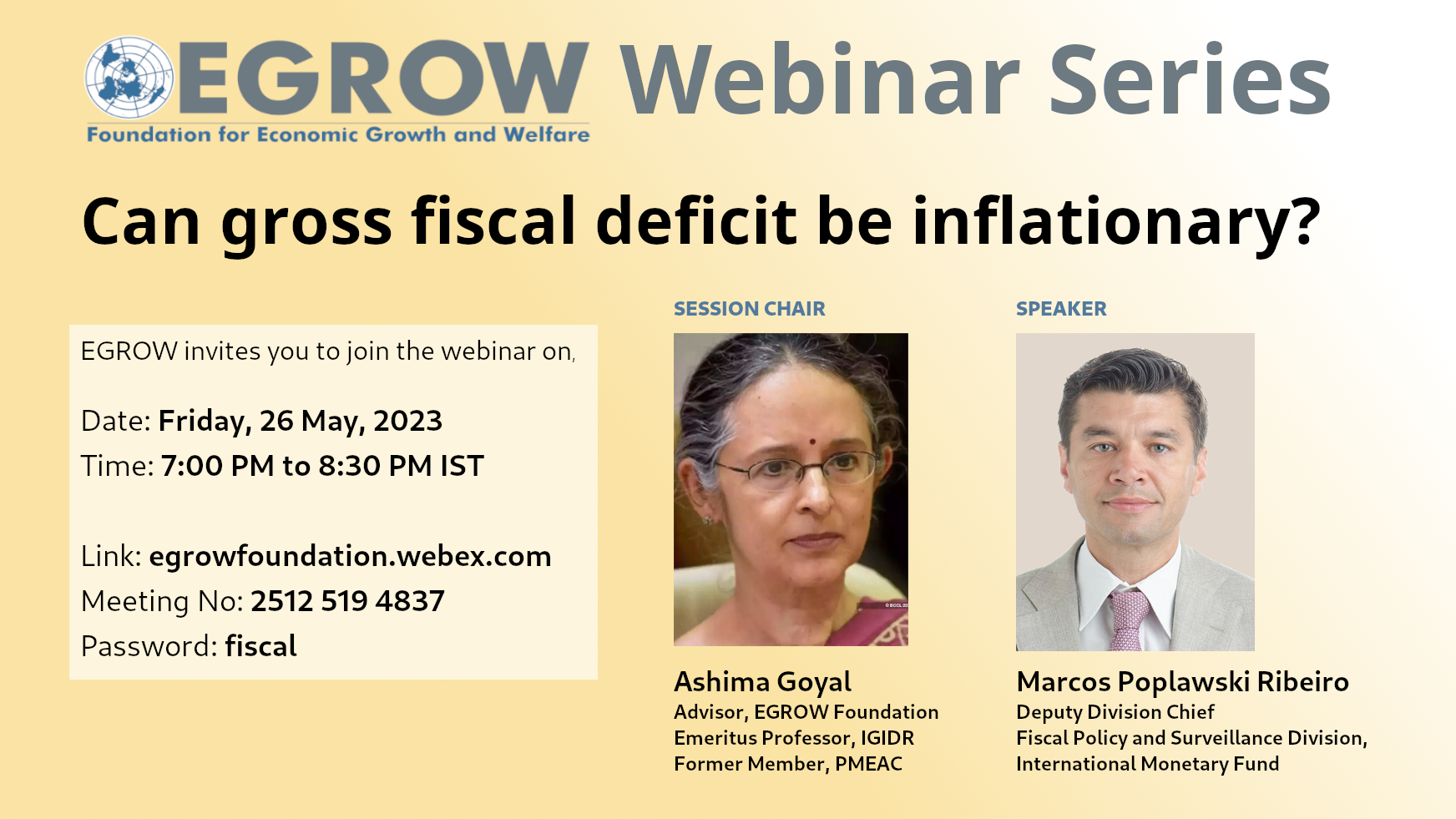 Meeting No: 2512 519 4837
Password: fiscal
---
Certificate of Participants
To recieve certificates, please register and attend
---
Abstract
The speaker finds that although surprise inflation may offer some breathing room for debt ratios, attempts to keep surprising bondholders have historically proven futile or harmful. Indexation practices vary considerably across countries. Hence, when reviewing them, policymakers need to balance protecting specific groups and avoiding making inflation more persistent. Redistribution effects of inflation, in turn, depend on three channels: consumption patterns, income, and wealth. The speaker also estimates the effect of fiscal policy on inflation, and shows that targeted fiscal policy can support monetary policy in lowering inflation while protecting those most affected by the cost-of-living crisis.
About the Speakers
Ashima Goyal
Ashima Goyal is Advisor at EGROW Foundation. She has provided consultancy to ADB, DEA, GDN, UNDP, RBI, UN ESCAP and WB. She is active in the Indian policy debate; and has served on several government committees, including the Economic Advisory Council Prime Minister and the RBI technical advisory committee for monetary policy, and boards of educational and of financial institutions. She is former Member of RBI's Monetary Policy Committee, an independent director at Edelweiss Financial Services and SBI General Insurance.
She edits a Routledge journal in macroeconomics and finance and contributes a monthly column to the Hindu Business Line. She was a visiting fellow at the Economic Growth Centre, Yale University, USA, and a Fulbright Senior Research Fellow at Claremont Graduate University, USA. Her research has received national and international awards. She won two best research awards at GDN meetings at Tokyo (2000) and Rio de Janeiro (2001), was selected as one of the four most powerful women in economics, a thought leader, by Business Today (2008); was the first Professor P.R. Brahmananda Memorial Research Grant Awardee for a study on History of Monetary Policy in India since Independence (2011), which was published by Springer in 2014; received the SKOCH Challenger Award for Economic Policy (2017); Hindu College OSA Distinguished Alumni Award and 20th FLO FICCI GR8 Beti Award for Excellence in Economics (2018).
Ashima Goyal is widely published in institutional and open economy macroeconomics, international finance and governance, with more than a hundred articles in national and international journals. She has also authored and edited a number of books including Macroeconomics and Markets in Developing and Emerging Economies (Routledge: UK. 2017) and A Concise Handbook of the Indian Economy in the 21st Century (OUP: India, 2019).
Marcos Poplawski Ribeiro
Marcos Poplawski-Ribeiro is Deputy Division Chief in the IMF's Fiscal Policy and Surveillance Division of the Fiscal Affairs Department. Mr. Poplawski-Ribeiro has previously held positions in the IMF's Research, Fiscal Affairs, and African Departments, including as the IMF's Resident Representative in Gabon from 2017–21. He has published in leading academic and policy-oriented journals on several topics in the fields of public finance, macroeconomics, international economics, and development. Mr. Poplawski-Ribeiro holds a Ph.D. in economics from the University of Amsterdam.