Covid-19 Pandemic and Economic Development: Emerging Public Policy Lessons for Indian Punjab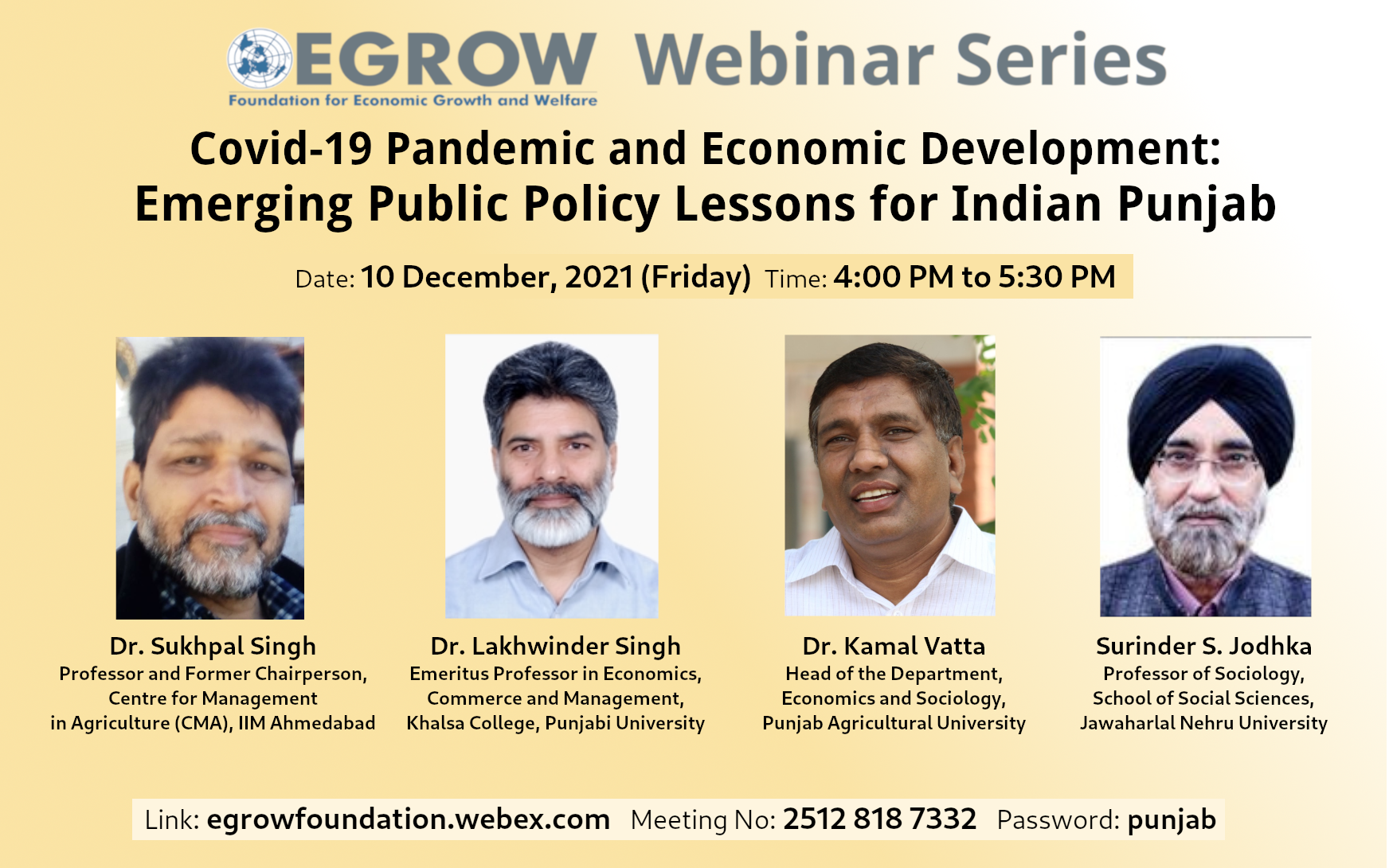 Meeting No: 2512 818 7332
Password: punjab
---
Abstract
This presentation offers a comprehensive analysis of the pre-Covid-19 and post-Covid-19 situation and public policy measures needed to revive the economy in the light of the recent initiatives by the state government, including a committee to suggest post-Covid-19 revival strategy. This collection of essays by specialized author/s in her/his/their area of research examines the impact of Covid-19 in the larger context of economic and developmental context of Punjab, ranging from basic developmental transformation analysis to the specific policy issues in each sector and policy domain, including the larger developmental crisis in the context of the regional economy and society of Punjab. The sectors analysed include: agriculture including dairy sector and agricultural markets, industry, services, education, health, besides fiscal, banking, diaspora, gender, governance, and sustainability challenges the state economy faces. It dwells on sector specific issues as well as ways forward for betterment of livelihoods of those engaged, especially farmers and industrial and service sector informal workers.
About the speaker
Dr. Lakhwinder Singh
Dr. Lakhwinder Singh is Emeritus Professor in Economics, Commerce and Management, Khalsa College, Punjabi University, Patiala. Prior to this, Dr. Singh has been Professor and Head, Department of Economics, Punjabi University, Patiala where he has founded Centre for Development Economics and Innovation Studies (CDEIS). He is the founding Editor, Millennial Asia-An International Journal of Asian Studies published by SAGE that is indexed in SCOPUS and Clarivate Analytics (ESCI). He has contributed nine books and more than hundred articles in various reputed journals and leading national dailies. He has authored Agrarian Distress and Farmer Suicides in North India published by Routledge 2020. Professor Singh is Coordinator of Indialics-a Chapter of Globelics in India. He has held several visiting positions including Yale University, USA and Seoul National University, South Korea. His specialization is Development Economics, Innovation Systems, Regional Economics, Area Studies and Punjab Economy. He has a teaching experience of more than 32 years and successfully supervised 20 Ph.D Students.
Dr. Sukhpal Singh
Dr. Sukhpal Singh is Professor and Former Chairperson, Centre for Management in Agriculture (CMA), Indian Institute of Management (IIM), Ahmedabad, Gujarat, Former Director General, Centre for Research in Rural and Industrial Development (CRRID) Chandigarh, and Former Professor and Head, Agricultural Economic Research Unit (AERU), Institute of Economic Growth (IEG), New Delhi.

He has been conferred the title of the Fellow of the Indian Society of Agricultural Economics for his contributions to the discipline and the Society in 2018. He is founding co-editor, Millennial Asia-an intl. journal of Asian studies.

He has 12 books, the latest being: Institutional innovations in the delivery of farm services in India (2018, Springer), and more than 150 research papers in international/national journals/edited books, besides 70 articles in newspapers and magazines. He is on the boards of many non-profits working in the agri and rural space.

He was a visiting fellow at the IDS, Sussex (the UK), Chulalongkorn University, Bangkok (Thailand), the University of Manchester (the UK); and the Copenhagen Business School (Denmark), and a member of various committees/working groups of the Planning Commission of India/NITI Aayog, the National Development Council, the Food Safety Standards Authority of India, and the EC of the Mission on Integrated Development of Horticulture (MIDH). He was a member of the standing working group on agri and allied sectors of Chhattisgarh State Planning Commission, and the Committee for FPO policy for Punjab and Committee on MSP and other mechanisms for farmers in Chhattisgarh.
He has been Visiting Professor, at Centre for Development Studies, Thiruvananthapuram, Kerala and at Punjabi University Patiala Punjab, both during 2018-19.
He has delivered the following memorial lectures:
S. Balbir Singh Memorial Lecture "Understanding Agribusiness Management with special reference to Punjab", at the KCL- IMT, Jalandhar on March 16, 2015;
Prof. Parathasarthi memorial lecture 'Land and Livelihoods in Rural India: Does farm size matter?', at the 32nd annual conf of the ISAM, at ISEC Bangalore, on Nov. 22,, 2018;
Prof. Surjit Singh memorial lecture on 'Examining competitiveness of Indian Agribusiness' at the intl. conf on Asia's dev exp in the 21st century, at Punjabi Univ Patiala on the occasion of 10 years of Millennial Asia jrl. during June 11, 2019; and
Prof. V S Vyas Memorial Lecture "Contextualising the 2020 Union Agricultural Market Acts in Farmer Income (Policy) Debate: A smallholder perspective at IDSJ on 21st of Oct, 2021.
Dr. Kamal Vatta
Dr. Kamal Vatta is the Head of the Department of Economics and Sociology, Punjab Agricultural University, Ludhiana on April 05, 2019. A gold medallist in Ph.D (Agri. Economics) from Punjab Agricultural University, he also topped in the advanced diploma in agricultural research for development from International Center for Development Oriented Research in Agriculture, The Netherlands in 2002. He also underwent advanced training in quantitative economics at Columbia University, New York, USA. He has worked extensively on natural resource management, especially groundwater, agricultural policy, integrated rural development and non-farm sector in India. He has more than 100 publications of international and national repute and has also participated in more than 100 international and national conferences, seminars, workshops, etc.
Surinder S. Jodhka
Surinder S. Jodhka is Professor of Sociology at the Jawaharlal Nehru University, New Delhi. He researches on different dimensions of social inequalities – old and new – and the processes of their reproduction. Empirical focus of his work has been the dynamics of caste; agrarian social change and contemporary rural India; and the political sociology community identities. His recent publications include India's Villages in the 21st Century: Revisits and Revisions (edited with Edward Simpson 2019 OUP); Mapping the Elite: Power, Priviledge and Inequality (edited with Jules Naudet. OUP 2019). A Handbook of Rural India. 2018 Orient Blackswan (ed.). Contested Hierarchies: Caste and Power in 21st Century. Orient Blackswan (co-edited with James Manor) 2018. Inequality in Capitalist Societies. Routledge (co-authored with Boike Rehbien and Jesse Souza) 2018. The Indian Middle-Class OUP 2016 (co-authored with Aseem Prakash); Caste in Contemporary India Routledge 2015; Caste OUP 2012. He is among the recipients of the ICSSR-Amartya Sen Award for Distinguished Social Scientists.
---
Certificate of Participants