Dancing towards the $5T economy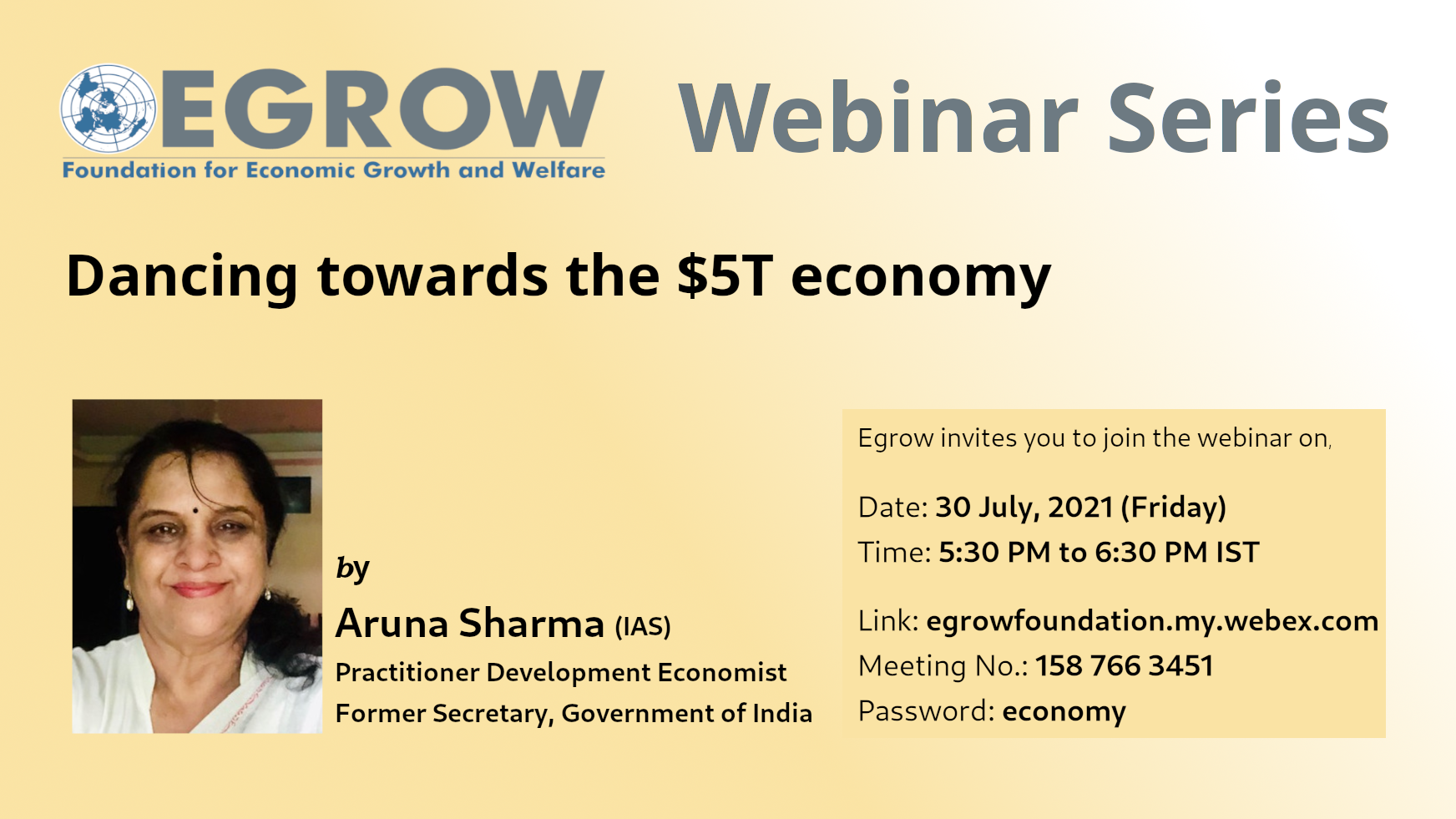 Meeting No: 158 766 3451
Password: economy
---
Abstract
India is the world's largest and most vigorous democracy. Today's new economic balance of power has given the country a chance to reclaim much of its earlier glory when it was one of the world's richest civilizations. In the current context, India's fundamentally vital indicators reflect the country's potential as an economic powerhouse. As Indians, we have proved ourselves in almost every sphere within and outside our country. We have all the ingredients of a resilient society, backed by strong societal support but not social security, a conservative economic system which is to an extent recession-proof but not transparent, and a great talent pool but with limited opportunities for nurturing those skills. What we lack is the right approach to policy making and the development of an ecosystem to harness our immense potential.
The Indian economy seems to have lost its way before realising its full potential. Multiple commentators have said that the 21st century will be an Indian century, but the country is currently facing one of its worst economic crises since independence. Key macroeconomic Indicators such as Gross Domestic Product (GDP) growth, employment, and industrial output are pointing towards a deep rooted malaise in the economy. The situation warrants a paradigm. shift in policy making that will entail evolving a "holistic approach to policy making by breaking multiple silos". Unfortunately, the attempts to revive economic growth have so far relied on patchwork efforts, not on a systemic thought process.
The presentation analyze ten sectors for shift to holistic approach targeting to prosperity (Samruddhi) for all, the holistic approach to data base, Mining, Food Secruity, Agriculture, Telecom, Banking, Health and MSME sector and also the shift needed in international body like UN.
About the Speaker
Dr Aruna Sharma an Indian Administrative Officer of 1982 batch Madhya Pradesh Cadre retired after her work in Steel and Information Technology in government of India. She has always focused to have holistic approach and establish system in all her postings for ensuring sustainable quality outcomes. She has two books reaching the Last Beneficiary: Resource Convergence Mantra Model (2008) and Impact of Recourse Convergence in Policy Making, Program Design and Execution (2014) released by UNDP. FAO has also published her work on food security. Her latest work is the book U@Game Changer for Inclusive Growth for public representatives.
At State and Center she has visualized, worked and implemented successful software's like SAMAGRA ( a household wise common data base) used by all the individual and family benefit schemes, now implemented in 8 states, Panch Parmeshwar has made entire working of Panchayat, Block and district for all works executed cash less. This graduated to Priya Soft. The soft ware is real time data of all the receipts and expenditure by the Panchayat irrespective of source of funding. Besides; all receipts and payments are cashless. It generates all the statutory 8 reports required by CAG in auto mode. The Panchayat only has to enter the project estimates, cash book and upload bills and photographs of status of work. It is on line on web and any Panchayat can be viewed and monitored. The financial inclusion model involving all kinds of financial institutions to ensure access in 5km radius was developed along with popularizing RuPay card. Besides, envisaged and by coordination developed to have common National Scholarship portal and GeM portal for procurement to list few.
She was Secretary Information Technology and later Secretary Steel in government of India. She was instrumental to bring in holistic approach has visualized and drafted the National Steel Policy and also clear policy on preference to local manufacture that has enabled complete revival of sector. The amendment to GFR rules by adding the life cycle cost has been the game changer. She was also Director General Doordarshan where she gave world class coverage to Common Wealth Games 2010 and that sent bench mark. Doordarshan channels went up in TRP and revenue generation in her tenure. Her focus of work is also in area of Water Security and enhancing local jobs. She is in 5 member High Level RBI committee on Deepening of Digital Payments constituted by Reserve Bank of India- a report that had immediate execution.
Access to preventive health care has been the focus when she worked as Secretary Health and Family Welfare. The focus has been on holistic care in terms of drinking water, sanitation, preventive hygiene and vaccination and access to inpatient. She has been member of National Knowledge Commission on health care and education. Her doctoral work is on psycho-barriers in access to public health care.
She is Fellow with University of Bath in UK, and working on accelerating the success and sustainability of SDGs by resorting to common household data base. She is alumni of Harvard Kennedy School. Her forte is development, core sectors and environment issues. She regularly writes for Financial Express, Economic Times and CNBC 18 .
She is independent director with MFin, Welspun Infra and Jindal Steel and Power Ltd, besides lot of pro bono work in field of development, core sector and environment.
---
Certificate of Participants