Digital India: Artificial Intelligence & Machine Learning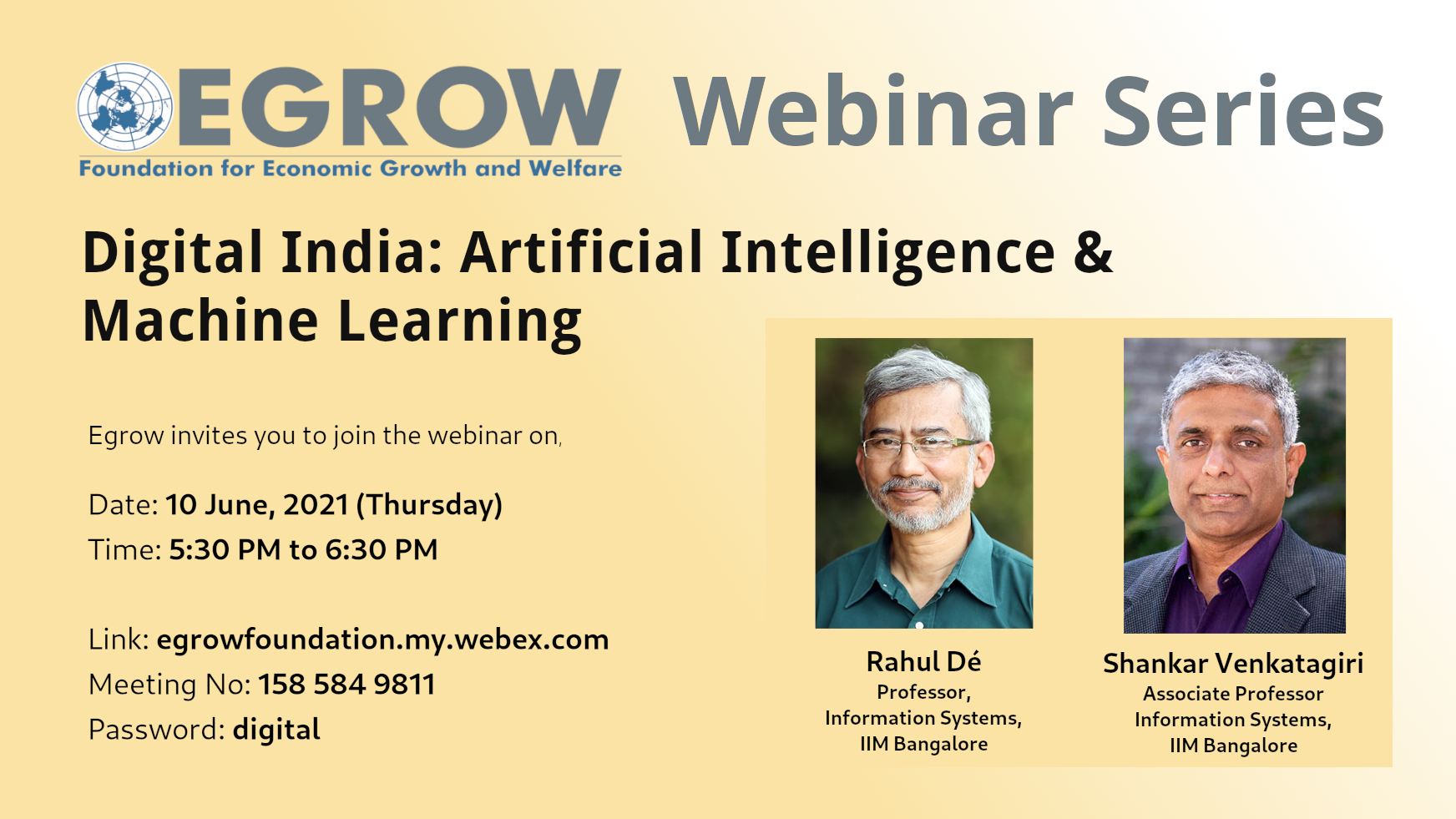 Meeting No: 158 584 9811
Password: digital
---
Abstract
The act of bringing in Artificial Intelligence will have huge effects in India. It will influence the people, the companies and the government. Therefore, the organisations will have to take that call on a case by case basis. This is because everything, right from workplace relationships to the way a problem is solved will change. Moreover, the outcomes will influence the thoughts of the decision makers. The presenters will critically examine Artificial Intelligence and Machine Learning for the development of India.
About the Speakers
Rahul Dé
Specializing in Artificial Intelligence and Information Systems , Prof. Rahul De' has been teaching at IIM Bangalore since 2002. He also served as the Hewlett-Packard Chair Professor in ICT for Sustainable Economic Development from 2004-18. Having over 30 years of teaching experience, his primary research interests include AI Ethics, e-Government systems, Open Source, Digital Payments, Tele-medicine, and ICT for Development. Prof. De has also acted as a visiting faculty in universities across US, Spain, France, Sweden, Norway and Italy. With the advent of online teaching platforms, Mr De has also offered courses on edX and Swayam.
Professor Dé has published four books, one textbook in Information Systems, and over 75 peer-reviewed articles in scientific journals, books, and conference proceedings.In December 2020, Prof De' was recognized as one of the top ten AI researchers in India by Analytics India magazine. His other achievements include: recognized as the "Best Professor in Information Systems award at Asia's Best B-School Awards in Singapore"; received Outstanding Paper Award at the Eighth International Conference on Electronic Government, EGOV 2009, at Linz, Austria; awarded the "Rene Wagenaar Outstanding Paper Award at the Sixth International Conference on Electronic Government, EGOV 2007", in Regensburg, Germany.
He continues to serve on the Board of IIM Bangalore, IDRBT, Hyderabad, and Software Freedom Law Centre, India. He is also the editorial board member of journals on Information & Management, Government Information Quarterly, Digital Government: Research and Practice, International Journal of Information Management, and IIMB Review
Shankar Venkatagiri
Prof. Shankar Venkatagiri, a technologist at heart, has been committed to spreading digital learnings in India. To achieve this goal, Prof. Venkatagiri has been developing cases based on IT scenarios in India, some of which are listed on Harvard Business Press. His research interest lies in agile methods, cloud computing, open source software and network analysis.
He has been serving as the member of the Information Systems area at IIM Bangalore since 2002. Prior to this, he worked as a consultant with Sapient Corporation, Cambridge and Reuters Consulting in Boston and also developed solutions at an MIT start-up called Curl Corporation.
He has also anchored aTV show on high school mathematics on Topper TV. More recently, his MOOCs on statistics have featured on edX.
---
Certificate of Participants