Economic Growth and Employment Linkages in North Eastern India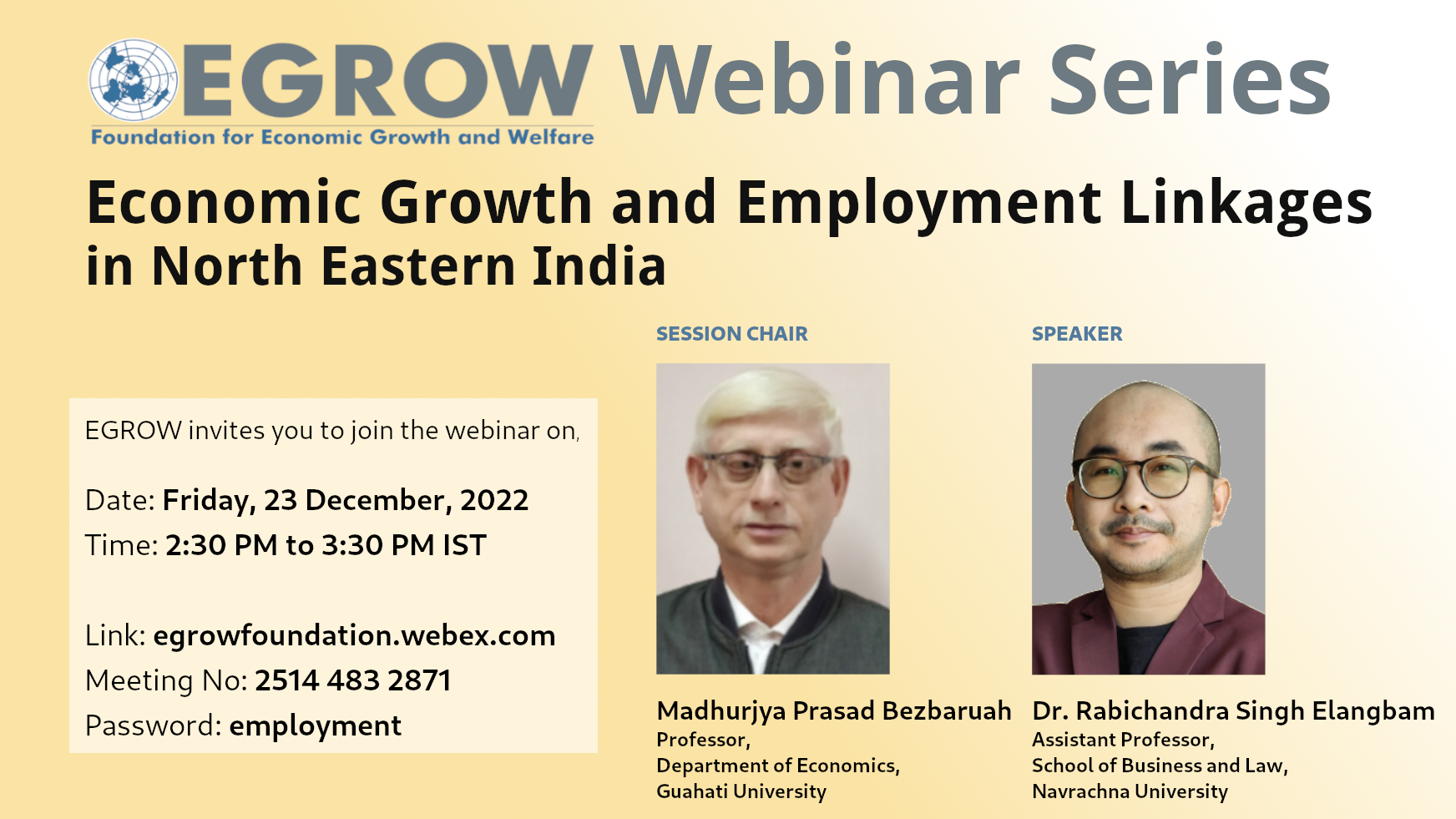 Meeting No: 2514 483 2871
Password: employment
---
Abstract
The exact nature of the economic problems plaguing india's Northeastern region which has attracted lots of attention subsequent to India's Act East policy. There is a feeling that the region has remained backward despite immense natural resources due to our inability to identify the appropriate developmental paradigm which would help manifest its potential That will be made easier when the dynamics of the region is property understood.
The speaker will present the economic policies towards the region since independence and examine its impact on North East's employment and GDP.
About the Speakers
Madhurjya Prasad Bezbaruah
Madhurjya Prasad Bezbaruah is the Professor and Head, Department of Economics, Gauhati University. He has 5 books, 50 papers in journals, 28 articles in edited volumes. He has also held several positions till date viz Member of ICSSR from 2017-2020,Director in the board of Assam Power Distribution Company Limited, Member of the RBI Committee on Financial Sector Plan for NE Region chaired by Usha Thorat, Deputy Governor, Reserve Bank of India, Director in the Board of Directors of the Assam Industrial Development Corporation from 2001 to 2005, Member of the Advisory Committee for Preparation of Human Development Report, Assam 2013. He is also an Expert, EGROW Foundation. He has completed his Masters in Economics from the Delhi School of Economics and Doctrate of Philosophy from Gauhati University.
Dr. Rabichandra Singh Elangbam
Dr. Rabichandra Singh Elangbam (1987-) graduated in BA Hons (Economics) from Zakir Husain Delhi College, Delhi University. He obtained his postgraduate M.A (Economics) and Ph.D. from the Maharaja Sayajirao University of Baroda, Vadodara. He has presented several papers at international and national seminars, including the University of Mandalay, Myanmar, and Pegaso Telematic University, Palermo, Italy Currently, he is an Assistant Professor in the School of Business and Law, Navrachna University, Vadodara. He has specialised in quantitative techniques, econometrics, and labour economics. He takes a keen interest in matters associated with the economy of the Northeastern region of India.
---
Certificate of Participants