Economics, Finance & Banking for Legal Professionals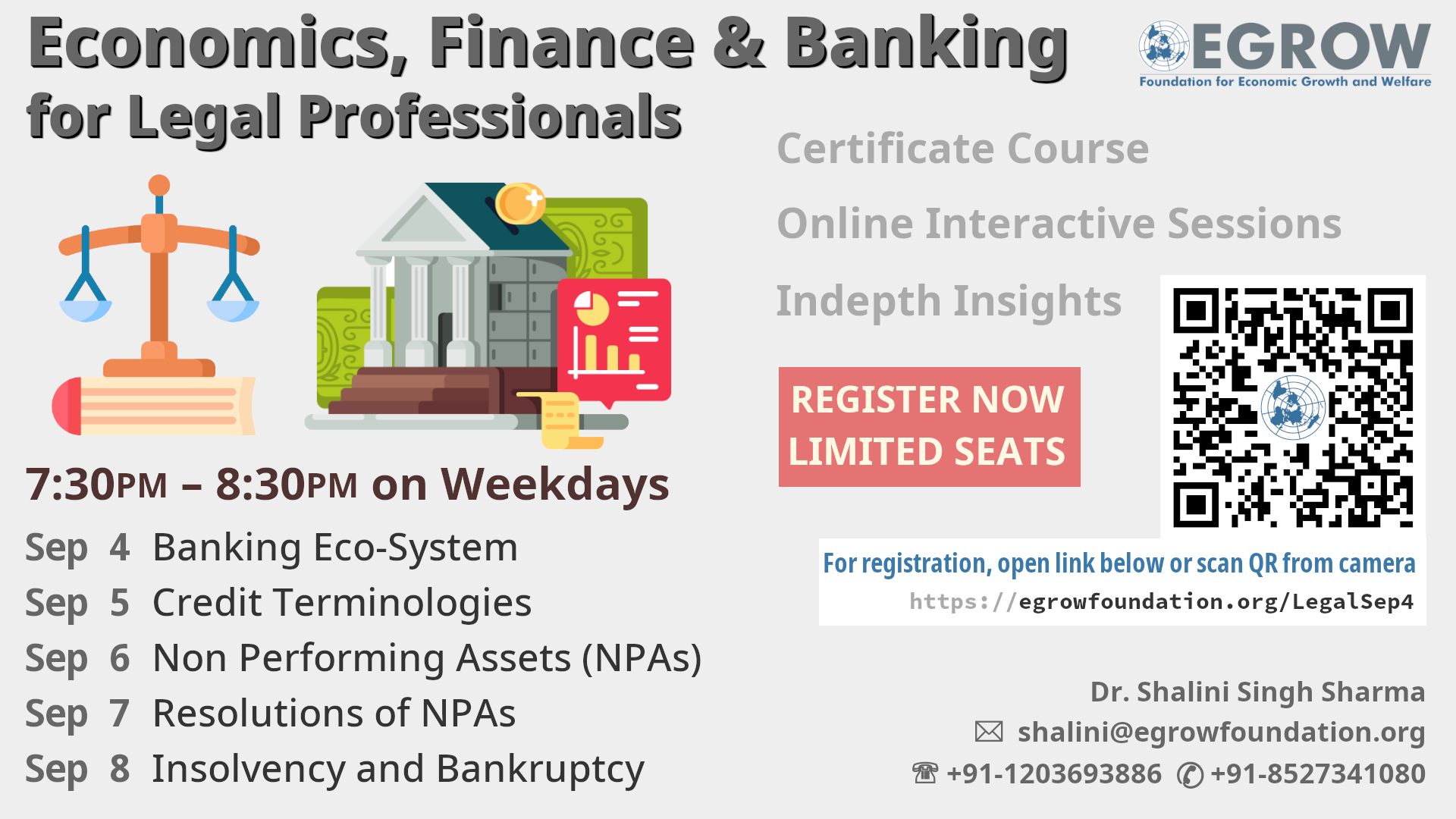 ---
---
Need for the Course:
Exciting times are upon us as our country experiences exponential growth and an increase in commerce. With this growth comes the emergence of complex & intricate legal issues.
The EGROW Foundation is starting a specialized banking & finance course tailored exclusively for legal professionals, which will empower them to advocate the most appropriate courses of action for their clients in the new economic landscape.
The aim is to familiarise legal professionals with the economic context in which business is conducted, and the reasons as to why sometimes stress arises.
Financial divorce may not be the only solution. Financial matters, like emotional matters, need to be contextualized before advocating any course of action.
Key Program Contents:
Introduction and Banking Eco-System: RBI Act and Negotiable Instruments Act, Banking Law & Practice
Credit Terminologies: Types of Bank Credit, Assessment of Fund & Non-Fund Based Credit Facilities
Introduction & Life Cycle of NPAs: IRAC Norms, Provisioning and Profit Maximization
Resolutions of NPAs - Internal Methodology of the Banks: Restructuring, One-time Settlements, DRT, IBC, Lok Adalat, etc
Concepts, Law & Regulatory Framework under IBC: CIRP, Liquidation with Live Case Studies
Course Highlights
Objective: To orient the Legal professionals regarding contemporary Economic, Financial and Banking Developments & challenges ahead.
Methodology : The sessions would be mix of online lectures, case studies, success stories and Group Discussions.
Eligibility : Legal Professionals
Program Director: Dr. Shalini Singh Sharma, Professor & Head Banking Research, EGROW Foundation
Faculty : The resource persons are seasoned professionals of the banking domain with decades of knowledge in the field and also practising advocates in NCLT and legal institutions
Platform : Cisco Webex
Duration : September 4 to September 8, 2023, (7:30 PM - 8:30 PM),
Contact Person: Dr. Shalini Singh Sharma
Phone: +91 120 3693 886 (Mon-Sat, 11am-6:00pm)
Mobile: +91 8527 341 080
Email ID: shalini@egrowfoundation.org
Program fee : Rs. 2,500 (inclusive of 18% GST) per participant.
Certificate : Every participant who successfully completes the training will be provided with a digital certificate of participation.