Effective Role of Board and CEOs of NBFCs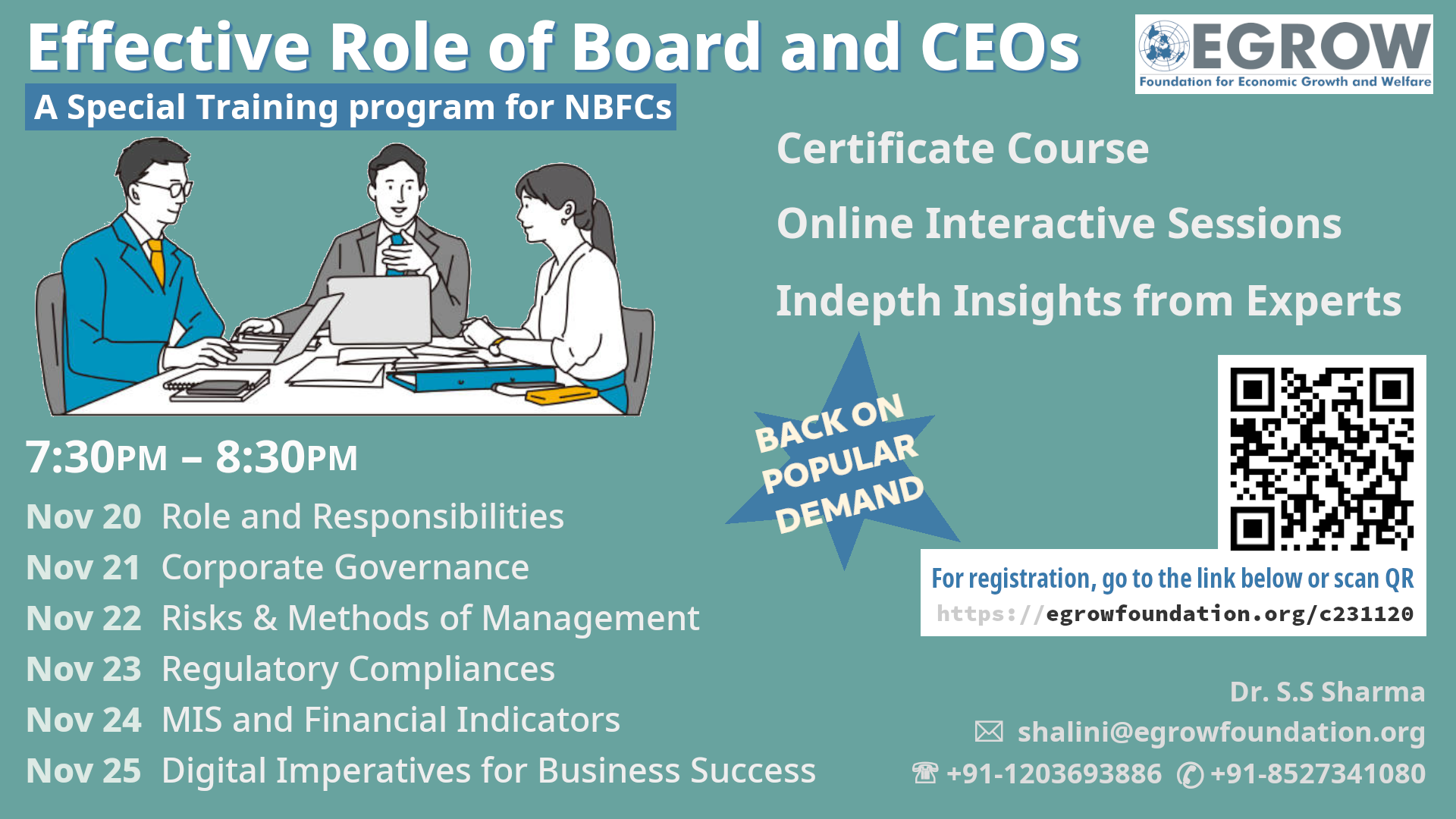 ---
---
Need for the Training Program:
In the ever-evolving landscape of today's dynamic India, the roles of Board Members and CEOs are continuously adapting to meet changing regulations and industry demands. To ensure that management and professionals in the NBFC sector remain well-informed and up-to-date, EGROW Foundation is pleased to offer a comprehensive online training program spanning six hours.
Key Program Contents:
Role and responsibilities of directors
Corporate Governance – functioning of board and board level committees
Regulatory Compliances
Risks & Methods of Management
MIS and Financial Indicators - Asset quality
Digital Imperatives for Business Success
Case Studies (early warning signals, laxed governance)
Training Program Highlights
Methodology : This program employs a blended approach, featuring a combination of online lectures, case studies, and real-world success stories.
Eligibility : The program is designed for Board Members and CEOs of NBFCs.
Program Director: Dr. Shalini Singh Sharma, Professor & Head of Banking Research at EGROW Foundation, will lead this program.
Faculty : Renowned experts from various fields, including former IIM faculty, former RBI officials, NBFC professionals, and academic professors, will cover a wide range of topics.
Platform : The training will be conducted on the Cisco Webex platform.
Duration : The program will run from November 20 to November 25, 2023, with sessions scheduled from 7:30 PM to 8:30 PM.
Contact Person: Dr. S.S. Sharma
Phone: +91 120 3693 886 (Mon-Sat, 10:30am-6:00pm)
Mobile: +91 8527 341 080
Email ID: shalini@egrowfoundation.org
Certificate : Every participant who successfully completes the training will be provided with a digital certificate of participation.
Program fee : Rs. 12,000 (inclusive of 18% GST) per participant.
Payment method: UPI / NEFT / Demand Draft in favour of "Foundation for Economic Growth and Welfare" payable at Noida. Details in Registration form.
---