Empowering Women through Education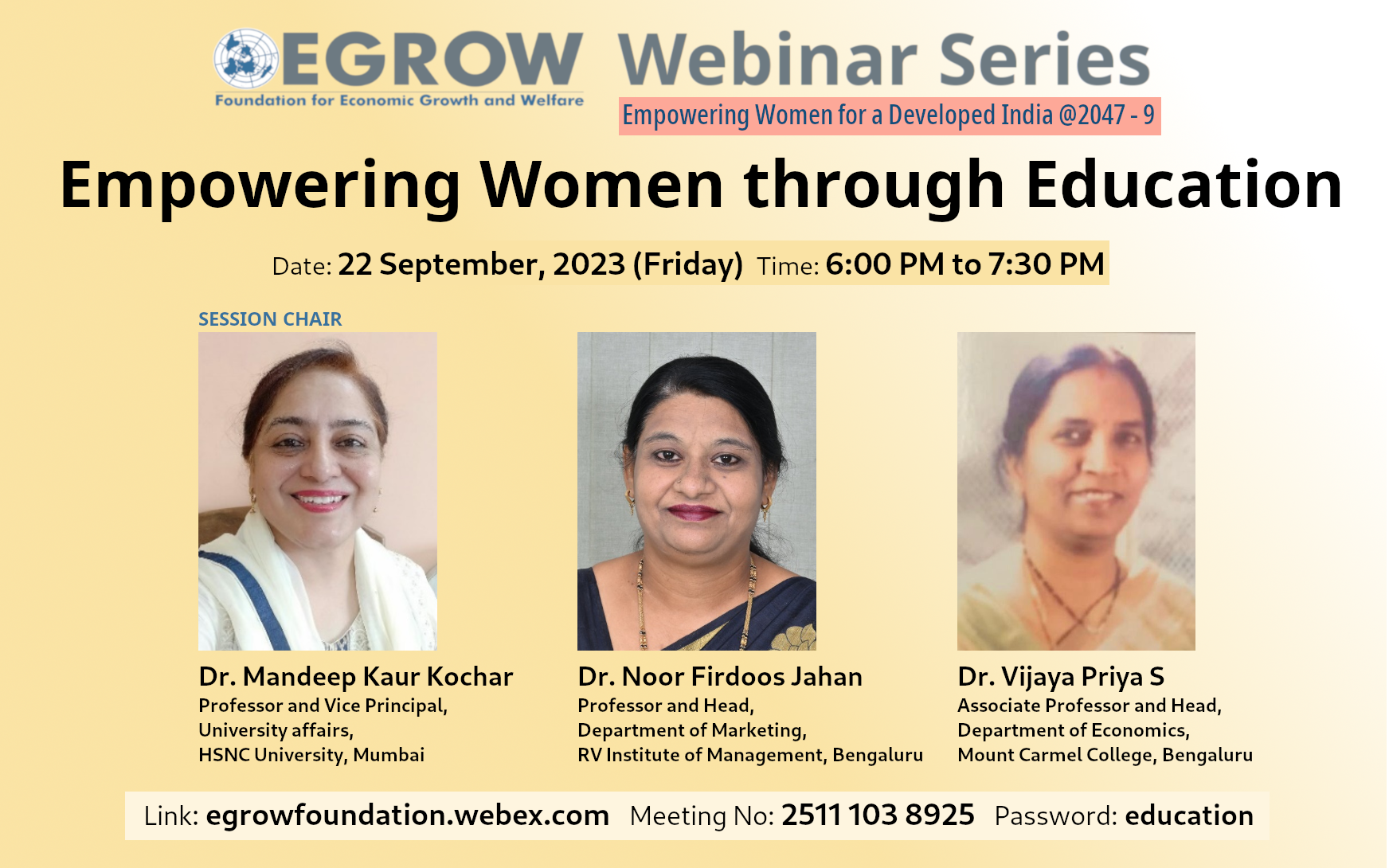 Meeting No: 2511 103 8925
Password: education
---
Certificate of Participants
To recieve certificates, please register and attend
---
About the Speakers
Dr. Mandeep Kaur Kochar
Prof. (Dr.) Mandeep Kaur Kochar began her professional career in 1995 from Bombay Teachers' Training College, Colaba Mumbai. At present she is Professor and is designated as Vice Principal(University affairs) HSNC University Mumbai. She is the Co-Ordinator of "Early Childhood Education Programme" at BTTC since 2004.
She is recognized Research Guide for Ph.D with "Pacific Academy of Higher Education & Research" Pacific University' Udaipur, University of Mumbai & HSNC University. Four students have successfully completed their PhD under her able guidance. The Subjects Taught by her are Educational Psychology, Teaching of Economics & Commerce, Inclusive Education, Economics of Education And Educational Research. She conducts various seminars & workshops for Preservice and In-Service teachers during 'Refresher Courses' at school and University level on 'Creativity in Education', 'Effective Teaching', 'Mind Management', 'Constructivism in Classroom, 'Multi-Tasking A Myth or Reality'. She has authored Three Reference Books and various research papers in the International, National Educational Journals and regional Newspapers. She is on the Editorial Board for educational journals and magazines and Reviewer for PhD Thesis at interversity level.
Keeping with her personal interest and passion to contribute to the Sikh Community, she is the divinity teacher to the Sikh students of schools & colleges associated with 'Guru Gobind Singh Study Circle' & Khalsa institutes for Sikh literature and 'GurBani Recitation'. Dr.Mandeep Kaur Kochar lives principle of Guru Nanak's philosophy " EARN with DIGNITY & SERVE with Compassion."
Dr. Noor Firdoos Jahan
Dr. Noor Firdoos Jahan, An academician with 25 years of experience in the capacity of Professor, Principal and Head of post graduate degree in Business Administration in the reputed colleges of Bangalore, is currently the professor and Head of the Department of Marketing and Research center at R V Institute of Management, Bangalore.
Dr. Noor has authored books on the diversified areas of marketing and management. She has published more than 50 papers both in the national and international refereed journals. She has participated as resource person and has delivered lectures in many conferences and seminars. She has also conducted several workshops for teachers and students in the areas of Marketing and Management, Outcome Based Education and on NAAC and NBA accreditation processes etc. She is recognized as guide for Ph.D in Management at Mysore University and has successfully guided seven scholars and all of them have been awarded Ph.D. degree under her able guidance.
Dr. Noor is appointed as "Margdarshak" under the scheme of "Margdarshan Initiative" by AICTE to help the mapped Margdarshak Beneficiary Institutes (MDBIs) for improving the required quality parameters required to obtain accreditation from National Board of Accreditation (NBA). She is also nominated as Innovation Ambassador for IPR by AICTE/MHRD's Innovation cell. She is nominated and serving as Tourism, Hospitality & Facility Expert Committee of BCIC for the year 2021-2022 and was Nominated and served as member of International Business Expert committee of BCIC for the year 2020-21. Presently serving as a member of Karnataka Infra & Urban Mobility panel of CII, She is also serving as advisory board member of several NGOs and guiding them in their activities. She have also launched her YouTube channel @drnoorfirdoos1876, which aims at inculcating management skills among people, which is well appreciated by audience and have got good response. Recently she is awarded with Dr. APJ Abdul Kalam Educational Leadership Excellence award 2023. She has also received 'MTC Global Distinguished Teacher Award, Management 2021 awarded by MTC Global for her dedicated service in the field of education
Dr. Noor Firdoos Jahan holds a post graduate degree in Business Administration from Bangalore University in the area of marketing, Ph.D. in Management from Sri Padmavati Mahila Visvavidyalayam, Tirupati and has qualified in UGC-NET. Her area of research is Marketing and Retailing.
Dr. Vijaya Priya S
Dr. Vijaya Priya S is Presently working as Faculty, Dept. of Economics at Mount Carmel College Autonomous and Currently Heading the Dept of Economics, MCC. She is a member of the Board of Examiners at Department of Economics, Christ University, St. Joseph's University, School of Economics and University of Hyderabad. She is also external member on the Faculty Selection Board, Jain University.
Dr Vijaya Priya S has 17 years Teaching experience both at UG & PG levels. She has authored of 11 research papers in National / International journals and 3 chapters in Books.
Dr. Vijaya Priya S hold a Ph.D. in Economics, M.Phil, M.A, Masters in Business Economics, Bachelors in Economics.