Financial Institutions and Markets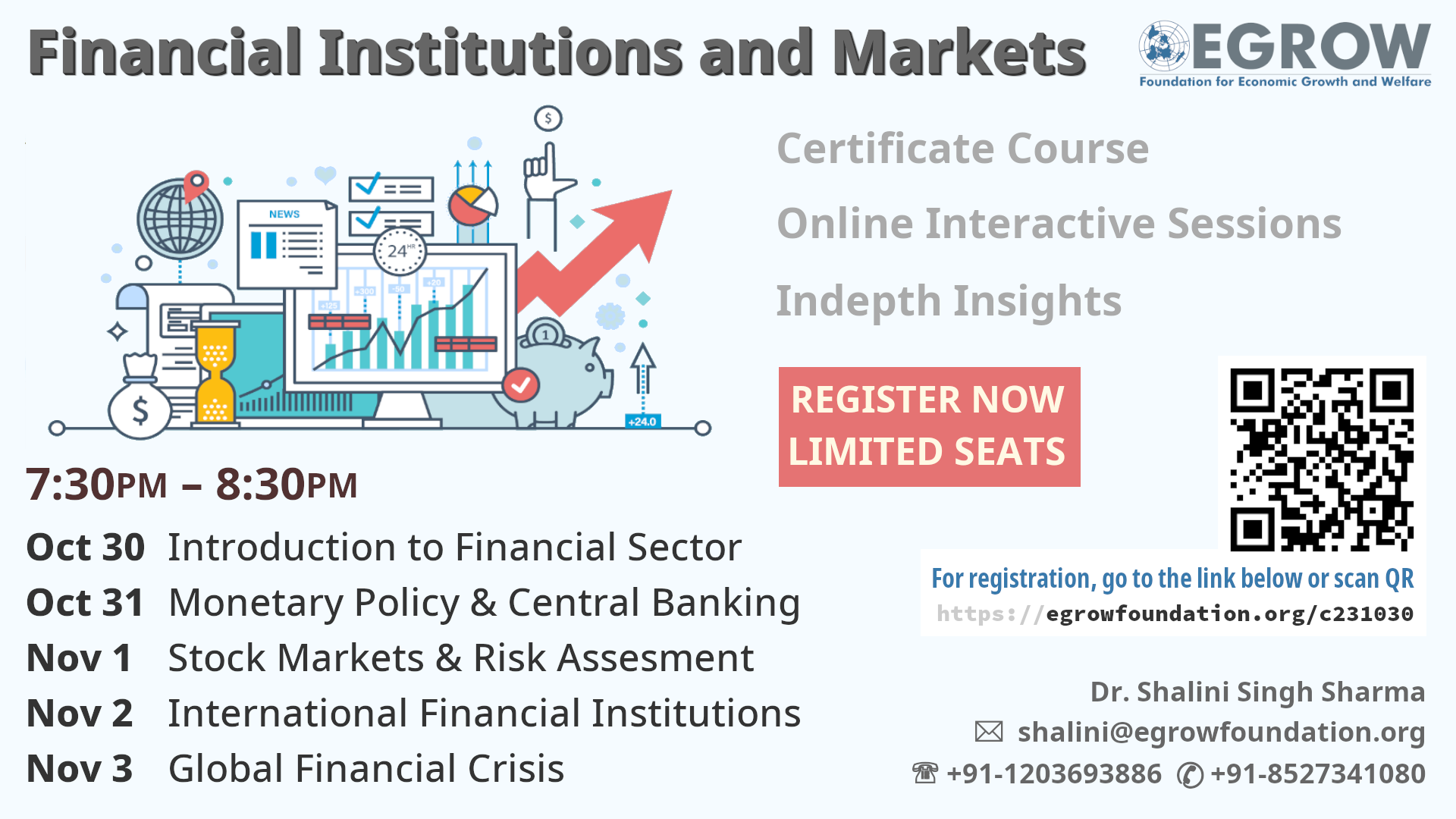 ---
---
Need for the Course:
In an era of intricate financial systems and global interconnections, the course "Financial Markets and Institutions" is an indispensable pursuit. It offers the essential knowledge needed to navigate the complexities of modern finance, empowering individuals, students, and professionals to make informed decisions, manage risks, and understand the far-reaching implications of global financial dynamics. From foundational insights for aspiring professionals to enhancing financial literacy on a broader scale, this course transcends practical applications to foster intellectual enrichment, strategic thinking, and informed citizenship in an ever-evolving economic landscape.
Key Program Contents:
Introduction to Financial Sector
Monetary Policy and Central Banking
Stock Markets and Risk Assessment
International Financial Institutions (MDBs)
Global Financial Crises
Training Program Highlights
Objective: To gain insights into the heart of the global economy.
Methodology : The sessions would be mix of online lectures, case studies, success stories and Group Discussions.
Eligibility : Ongoing Graduates, Graduates, Post Graduates and Working Professionals
Program Director: Dr. Shalini Singh Sharma, Professor & Head Banking Research, EGROW Foundation
Faculty : Experts from the respective field including Former IIM faculty, Former RBI officials and Former IES Government of India officials will cover different topics.
Platform : Cisco Webex
Duration : October 30 - November 3, 2023, (7:30 PM - 8:30 PM),
Contact Person: Dr. Shalini Singh Sharma
Phone: +91 120 3693 886 (Mon-Sat, 10:30am-6:00pm)
Mobile: +91 8527 341 080
Email ID: shalini@egrowfoundation.org
Program fee : Rs. 2,000 (inclusive of 18% GST) per participant.
Certificate : Every participant who successfully completes the training will be provided with a digital certificate of participation.