Fiscal Complexities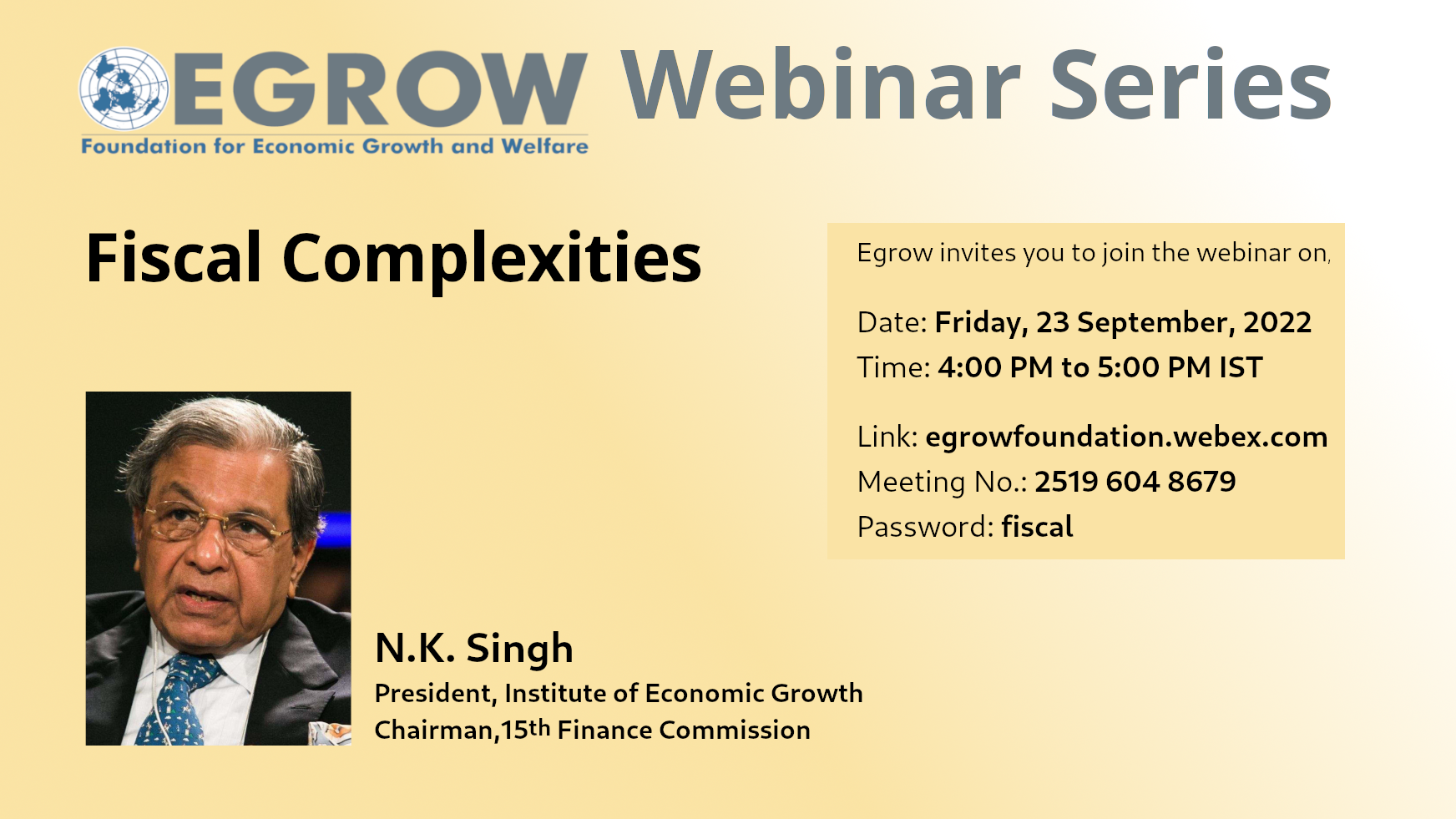 Meeting No: 2519 604 8679
Password: fiscal
---
Abstract
Fiscal conundrum is about promoting responsible growth. Catalyzing higher growth rates to build on the virtues of macroeconomic stability need balancing. The speaker examines the challenges and opportunities of maintaining the equilibrium in the economy through effective policy making.
About the Speaker
Mr. N.K. Singh is a prominent Indian economist, academician, and policymaker. He is the Chairman of the 15th Finance Commission of India. Prior to this position, he presided as Chairman of the Fiscal Responsibility and Budget Management Review Committee (FRBM), responsible for setting targets for the government to reduce fiscal deficits. He also served as a member of the Upper House of the Parliament, the Rajya Sabha, from 2008 to 2014, during which time he contributed to several prominent Parliamentary Standing Committees including the Public Accounts Committee, the Committee on Foreign Affairs, and the Committee on Human Resource Development.
Mr. Singh had a long and distinguished career as a member of the Indian Administrative Services before his entry into politics and fiscal policy leadership. He served as Expenditure Secretary, responsible for overseeing the public financial management system in the Central Government and matters connected with state finances; Revenue Secretary, responsible for exercising control in respect of matters relating to all the Direct and Indirect Union Taxes and putting together 'dream budget', Secretary to the Prime Minister of India, among other senior leadership roles. As a member of the erstwhile Planning Commission, he was heading the Expert Committee on Power Sector Reforms, introduction of renewable form of energy as well as the important committee on Foreign Direct Investment to India. The responses to these recommendations opened India substantially for larger foreign equity flows. He was part of the core group of advisors and strategists during India's economic reforms of 1991. He was principal interlocutor for negotiations with the World Bank and the International Monetary Fund (IMF) for structural adjustments, loans and Balance of Payment support instrumentalities.
---
Certificate of Participants