Fiscal Policy Roadmap Seminar - May 17, 2019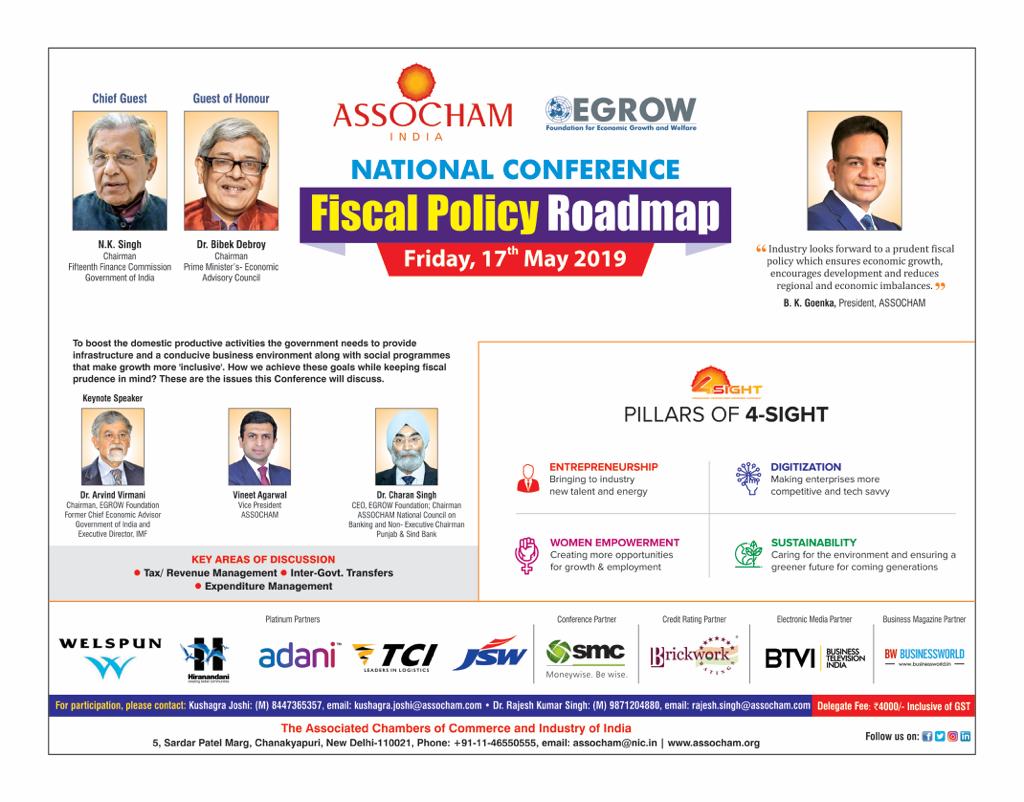 Fiscal Policy operates through taxes, expenditure and debt management. Appropriate fiscal policy can incentivise individuals and industry, including small and medium industries, to increase production and contribute to economic growth.
In a federal structure, like that of India, there is constant interaction between the Central Government and state governments
The implementation of the GST- single tax regime - across the country was seen as one of the most consequential changes in tax history of India. Although the move is a welcome step, several implementation challenges are being addressed. The industry, as well as many state governments, want further rationalisation of tax rates. In addition to this, state government finances, especially in the power sector, have observed stress leading to increase in government deficit and debt. There has been competitive populist measures in recent years which can burden the Government.
The one-day Conference on Fiscal Policy Roadmap for the new Government, aims to flag major issues in the Fiscal Policy, covering Centre, States and Local Bodies. The conference will cover several issues such as tax management, expenditure management, inter-government transfers and debt sustainability through a series of panel discussions with representation from practitioners, academia and industry experts.
The Key areas of discussion are -
Role of Fiscal Policy

Tax Policy for increasing growth
Role of direct and indirect taxes
The rate and level of GST as well as coverage of items.
Role and need for tax holidays
Expenditure Management to enhance growth and reduce inequalities
Subsidies and their implications
Expenditure on education, health and skilling
Female labour force participation
Inter- Govt. Transfers and long term plan
Role of Central Finance Commissions
Need to recognise the fiscal challenges in terms of deficit and debt
Debt Sustainability
The conference will be inaugurated by Shri N K Singh, Chairman of the Fifteenth Finance Commission and the Valedictory Address will be given by Shri Bibek Debroy, Chairman, Prime Minister's Economic Advisory Council.
Time

Session

Topic

10.00-11.00

Inaugural Session

Chair: Dr. Arvind Virmani,
Chairman, EGROW Foundation
Former Chief Economic Advisor, Government of India and
Executive Director, International Monetary Fund (IMF)

Welcome Address

Shri B.K. Geonka
President, ASSOCHAM and Group Chairman, Welspun Group

Theme Address

Dr. Charan Singh
CEO, EGROW Foundation
Chairman, ASSOCHAM National Council on Banking and
Non- Executive Chairman, Punjab & Sind Bank

Address by Chief Guest

Shri N. K. Singh
Chairman, Fifteenth Finance Commission, Government of India

Vote of Thanks

Shri Vineet Agarwal
Vice President, ASSOCHAM and Managing Director, Transport Corporation of India Limited

11.00-11.15

Networking Tea

11.15-12.15

Tax/Revenue Management

Session Chair: Dr. M. Govinda Rao,
Emeritus Professor, NIPFP and
Member, Fourteenth Finance Commission

Dr. Sacchidananda Mukherjee,
Associate Professor, NIPFP

Dr. D.K. Srivastava,
India Chief Policy Advisor, EY

12.15-1.15

Expenditure Management

Session Chair: Shri Sumit Bose,
Member, Expenditure Management Commission (2014-16) and
Secretary, Thirteenth Finance Commission

Shri Vivek Kulkarni, IAS (Retd.),
Founder and Managing Director, Brickwork Rating

Prof. Upinder Sawhney,
Chairperson, Dept. of Economics, Panjab University, Chandigarh

Prof. K. Gayithri,
Professor, Institute for Social and Economic Change (ISEC)

1.15-1.45

Networking Lunch

1.45-2.45

Other Fiscal Issues

Inter-Govt. Transfers

Debt Sustainability

Moderator: Ms. Fatima Mahdi,
Consulting Editor, Business Television India

Dr. G.R. Reddy,
Advisor, Finance, Govt. of Telangana

Dr. R.K. Pattnaik,
Professor, S. P. Jain Institute of Management and Research (SPJIMR), Mumbai

Dr. Sajjid Z. Chinoy,
Chief India Economist, JP Morgan

2.45-3.00

Networking Tea

3.00-4.00

Valedictory Address

Chair: Dr. Arvind Virmani,
Chairman, EGROW Foundation
Former Chief Economic Advisor, Government of India and
Executive Director, International Monetary Fund (IMF)

Welcome Address

Shri Vineet Agarwal
Vice President, ASSOCHAM and Managing Director, Transport Corporation of India Limited

Address by

Shri Siddharth Zarabi
Executive Editor, Business Television Inida

Industry Perspective

Shri S. C. Aggarwal
Chairman & Managing Director, SMC Global Securities Limited

Address by Guest of Honor

Dr. Bibek Debroy,
Chairman, Prime Minister's Economic Advisory Council

Vote of Thanks

Shri Vineet S. Jain
CEO, Adani Power
Venue & Timing: Hotel Taj Majal, 10AM to 4PM