Future of Urban Mobility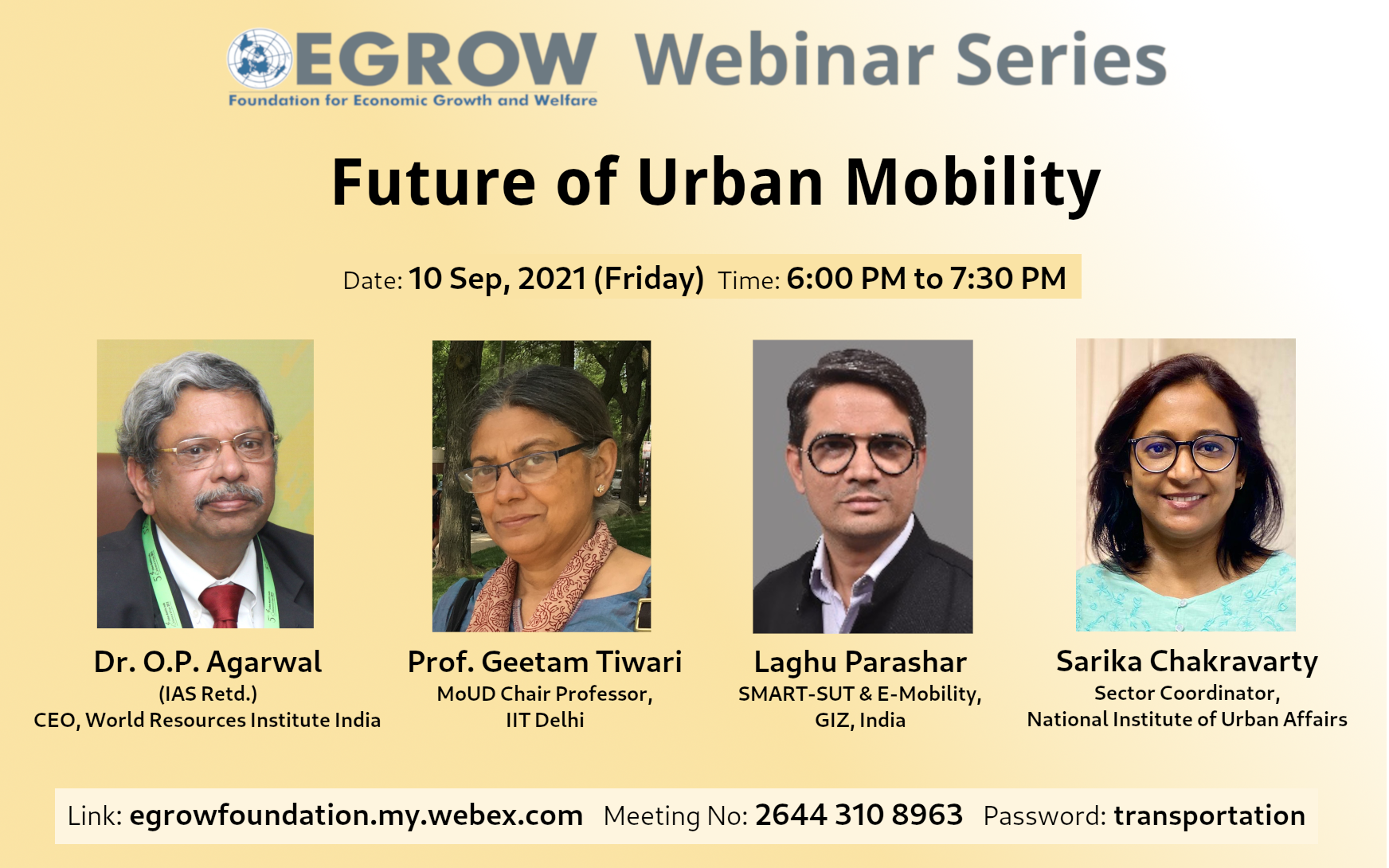 Meeting No: 2647 459 7618
Password: economics
---
Abstract
India is on the verge of experiencing a huge economic growth. The economy's secondary and tertiary sectors will contribute the most to this increase. Unlike primary sector operations, these activities occur in urban areas, making the condition of our towns and cities critical to India's future growth. Additionally, global experience indicates that when economies rise, significant urbanisation occurs, approximately 60% of the overall population relocates to urban areas. India's urban population is projected to reach approximately 820 million by 2051, up from 285 million in 2001. As a result, cities must not only meet the current population's mobility needs, but also those of individuals yet to enter the urban population.
In this context, the Government of India launched the National Urban Renewal Mission (NURM), which seeks to improve urban infrastructure comprehensively by allocating substantial funds and requiring a series of reforms to ensure the investments are sustainable. However, certain issues persist, including lost time due to heavy traffic increase in costs of travelling, environmental pollution, increase in accidents etc. If not addressed, these issues can constitute a significant drag on economic growth and damage people's quality of life. in this presentation the speakers analyses the policy reforms currently undertaken to address these issues and also discusses the further changes required in policy to deal with these issues and try to provide a clear direction and framework for future action.
About the speakers
Dr. O.P. Agarwal
Dr O.P. Agarwal has been the CEO of the World Resources Institute India since June 2017.
He was an IAS officer from 1979 to 2007, and was assigned to the Assam – Meghalaya cadre. He held several positions with the central and state government of Assam, including Joint Secretary (Urban Transport) in the Ministry of Urban Development. He was Secretary for Transport in the State of Assam. He was the principal author of the National Urban Transport Policy for the country, which was adopted in 2006 and has remained the key document guiding urban transport investments since then. He took voluntary retirement from the IAS in 2007 and joined the World Bank at its headquarters in Washington DC as its global Urban Transport Adviser. He chaired the US Transport Research Board's committee on Transportation in Developing countries for 6 years and was a member of this committee for a total of 12 years.
He has written several papers on urban transport policy and governance issues. His recent book entitled "Emerging Paradigms in Urban Mobility Planning, Financing and Implementation" was published by Elsevier. He has taught courses at ISB, LBSNAA, the World Bank and NRTI.
He has a PhD in Transport Economics from the Indian Institute of Technology, Delhi, a Master's degree in Transportation from the Massachusetts Institute of Technology, USA and a Bachelor's degree in Electrical Engineering from the Indian Institute of Technology Madras
Prof. Geetam Tiwari
Geetam Tiwari is Head, Transportation research and Injury Prevention Centre and MoUD Chair Professor for Transport Planning at the Department of Civil Engineering, IIT Delhi. She has been Adlerbretska Guest Professor for sustainable urban transport at the Chalmers University of Technology, Sweden 2007-2010. She has been working in the area of traffic and transport planning and traffic safety focusing on pedestrians, bicycles and bus systems. She is editor-in-chief of the International Journal of Injury Control and Safety Promotion since 2009.
Laghu Parashar
Mr Laghu Parashar is Deputy Project Head of SMART-SUT and E-Mobility project in GIZ India. He is a Transportation Planner and having more than 16 years of experience in planning, design and implementation of sustainable transportation projects. He has lead teams delivering various sustainable transport projects including Bus Rapid Transit System (BRTS) and city bus operation from concept till implementation stage. He has been instrumental in drafting "Urban Bus Specifications" (UBS-II) and various model documents, funding schemes, urban transport reforms for Ministry of Housing and Urban Affairs (MoHUA), Government of India. He has authored/co-authored various reports, publication "The cost of urban commute" and "Waiting for a bus". He has been Honorary Secretary of Institute of Urban Transport (IUT), India and active as a visiting faculty in leading planning institutes.
Sarika Chakravarty
Sarika Chakravarty is an Architect-Urban Planner with over 15 years of cross-sectoral experience in projects related to planning (urban, infrastructure and transportation). Currently she is working as a Sector Coordinator for the Master Plan for Delhi – 2041 project at the National Institute of Urban Affairs (NIUA) which is widely regarded as the think tank for the Ministry of Housing and Urban Affairs, Government of India. She has recently led a team of planners to develop a baseline and sectoral strategies for the transport and housing sectors of the Master Plan for Delhi - 2041.
Previously, Sarika has been a part of organisations like UNICEF and NCRPB, and has worked on various projects funded by multilateral agencies like the World Bank, JICA, ADB, etc. Her transportation planning experiences have focussed mainly on metro station design, demand generation studies, transit oriented development plans, mobility plans and corridor improvement plans in prestigious projects like Planning and Design of Kolkata East-West Metro Corridor,
Comprehensive Mobility Plans for Kolkata Metropolitan Development Area, Siliguri-Jalpaiguri Development Area, etc. To her credit are also contributions to preparation of the Master Plan for Jamshedpur Urban Agglomeration and conducting feasibility studies for establishing waste management systems for the Govt. of Kenya.
---
Certificate of Participants