Ganga: Book Discussion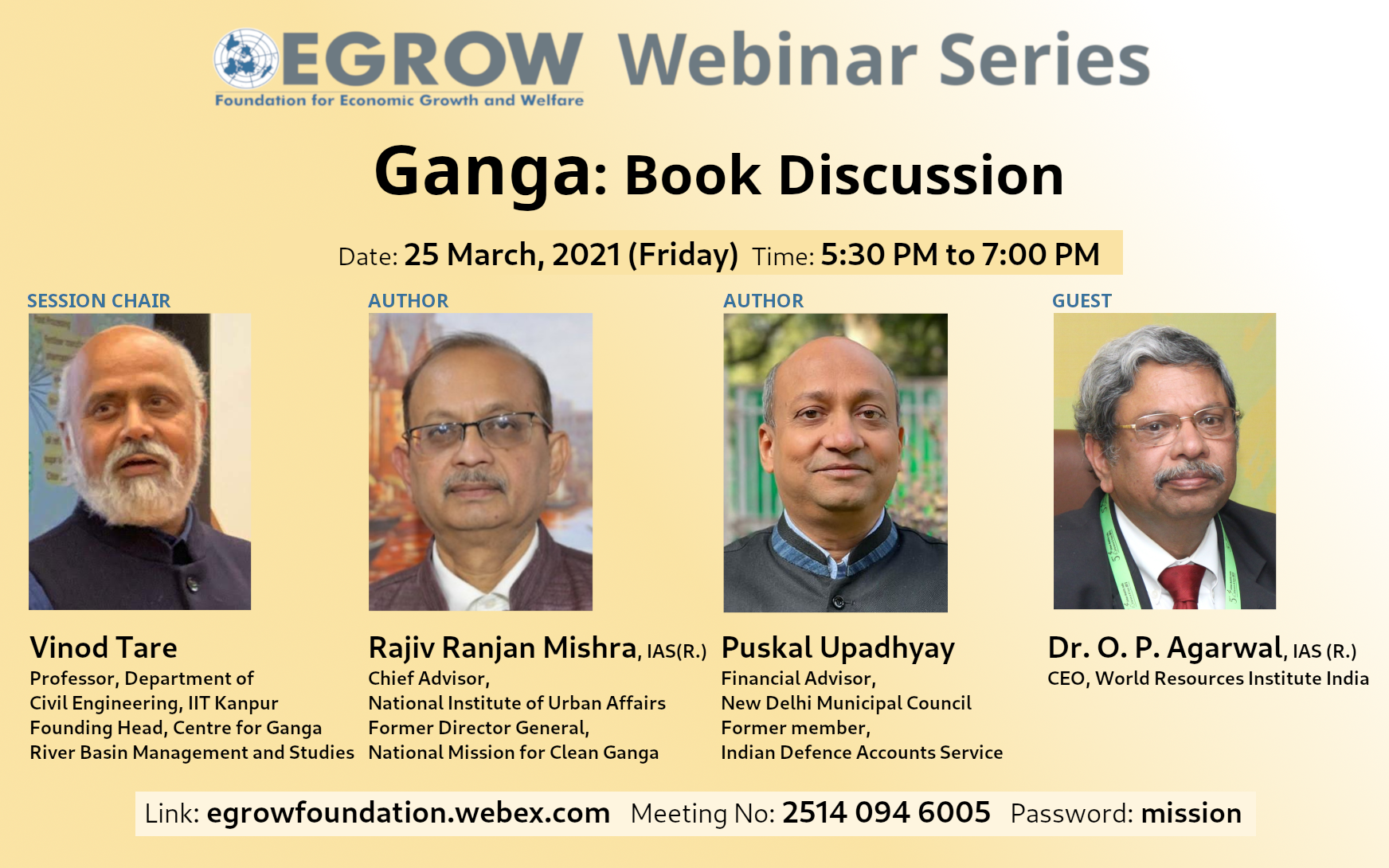 Meeting No: 2514 094 6005
password: mission
---
Abstract
Ganga is a long river. Depending on how the river and its tributaries are defined, it is around 2,600 km long. The geographical description of Ganga's progress on earth is given in some parts of Brahma Vaivarta Purana. That was hundreds of years ago. Hundreds of years later, Ganga's progress is marked out by cities— Badrinath, Haridwar, New Delhi, Agra, Prayagraj, Kanpur, Jaunpur, Varanasi, Mathura, Mirzapur, Auraiya, Etawah, Farrukhabad, Fatehgarh, Kannauj, Gorakhpur, Lucknow, Bhagalpur, Patna, Gaya, Munger, Baranagar, Kolkata, Murshidabad and many more. 600 million people, in 11 States, live in Ganga's basin and that basin, and people who live in that basin, are estimated to contribute 40% of India's GDP.
Rivers mean urbanization, civilization and development. Rivers mean life and at least 50 cities, with population sizes more than 50,000, are along Ganga's banks. But for this to be sustainable, the river has to remain alive and it is anything but that. Urban centres draw water from Ganga and dump waste and waste water into the river. All too often people assume it is the government's job to clean up raw sewage and industrial waste from the river. That can't work, not alone. Many people may not have heard of Kashi Ganga Prasadini Sabha, established by concerned citizens of Varanasi in 1886. The Sabha's objective was to introduce drainage and clean up the river, objectives we are still struggling with today.
To that end, there is a National Mission for Clean Ganga (NMCG). What does NMCG do? What has NMCG done so far and what does it propose to do? What have been the struggles and successes? Most people will have heard of NMCG, but probably no more than vaguely. Rajiv Ranjan Mishra and Puskal Upadhyay are insiders, with a vested interest in the cleaning up of Ganges, and rightly so. They do work for the government, but the book doesn't read like a boring government handout. While it isn't a biography of Ganga, it reads like an autobiography of NMCG. Nothing succeeds like success and there are success stories from Uttarakhand, Kanpur, Prayagraj, Varanasi, Bihar, Jharkhand and the Sunderbans. The most important chapter, in my view, is the last one. It is like an Epilogue and is a letter to readers. As citizens of a country where rivers like Ganga have given us life, the Ganga's future depends on what we, the readers, do and don't do.
About the Speakers
Vinod Tare
Dr Vinod Tare is a Professor of Environmental Engineering and Management at the Indian Institute of Technology Kanpur and also held Sir M Visvesaraya Chair Professor established by the Ministry of Water Resources, GoI. He is a Civil Engineer, obtained his Master's and Doctoral degrees in Environmental Engineering from IIT Kanpur, and subsequently did post-doctoral research at the Illinois Institute of Technology, Chicago. Dr Tare began his professional career with a short tenure at the Engineers India Ltd and subsequently chose to serve the academic world and engage in research and development activities. He has guided numerous masters' and doctoral dissertations, and published many reports and papers in conference proceedings and journals of international repute. He was the Chairman of the International Conference on Water – Harvesting, Storage and Conservation (WHSC-2009) and First, Second, Third, Fourth, Fifth and the Sixth India Water Impact Summit (IWIS) held in 2012, 2017, 2018, 2019, 2020 and 2021 respectively jointly organized by Ministry of Jal Shakti and IIT Kanpur led Centre for Ganga River Basin Management and Studies (cGanga). Dr Tare has served on numerous National and International Panels and Committees on various issues and is consultant/advisor to many government organisations, NGOs, Industries, and Institutions. He has developed nature-friendly toilet systems that has been successfully piloted for passenger trains in Indian Railways, for communities, house boats, large congregation such as Kumbh Mela, etc. and has a huge potential for deployment for public use. Dr Tare was the leader of the consortia of seven IITs for the preparation of Ganga River Basin Management Plan (GRBMP). He is the founding head of cGanga led by IIT Kanpur supported by the Ministry of Jal Shakti, Government of India.
Rajiv Ranjan Mishra
During his two separate stints at the National Mission for Clean Ganga, first as a Mission Director and then as the Director-General, Mr. Rajiv Ranjan Mishra, an Indian Administrative Officer of the 1987 batch, virtually changed the discourse on Ganga rejuvenation, and its long- term sustenance. He expanded the scope of the Mission to include the entire ecosystem of the river, its basin and the clean-up of its tributaries, and other pollutants that have been defiling the river for centuries. He has also tried to restore the age-old connection between the Mother Goddess and her disciples, through measures like redevelopment of river fronts and ghats and has also developed a new planning paradigm for River Cities. A mechanical engineer from IIT Kanpur, he brings with him a wealth of experience in developing and managing major projects in irrigation, environment, urban development and housing both at the Centre and in the states. He is also credited with the enactment and implementation of the Real Estate (Regulation and Development) Act, and is also now leading the National River Conservation Programme, which deals with all rivers other than Ma Ganga.
Puskal Upadhyay
One of the pioneers of the government's clean-Ganga initiative, Mr Puskal Upadhyay, a civil engineer turned civil servant and a finance professional was orchestrating the clean Ganga initiative with his seniors, even before Namami Gange was launched. He has played a critical role in developing the building blocks of National Mission for Clean Ganga (NMCG) during its formative years as Director (Finance). He had been instrumental in developing the highly- successful public-private partnership-based Hybrid Annuity Model for Namami Gange. His contribution to the design and launch of the National Pension System (NPS) is no less important, as is his work with the United Nations Interim Force in Lebanon. He regularly volunteers for and mentors Tree Craze Foundation, an NGO in their community-led river cleanup activities. A civil engineer from NIT Jamshedpur, he joined the Indian Defence Accounts Service (IDAS) in 1998, and is currently the Financial Advisor in New Delhi Municipal Council.
Om Prakash Agarwal
Om Prakash (O.P.) Agarwal is the CEO of WRI India where he leads a team of over 200 researchers. He is a highly respected thinker and practitioner with a wealth of experience in public policy issues related to urban development, poverty alleviation, capacity building, governance and environment.
O.P. was a member of the Indian Administrative Service (IAS) from 1979 to 2007, during which he held several positions with the national and state government of Assam. In this time, he was also the Joint Secretary (Training) in the Department of Personnel and Joint Secretary (Urban Transport) in the Ministry of Urban Development. He was Secretary for Transport in the State of Assam. He was the principal author of India's National Urban Transport Policy, which was adopted in 2006 and has remained the key document guiding urban transport investments since then.
He was the World Bank's global Urban Transport Adviser, in Washington DC, for over six years and led the knowledge development and capacity building function for urban transport in addition to advising on several projects. O.P. also chaired the U.S. Transport Research Board's Committee on Transportation in Developing Countries for six years.
He has written several papers on urban transport policy and governance issues. His book "Emerging Paradigms in Urban Mobility Planning, Financing and Implementation" was published by Elsevier in 2018.
O.P. holds a PhD in Transport Economics from the Indian Institute of Technology, Delhi, a Master's in Transportation from the Massachusetts Institute of Technology and a Bachelor's in Electrical Engineering from the Indian Institute of Technology, Chennai.
---
Certificate of Participants