Global Banking Regulations: Universalism vs Diversification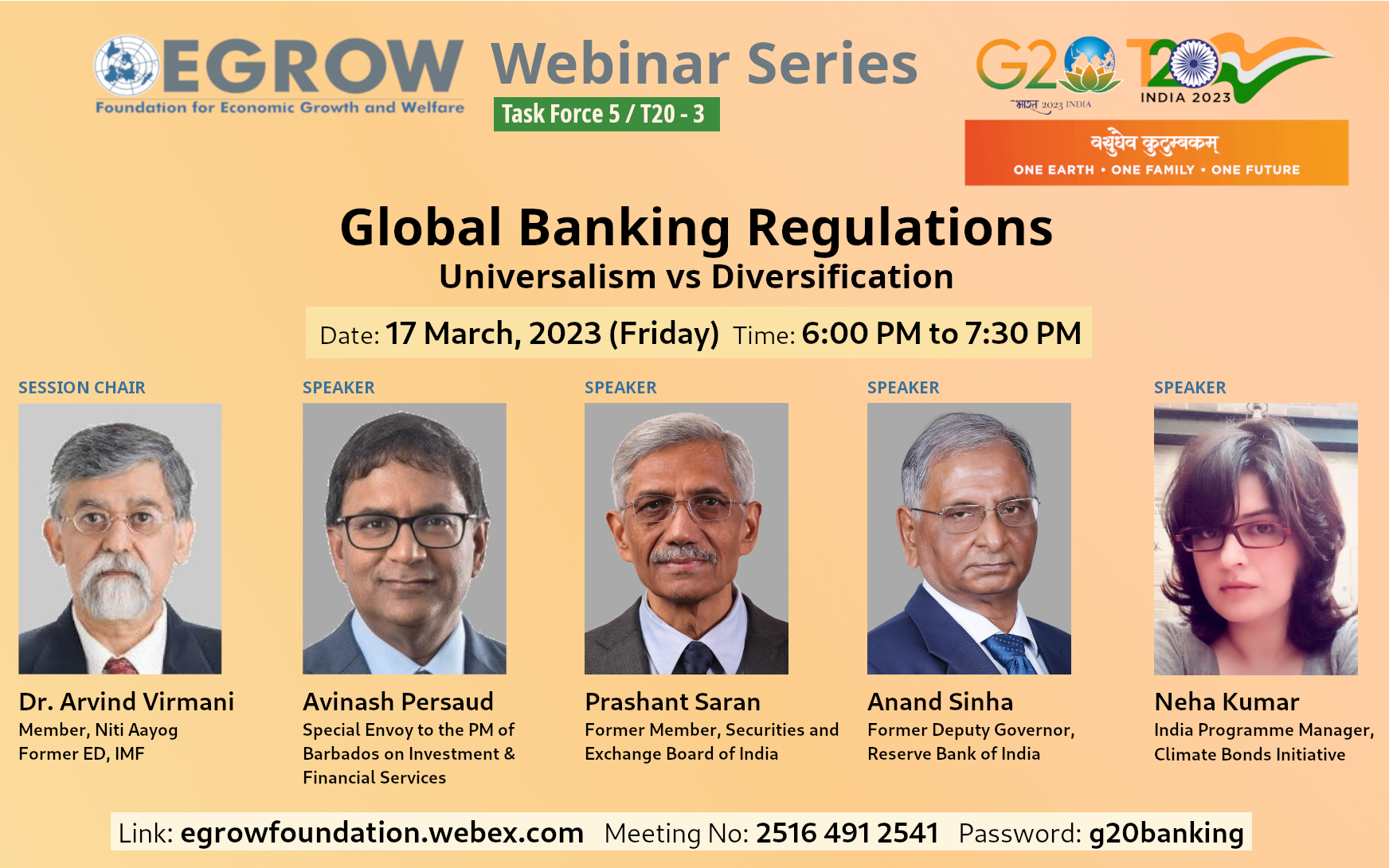 Meeting No: 2516 491 2541
Password: g20banking
---
Certificate of Participants
To recieve certificates, please register and attend
---
Abstract
In the coming days, there will undoubtedly be a gradual tightening of global bank regulations, reflecting expectations of a return to per-pandemic standards. The regulatory outlook for global banks is tighter as it is anticipated that macro prudential policies will be reimplemented in certain jurisdictions with the finalisation of regulations to implement the final Basel III system in developed markets. In addition, it is anticipated that supervisors would prioritise cyber, climate, and crypto-asset risks.
For many emerging economies, macro prudential policies tied to financial stability concerns and compliance with supranational standards will continue to be the primary determinants of regulatory reform agendas. The discussion will centre on whether stricter banking restrictions can encourage economic growth and development.
About the Speakers
Dr. Arvind Virmani
Arvind Virmani is member of NIti Aayog. He was Chairman of the Foundation for Economic Growth and Welfare (EGROW) and President of the Forum For Strategic Initiatives (FSI, Delhi). He has been a Mentor (economic policy) to FICCI & a member of RBI Technical Advisory Committee on Monetary policy He was earlier Executive Director, IMF and Chief Economic Advisor, Ministry of Finance and Principal Advisor, Planning Commission. During his tenure he advised on a host of economic policy reforms, through 100s of policy papers, notes and committees. He has served as Member, Telecom Regulatory Authority of India (TRAI) and as Director & Chief executive of the Indian Council for Research on International Economic Relations (ICRIER). He has published 35 journal articles and 20 book chapters and written over 50 other working papers in the areas of Macroeconomics, growth and finance, tax reform, International trade & Tariffs, International relations, and national security strategy.
Avinash Persaud
Prof. Avinash Persaud, Special Envoy to the Prime Minister (Barbados) for Investment and Financial Services.
Professor Avinash Persaud is non-resident Senior Fellow of the Peterson Institute for International Economics Washington, Emeritus Professor if Gresham College in the UK and non-executive Chairman of Elara Capital, an investment bank based in Mumbai. He was ranked one of the leading public intellectuals in the world on the financial crisis by a panel of experts for the UK's Prospect Magazine a few years ago. He was senior executive at J.P Morgan in its Commodity and Currency Division, and an Investment Director at GAM London ltd, the leading hedge fund manager. He was a top-ranking analyst in the leading surveys of international investors for a decade. In Trinidad and Tobago he is a non-executive director of RBC, Beacon Insurance and Media InSite.
Professor Persaud has published widely on finance and economics and has served on a number or major policy commissions, including chairing the Warwick Commission and the regulatory subcommittee of the UN Commission on Financial Reform he was an expert member of the UK Treasury's Audit and Risk Committee and the Pew Task Force to the US Senate Banking Committee. He is a former Governor of the London School of Economics, was elected Trustee of the Royal Economics Society and is a Past President of the British Association for the Advancement of Science, Economics Section.
Prashant Saran
Prashant Saran has been a financial sector regulator for over three decades contributing significantly in securities market, banking and foreign investment. He served as a Whole Time Member of SEBI from 2009-16 where he was deeply involved in issues pertaining to Investor Education and Investor Protection. He has been instrumental in carrying out far reaching reforms in Primary Markets and Mutual Funds. Mr Saran has also been associated with the opening up of the FIP in the early nineties and has helped frame and implement the policies relating to FDI, FII and played an instrumental role in the transition from the FERA to FEMA regime.
A post graduate from Punjab University, Mr Saran held membership of a number of National & International committees. He has co-chaired an International Organization of Securities Commissions (IOSCO) task force and also Co-chaired the International Network on Financial Education and Women. He was also the Governor subgroup on the Board of National Institute of Securities Markets. Mr Saran currently is engaged in areas of corporate governance and financial education and is working as Senior Consultant with M/S Shardul Amarchand Managaldas & Co.
Anand Sinha
Anand Sinha joined the Reserve Bank of India in July 1976 and rose to become Deputy Governor in January 2011. He was Adviser to RBI up to April 2014 after demitting the office of Deputy Governor on 18th January 2014. As Deputy Governor, he was in-charge of regulation of commercial banks, Non-Banking Financial Companies, Urban Cooperative Banks and Information Technology, among others. He has been closely associated with the banking sector reforms in India. He has represented the Reserve Bank of India in various Committees/Groups of BIS such as Basel Committee on Banking Supervision (BCBS), Policy Development Group (PDG), Macro Prudential Supervision Group (MPG), Macro Variable Task Force (MVTF) and Committee on Global Financial Systems (CGFS). He represented India on the G20 Working Group on Enhancing Sound Regulation & Strengthening Transparency. He was the Chairman, Governing Council of the Institute for Development and Research in Banking Technology (IDRBT), a research and development institution on financial sector technology, set up by the Reserve Bank of India. He was also a member on the Board of the Securities and Exchange Board of India (SEBI) and held Directorship on a few Public Sector Bank Boards at different points of time while serving RBI.
Mr. Sinha holds Masters Degree in Physics from the Indian Institute of Technology (IIT), New Delhi. After retirement from RBI he works as a financial sector consultant with a few reputed national and multinational organisations. He is a consultant to IMF and gives lectures on financial sector issues in India and abroad. He has also been a Director post retirement in a few organisations such as IDFC First Bank and continues as Director on the Board of GSTN and a few others.
Neha Kumar
Neha Kumar is a Senior Research Associate at Overseas Development Institute. She heads the India Programme for Climate Bonds Initiative (CBI) and is based in Delhi. She drives policy practice, strategy and partner programmes to scale up the green bonds market and sustainable financial ecosystem.
Neha has over fourteen years of experience working on public policy and industry action in India on sustainability and responsible financing. In her stint at GIZ India (German Development Agency) before she joined us, she steered projects that led to a regulation on ESG disclosures by the Indian market regulator, Securities and Exchange Board of India; and the development of financial sector led Responsible Financing Guidelines. She was also responsible for conceptualising and over-seeing successful Indo-German public-private alliances, EU co-financing grants and building multi-stakeholder alliances on mainstreaming sustainability practices in large and small businesses. Prior to that, she consulted national and international businesses on environmental and political risks in extractive and infrastructure sectors with operations and investments spread across India.
She has served on national and international standard setting bodies like Bureau of Indian Standards and Global Reporting Initiative where she vice-chaired its Stakeholder Council. She speaks frequently on sustainability, responsible financing, reporting and disclosures, and has edited and published journals and articles on these topics. Currently, she is part of a core group of policy advisors and practitioners on future of jobs and green economy hosted by Frederich Ebert Stiftung, India and an active alumna of Young Global Leaders chosen by the Bucerius-Zeit Foundation of Germany.
She holds Masters and M.Phil in International Politics and Diplomacy from Jawaharlal Nehru University, New Delhi