Global Economic Prospects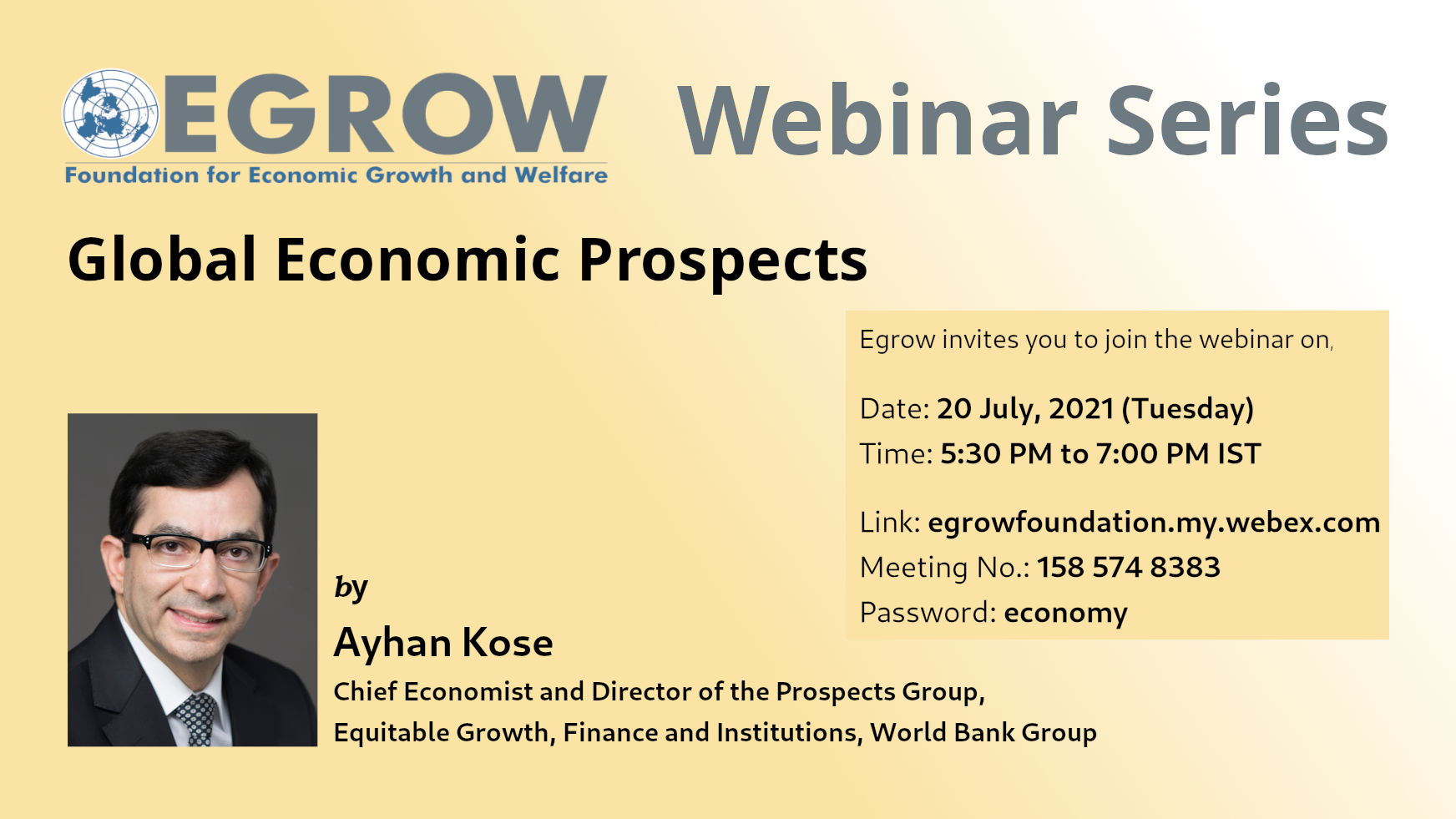 Meeting No: 158 574 8383
Password: economy
---
Abstract
The world economy is experiencing an exceptionally strong but highly uneven recovery. Global growth is set to reach 5.6 percent in 2021—its strongest post-recession pace in 80 years—in part underpinned by steady but highly unequal vaccine access. Growth is concentrated in a few major economies, with most emerging market and developing economies (EMDEs) lagging behind: while about 90 percent of advanced economies are expected to regain their pre-pandemic per capita income levels by 2022, only about one-third of EMDEs are expected to do so. In low-income countries, the effects of the pandemic are reversing earlier gains in poverty reduction and compounding food insecurity and other long-standing challenges. The global outlook remains highly uncertain, with major risks around the path of the pandemic and the possibility of financial stress amid large debt loads. Controlling the pandemic at the global level will require more equitable vaccine distribution, especially for low-income countries. In addition to the necessary efforts to pursue widespread vaccination, policy makers face a difficult balancing act as they seek to nurture the recovery through efficiently allocated fiscal support while safeguarding price stability and fiscal sustainability. Policy makers can also help entrench a lasting recovery by undertaking growth enhancing reforms and steering their economies onto a green, resilient, and inclusive development path. Prominently among the necessary policies are efforts to lower trade costs so that trade can once again become a robust engine of growth.
About the Speaker
Ayhan Kose is Chief Economist and Director of the Prospects Group in the Equitable Growth, Finance, and Institutions (EFI) Practice Group of the World Bank. He is a member of the EFI leadership team overseeing the Practice Group's policy, operational, and analytical products on macroeconomics, finance, trade, governance, poverty, and inequality. He also leads the Bank's work on global macroeconomic outlook, financial flows, and commodity markets. Under his management, the Prospects Group produces the Bank's corporate flagship report, Global Economic Prospects, in addition to other policy and analytical publications.
Mr. Kose previously served as Acting Vice President of EFI and Director of Prospects Group. Prior to joining the World Bank, he was Assistant to the Director of the Research Department and Deputy Chief of the Multilateral Surveillance Division in the International Monetary Fund (IMF). He served in a wide range of roles supporting IMF's policy, operational, and analytical work.
Mr. Kose has written extensively on international macroeconomics and finance. Many of his articles have been published in leading academic journals. His policy and analytical work has also been featured in prominent media outlets. His latest book, Global Waves of Debt (co-authored), analyzes the potential consequences of the rapid debt accumulation in emerging and developing economies. His previous book, A Decade After the Global Recession (co-edited), examines how emerging and developing economies became more vulnerable to economic shocks after the 2009 global recession.
Mr. Kose is a Nonresident Senior Fellow at the Brookings Institution, a Research Fellow at the Center for Economic Policy Research (CEPR), a Dean's Fellow at the University of Virginia's Darden School of Business, and a Research Associate at the Center for Applied Macroeconomics. He taught at the University of Chicago's Booth School of Business and INSEAD, and was Assistant Professor at Brandeis International Business School. He has a Ph.D. in economics from the Tippie College of Business at the University of Iowa and a B.S. in industrial engineering from Bilkent University.
---
Certificate of Participants