Global Hunger Index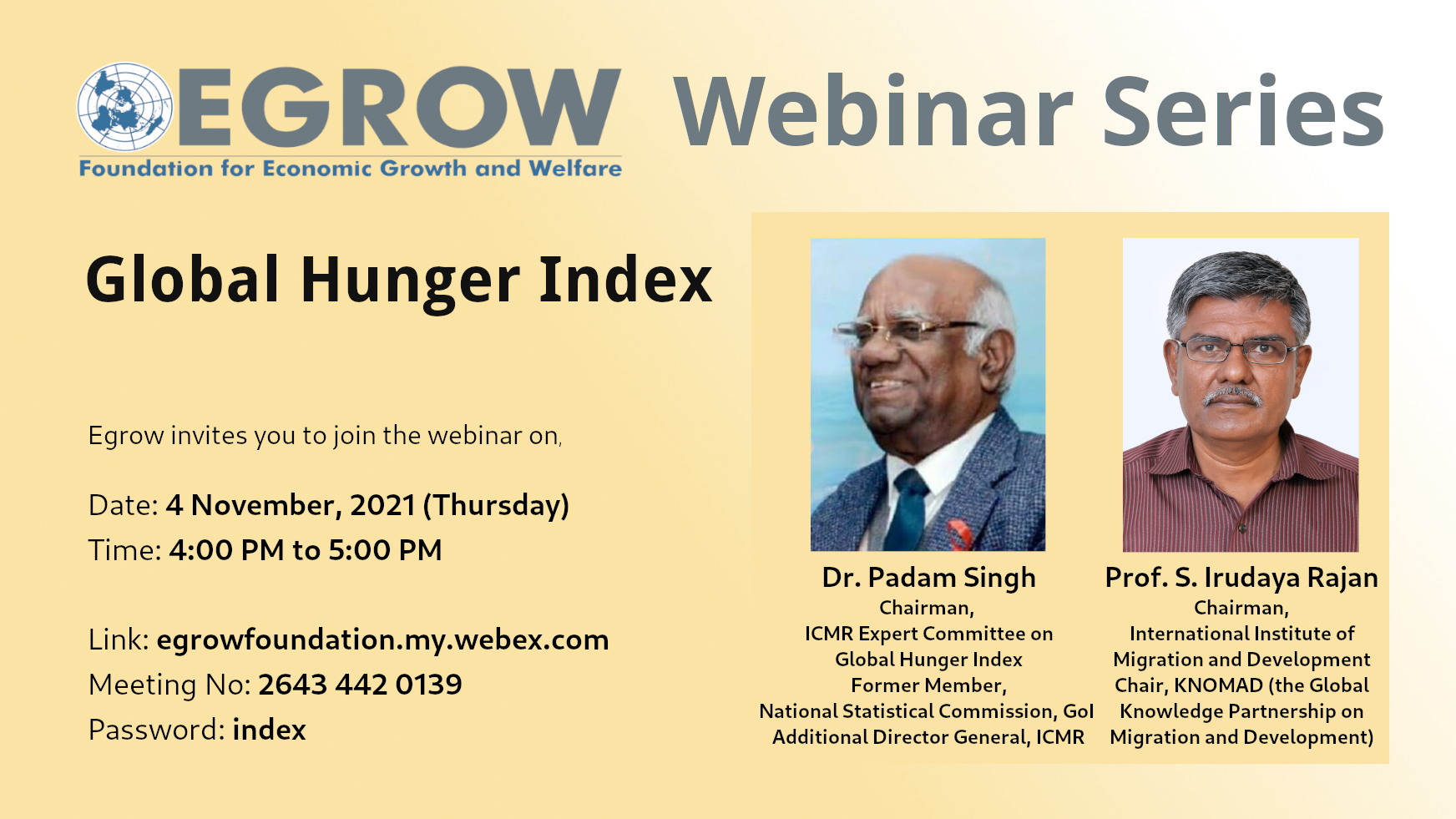 Meeting No: 2643 442 0139
password: index
---
About the Speaker
Dr. Padam Singh
Dr. Padam Singh holds a Master's degree in Agricultural Statistics from IARI Pusa Institute and PhD in Statistics from Delhi University. He served as Professor of Statistics IASRI, Joint Adviser Planning Commission. Director National Institute of Medical Statistics. Additional Director General ICMR and Member National Statistical Commission GoI. Recipient of Sankhyiki Bhushan. Atal Swasthya Bhushan Samman. Guided 26 PhDs and Published over 100 papers in peer reviewed National and International Journals. Executive President of India Society of Agricultural Statistics. Served as Chair Person of Several Expert Committees of ICMR. MoHFW and MoSPI.
Currently Chairman of MoSPI Committee on Developing standards for undertaking perceptions/ opinion based surveys.
Prof. S. Irudaya Rajan
S Irudaya Rajan is Chairman of the International Institute of Migration and Development (IIMAD), India and chair of the KNOMAD (the Global Knowledge Partnership on Migration and Development) thematic working group on internal migration and urbanization, World Bank. Earlier, he was a Professor at the Centre for Development Studies, and Chair, Research Unit on International Migration (RUIM), funded by the erstwhile Ministry of Overseas Indian Affairs, Government of India (2006-2016). Dr Rajan is the Founding Editor in Chief of Migration and Development (Taylor and Francis) and the editor of two Routledge series - India Migration Report and South Asia Migration Report.
---
Certificate of Participants