Governance, Efficiency and Soundness of Indian Banks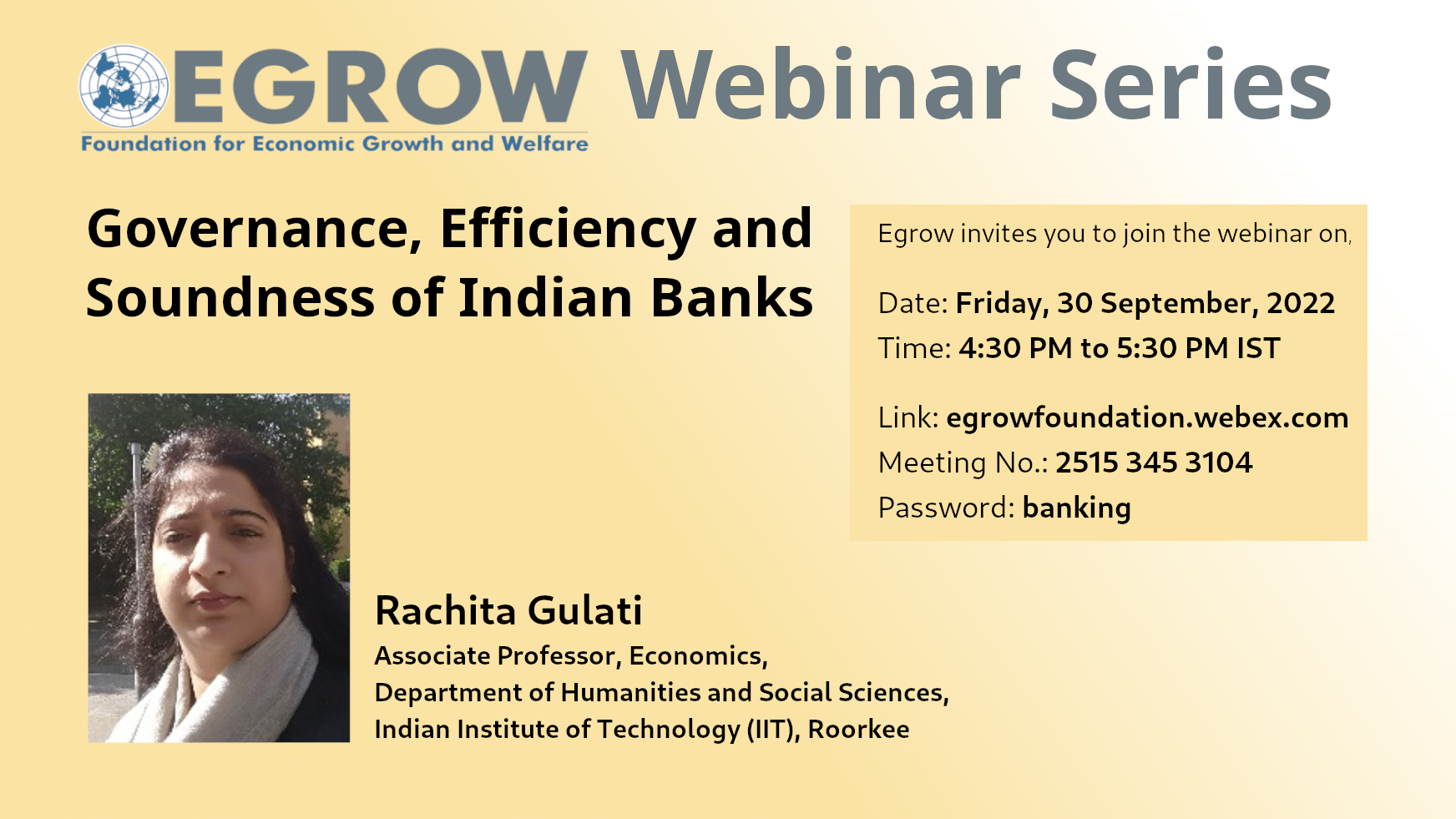 Meeting No: 2515 345 3104
Password: banking
---
Abstract
The speaker tries to assess the efficacy of India's financial deregulation programme by analyzing the developments in cost efficiency and total factor productivity growth across different ownership types and size classes in the banking sector over the post-deregulation years.
She also analyses the impact of inclusion or exclusion of a proxy for non-traditional activities on the cost efficiency estimates for Indian banks, and ranking of distinct ownership groups. It also investigates the hitherto neglected aspect of the nature of returns-to-scale in the Indian banking industry. In addition, it explores the key bank-specific factors that explain the inter-bank variations in efficiency and productivity growth.
About the Speaker
Rachita Gulati is an Associate Professor of Economics at the Department of Humanities and Social Sciences, Indian Institute of Technology (IIT), Roorkee, Uttarakhand. She received the Subir Chowdhury Visiting Fellowship 2017-2018 from the India Observatory, London School of Economics and Political Sciences, London, UK. Her research interests relate to banking and financial institutions, banking efficiency, financial stability, corporate governance, evaluation of financial and social policy interventions, and the efficiency performance of public and private institutions. She has been working and gaining experience in this area for the past 13 years. She has formulated several mathematical and nonparametric benchmarking models to measure efficiency performance, which she has applied to banks, cooperative banks, microfinance institutions, insurers, etc. She has published more than two dozen articles in top-ranked journals. She is the co-author of the book "Deregulation and Efficiency of Indian Banks" (Springer). She has worked on project studies awarded/sponsored by the Reserve Bank of India, State Finance Commission of Haryana, Ministry of Tribal Affairs, and ICSSR (IMPRESS Scheme), among others. She is also a member of several national and international associations, including the International Society of Efficiency and Productivity Analysis, the Indian Econometric Society, the International Corporate Governance Society, the International Econometric Society, etc.
---
Certificate of Participants