Governance In Our Ancient Texts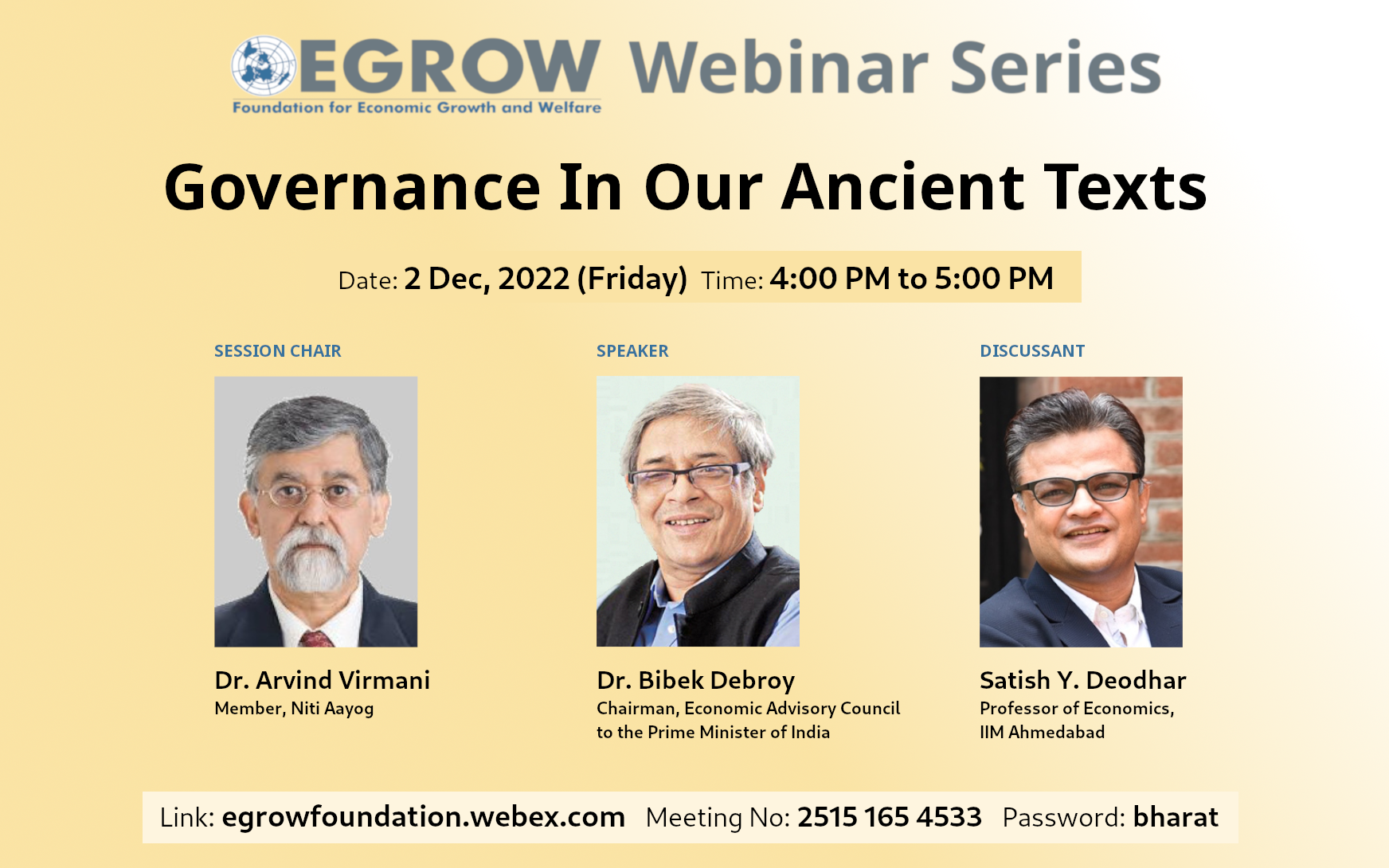 Meeting No: 2515 165 4533
Password: bharat
---
Abstract
The concept of corporate governance in India has ancient connections. There is a great deal of similarity in the governance structures of the ancient kingdoms and modern corporations as is evident from our ancient text and scriptures like Vedas, Manu Smriti, Somadevaneetistuti, Baharspatya Neetistuti, Arthashastra etc. which focuses on good governance. The speaker will demonstrate how all Upanishads,Vedas, and the Epic Kavyas like Mahabharata, Ramayana and Bhagwad Gita emphasize the essence of ethics being followed from within, be it Individual or be it the King or be it the whole kingdom. Also he will cite how all religious teachings or philosophical writing contain some directives on governance.
About the Speakers
Dr. Arvind Virmani
Arvind Virmani is member of NIti Aayog. He was Chairman of the Foundation for Economic Growth and Welfare (EGROW) and President of the Forum For Strategic Initiatives (FSI, Delhi). He has been a Mentor (economic policy) to FICCI & a member of RBI Technical Advisory Committee on Monetary policy He was earlier Executive Director, IMF and Chief Economic Advisor, Ministry of Finance and Principal Advisor, Planning Commission. During his tenure he advised on a host of economic policy reforms, through 100s of policy papers, notes and committees. He has served as Member, Telecom Regulatory Authority of India (TRAI) and as Director & Chief executive of the Indian Council for Research on International Economic Relations (ICRIER). He has published 35 journal articles and 20 book chapters and written over 50 other working papers in the areas of Macroeconomics, growth and finance, tax reform, International trade & Tariffs, International relations, and national security strategy.
Dr. Bibek Debroy
Dr. Bibek Debroy is the Chairman of the PM's Economic Council. From its inception in January 2015, till June 2019, he was a member of the NITI Aayog, the think tank of the Indian Government. Dr Debroy was awarded the Padma Shri in 2015. In 2016, he was awarded the Lifetime Achievement Award by US-India Business Summit. Dr. Debroy has made significant contributions to game theory, economic theory, income and social inequalities, poverty, law reforms, railway reforms and Indology among others. Dr Debroy has authored several books, papers and popular articles, has been the Consulting Editor of Indian financial and other newspapers. He was the Chairman/member of various committee. He has taught at Presidency College, Calcutta, Gokhale Institute of Politics and Economics, the Indian Institute of Foreign Trade and the National Council of Applied Economic Research.
Satish Y. Deodhar
Prof. Deodhar teaches economics at the Indian Institute of Management Ahmedabad. He completed his bachelor's and master's in economics from the Gokhale Institute of Politics and Economics, Pune, and received Ph.D. in Agricultural Economics from The Ohio State University.
He has worked on imperfectly competitive market structures, World Trade Organization (WTO), agricultural trade, food quality, and CSR issues. He has conducted research projects for India's Ministry of Food Processing Industry, Ministry of Agriculture, Indian Bank, and Economic Research Service of the US Department of Agriculture. He was selected as the Hewlett Fellow of the International Agricultural Trade Research Consortium during 2006-2008. Prof. Deodhar was the recipient of the Outstanding Ph.D. Dissertation Award from the US Food Distribution Research Society, and has been honoured with the Dewang Mehta Best Professor of Economics Award in 2012 and 2015 by the Business School Affaire. He has also been the recipient of the Distinguished Young Professor Award for Excellence in Research from IIMA.
He has authored quite a few monographs and books. One of his books, Day to Day Economics, which he wrote for the IIMA Random House Business Book Series, has gone on to become a national bestseller in non-fiction category with more than 60,000 copies sold till date. Prof. Deodhar was the pioneer Convener of the largest annual computerized common admission test (CAT) conducted by IIMs for admissions to management schools.
He has held many administrative positions at IIMA including Admission Chair, PGP Chair, Placement Chair, PGPX Chair, Welfare Chair, and Warden. He is a Life Member of the Association of Food Scientists and Technologists (India), and serves on the advisory board of Savida Agri-com Ltd. He was on the board of Asian Granito Ltd., as an independent director. He was also instrumental in bringing out the commemorative postal stamp by India's Department of Post in memory of the 18th century Indian statesman, Bajirao Peshwa I.
---
Certificate of Participants