Green Vision: Agriculture, 2050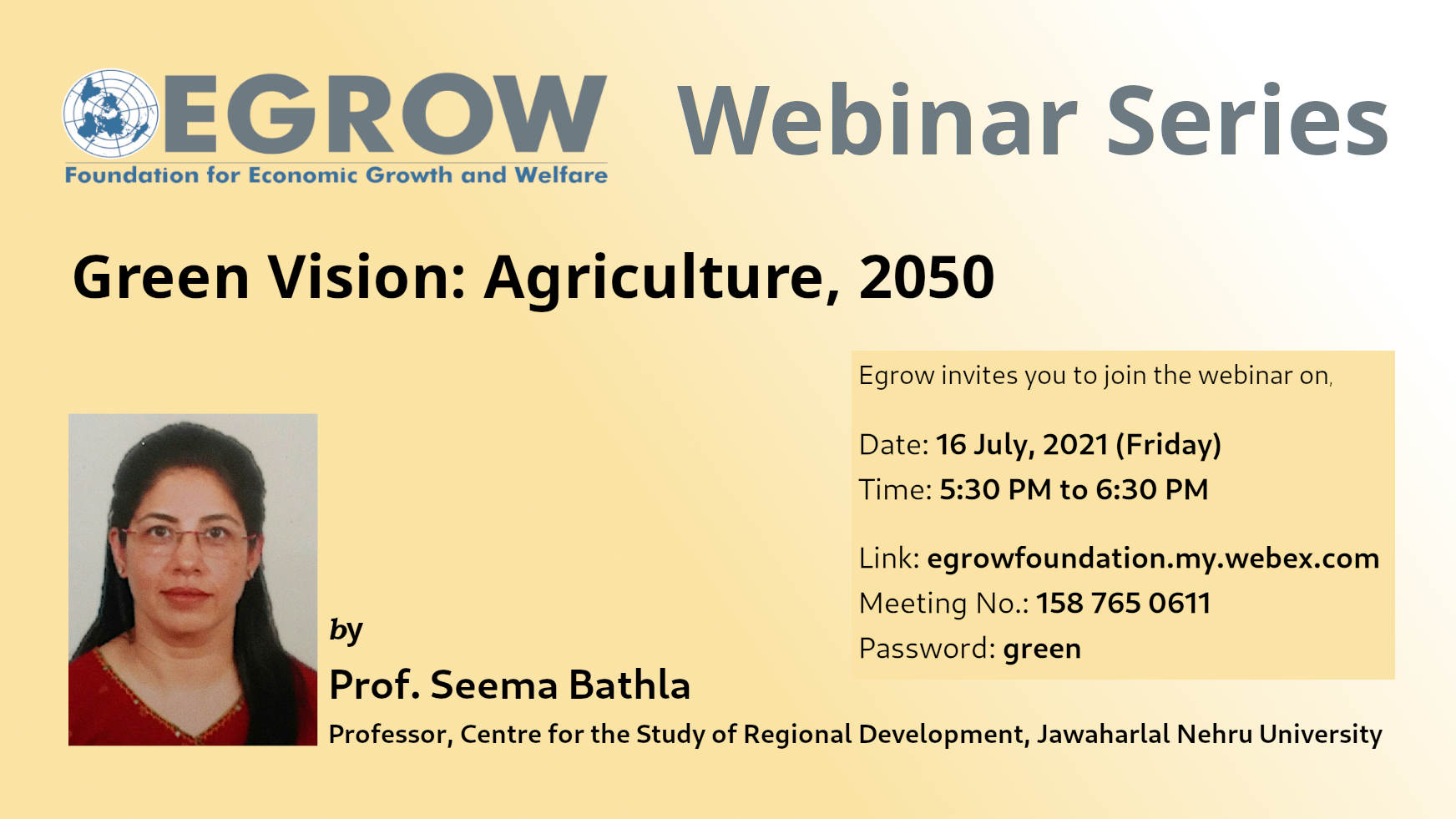 Meeting No: 158 765 0611
Password: green
---
Abstract
The world as a whole is undergoing several transformative changes. Growing population, changing lifestyles, expanding urbanization and accelerated climate changes are creating new challenges for the national agricultural research system. In the past, the major concern was attainment of self sufficiency of food. At present the major challenge is to provide food with adequate nutrients in order to promote health. However in the future, the major challenge will be to provide optimal nutrients based on individual's genetic profile. Nevertheless, there will be also developments in science which will address to these concerns. In this presentation the speaker highlight the challenges that are or will be confronted by Indian Agriculture in the present or future. The speaker also examines how can the policy makers address the current and the future agriculture scenario of India.
About the Speaker
Dr. Seema Bathla is a Professor in the Centre for the Study of Regional Development, School of Social Sciences, Jawaharlal Nehru University. Prior to her current position she has served in various capacities in reputed institutions like Federation of Indian Chambers of Commerce and Industry (FICCI), Institute of Economic Growth (IEG) Delhi University and The Energy Research Institute (TERI)
She is also the recipient of various literary awards viz Dr. S.R. Sen Biennial Prize by the Indian Society of Agriculture Economics in 2018, Dr. R.T. Doshi award for best article in Agricultural Economics Research Review in 2014, 2015 and 2020 and Jawaharlal Nehru Award for Post-graduate Agricultural Research 2008 by the ICAR in 2009.
Dr Bathla has written extensively on different topics of agriculture economics viz agricultural trade, public expenditure and rural poverty, agriculture marketing, food processing industry. She has also published a large number of articles in national and international journals.
---
Certificate of Participants