Healthy States, Progressive India. Ranking of States and UTs, 2019-20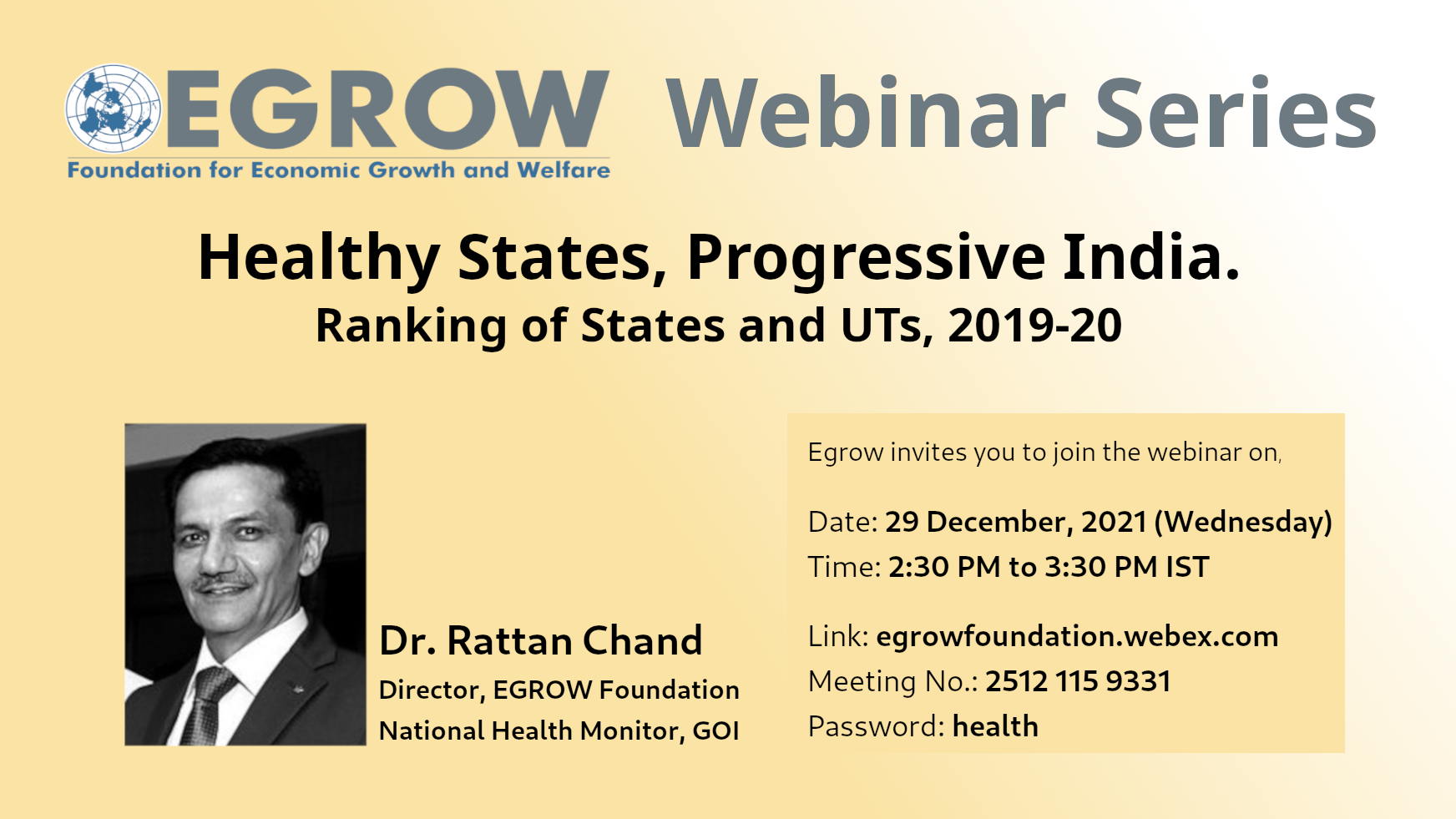 Meeting No: 2512 115 9331
password: health
---
Certificate of Participants
---
Abstract
In 2017 the National Institution for Transforming India (NITI Aayog) in collaboration with the Ministry of Health and Family Welfare (MoHFW) and the World Bank initiated an annual Health Index for tracking Overall Performance and Incremental Performance on health across all states and Union Territories (UTs). The objective of the Annual Health Index is to track progress on health outcomes and health systems performance, develop a healthy competition and encourage cross-learning among states and UTs. Health Index Scores and rankings for states and UTs are generated to assess incremental performance (year-to-year progress) and overall performance (current performance). The exercise is expected to help drive state/UT's efforts towards the achievement of health-related Sustainable Development Goals (SDGs) including those related to Universal Health Coverage (UHC) and other health outcomes.
Health Index is a weighted composite score incorporating 24 indicators covering key aspects of health performance. The domains covered in the report are Health Outcomes, Governance and Information, and Key Inputs and Processes.
So far four Reports on Health Index have been released and these aim to nudge the States/UTs towards building robust health systems and improving service delivery. The importance of this annual tool is reemphasized by MOHFW's decision to link this Health Index to incentives under the National Health Mission. The Reports have tried to shift the focus from budget spending, inputs, and outputs to outcomes.
The Health Index has strengthened the culture of use of data at the state/UT level to monitor performance and is contributing to the agenda of improving the availability, quality, and timeliness of data in most states/UT. The speaker in the presentation will provide us with a critical analysis of the health index.
About the Speakers
Rattan Chand
Dr Rattan Chand is one of the founding Directors, EGROW Foundation. He is a former officer of the Indian Statistical Service and has served the Government of India in various positions for more than 35 years. While in the service, he worked closely with many Development Partners including USAID, World Bank, United Nations, World Health Organization etc. He has represented the Government at many national and International Meetings, Conferences and Seminars in the Health Sector. As Chief Director, in the Ministry of Health and Family Welfare, he was responsible for Monitoring and evaluation and during his tenure many activities like establishing Health Management Information System (HMIS), Annual Health Surveys, District Level Household Surveys and National Family Health Survey were initiated and completed.
He obtained Ph.D. in Population Studies from IIPS, Mumbai, PG Diploma in Population and Development from JNU and Master of Statistics from Punjabi University.