How International Democracy Ratings Misrepresent India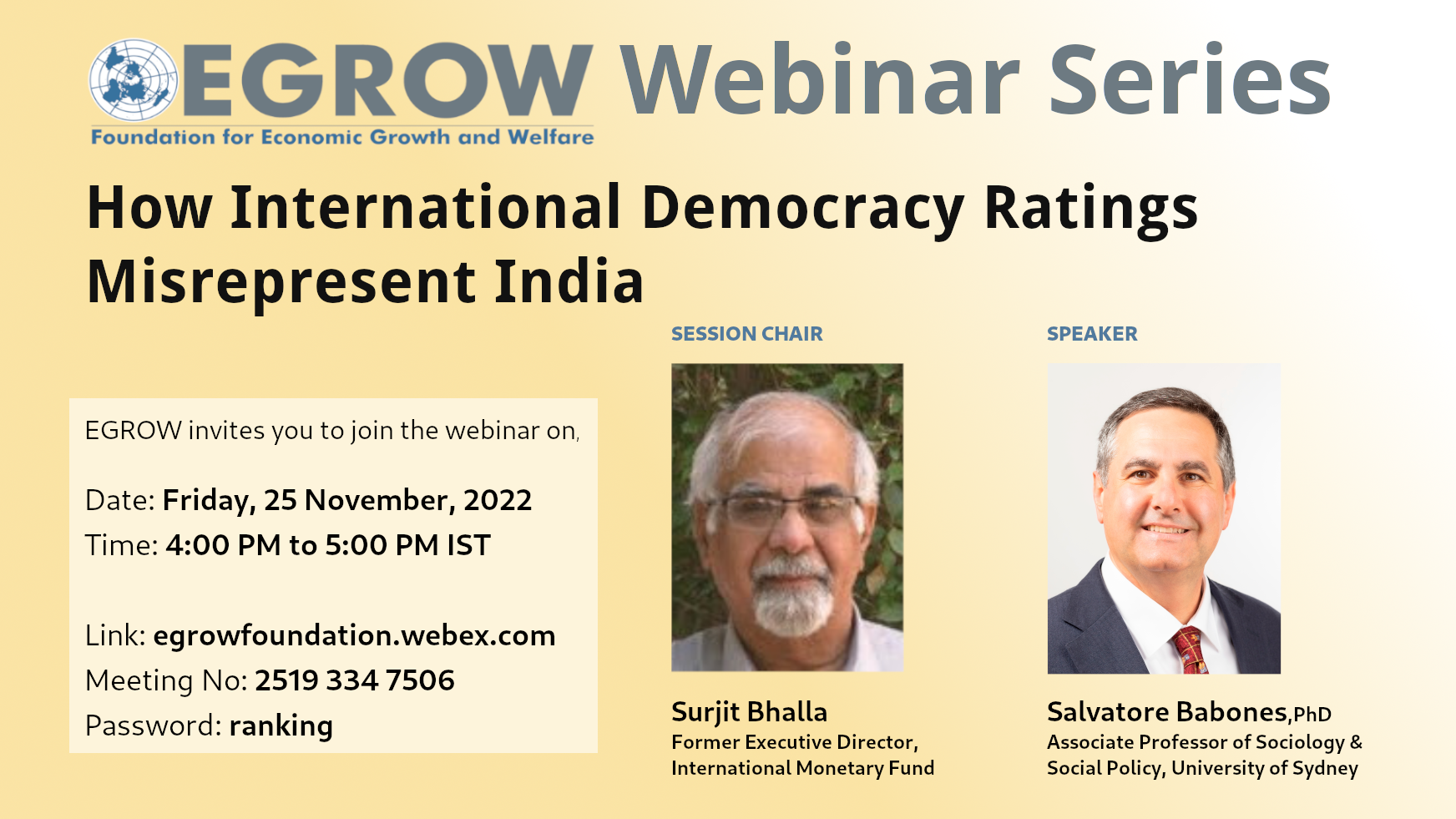 Meeting No: 2519 334 7506
Password: ranking
---
Abstract
Despite a vibrant free press, a tenaciously independent judiciary, and 75 years of free and fair elections, India has somehow gained an international reputation as an authoritarian state bordering on fascism. But are these criticisms of Indian democracy actually correct? The stridently negative appraisals of Indian democracy published by the three major democracy rating organisations are suffused with wanton speculation, misleading statistics, and uncritical reproductions of activist accusations. They are, in a word: wrong. In this lecture, Prof. Babones will document the failures of the international rankings and attempt to explain how they have come to so profoundly misrepresent India's democratic success story.
About the Speakers
Surjit Bhalla
Dr Surjit S Bhalla is the Former Executive Director IMF, representing India, Sri Lanka, Bangladesh and Bhutan. He holds a PhD in Economics from Princeton University. He is a former part-time member of Hon'ble Prime Minister Narendra Modi's Economic Advisory Council. In addition, he served as Chairperson for the Ministry of Commerce High Level Advisory Group on Trade; Economic Adviser to the Fifteenth Finance Commission, Government of India. He is a regular Invitee to the Aspen Institute Program on World Economy, USA, 2002-present. He was also a Contributing Editor for Indian Express (2014-2019). He was Founder-Chairman of Oxus Research & Investments 1997-2017.
Salvatore Babones
Salvatore Babones is an associate professor at the University of Sydney who specialises in quantitative comparative sociology. Salvatore earned his MS (mathematical sciences) and PhD (sociology) from the Johns Hopkins University. His 2018 book The New Authoritarianism was named among the 'Best on Politics' by the Wall Street Journal. Salvatore is currently researching a book on Indian democracy.
---
Certificate of Participants