How to achieve Inclusive Growth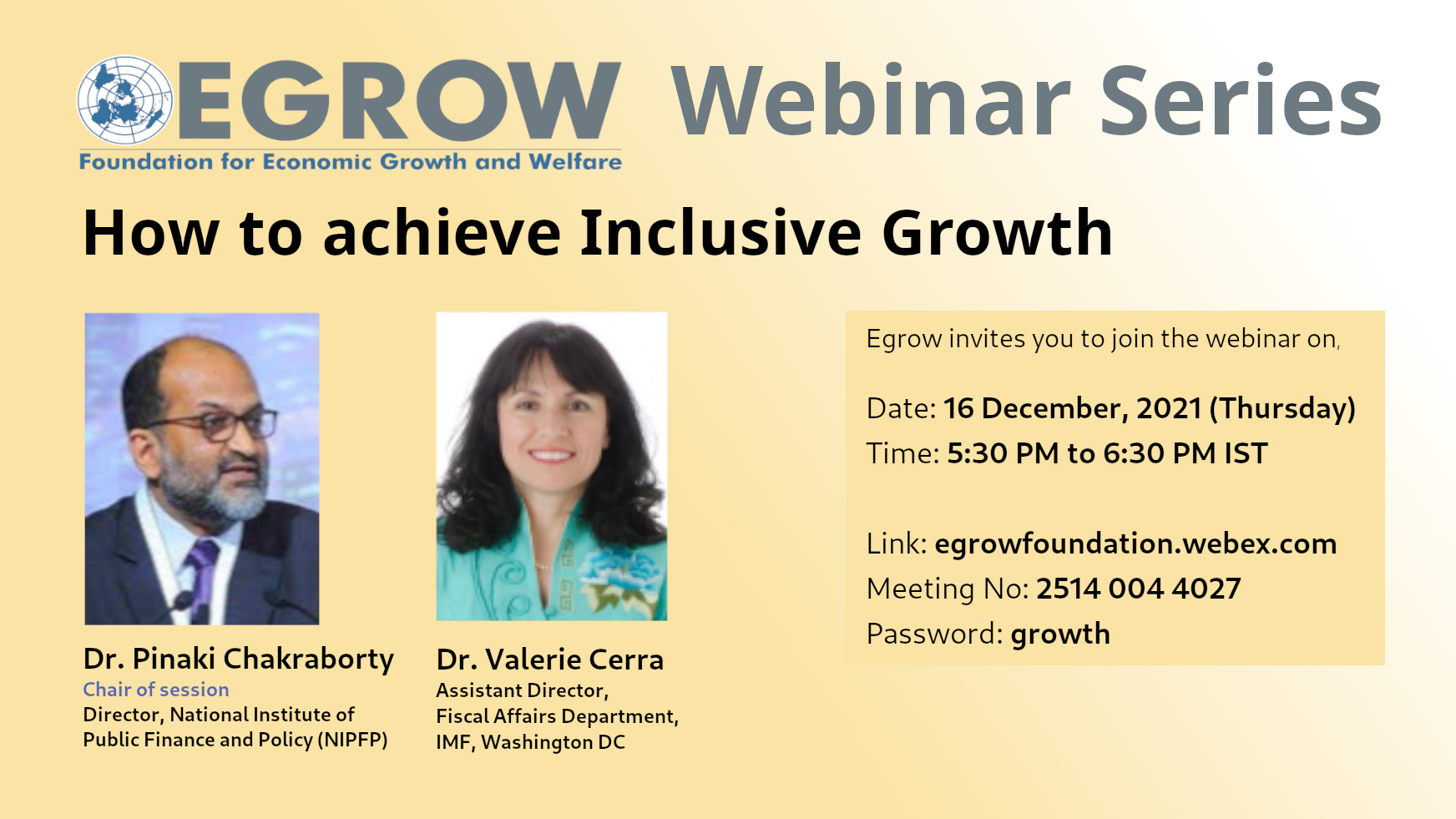 Meeting No: 2514 004 4027
password: growth
---
Abstract
Rising inequality and widespread poverty, social unrest and polarization, gender and ethnic disparities, declining social mobility, economic fragility, unbalanced growth due to technology and globalization, and existential danger from climate change are urgent global concerns. These issues are intertwined. They therefore require a holistic framework to examine their interplay and bring the various strands together.
The presenter will examine a wide array of empirical evidence and country experiences to lay out practical policy solutions and to devise a comprehensive and unified plan of action for combatting these economic and social disparities.
About the Speakers
Pinaki Chakraborty
Pinaki Chakraborty is the Director, National Institute of Public Finance and Policy New Delhi. Prior to this, he was the Chief-Social Policy-UNICEF, and the Chief of Field Office-UNICEF Kerala and Tamil Nadu. Since 2008, he has been Professor at the National Institute of Public Finance and Policy, New Delhi. He served as a Member, Advisory Council to the Fifteenth Finance Commission of India; Member-Secretary, Committee on Fiscal Statistics appointed by the National Statistical Commission in 2017; Chairman, Kerala Public Expenditure Review Committee-a statutory committee appointed by the Government of Kerala; and Research Associate, Levy Economics Institute, New York. From May 2013 to December 2014, Chakraborty served as Economic Adviser to the 14th Finance Commission of India, heading the Economic Analysis and Technical Coordination Division of the Commission. He also served as a Member of the Third Union Territory Finance Commission, appointed by the Ministry of Home Affairs, and as a Consultant to the Eleventh Finance Commission of India.

Chakraborty has critical domain knowledge of the public finances of the national and state governments and has served on the advisory committees of various research institutions in India. He has also held short term visiting appointments in the Department of Economics at the University of Ottawa and the University of Carleton, and at the Centre for Development Studies-affiliated to Jawaharlal Nehru University (JNU), New Delhi, and taught Indian Public Finance course at the Indira Gandhi Institute for Development Research, Mumbai.

He testified before the Select Committee of the Upper House of India Parliament in June 2015 on the Constitution Amendment Bill on GST. His book titled "GST in India: A Simple Tax in a Complex Federal System" has been published by Orient Back Swan in 2019. He has also researched extensively on the decentralization and development of States in India. He has co-authored two books titled 'State Level Reforms, Growth, and Development in Indian States" published by the Oxford University Press, New York in 2014 and 'Social Sector in a Decentralised Economy: India in the Era of Globalization' published by Cambridge University Press. He publishes regularly on various national and international journals. He has an MPhil in Applied Economics and PhD in Economics from the Centre for Development Studies.
Valerie Cerra
Valerie Cerra is an Assistant Director of the Fiscal Affairs Division, IMF. She obtained undergraduate degrees in finance and engineering from the University of Pennsylvania, and her Ph.D. in Economics from the University of Washington. Before graduate school, she was a financial analyst at a consulting firm in the U.S. Her research publications focus on international macroeconomics, exchange rates, financial crises, and growth.
---
Certificate of Participants