In Defense of Public Debt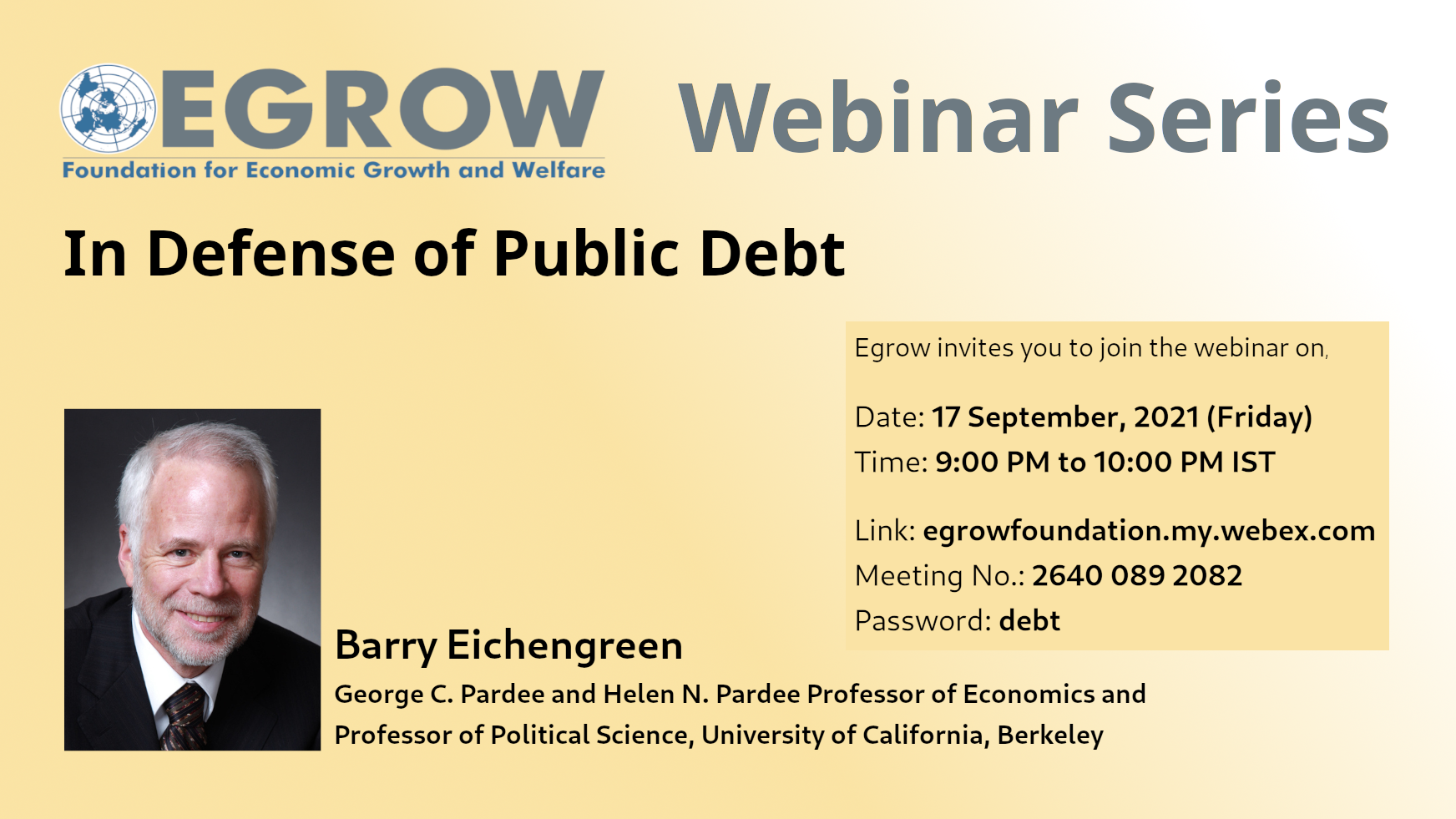 Meeting No: 2640 089 2082
Password: debt
---
Abstract
Public debts have exploded to levels unprecedented in modern history as governments responded to the Covid-19 pandemic and ensuing economic crisis. Their dramatic rise has prompted apocalyptic warnings about the dangers of heavy debts about the drag they will place on economic growth and the burden they represent for future generations. In Defense of Public Debt offers a sharp rejoinder to this view, marshaling the entire history of state-issued public debt to demonstrate its usefulness.
The presentation argues that the ability of governments to issue debt has played a critical role in addressing emergencies from wars and pandemics to economic and financial crises, as well as in funding essential public goods and services such as transportation, education, and healthcare. In these ways, the capacity to issue debt has been integral to state building and state survival. Transactions in public debt securities have also contributed to the development of private financial markets and, through this channel, to modern economic growth. None of this is to deny that debt problems, debt crises, and debt defaults occur. But these dramatic events, which attract much attention, are not the entire story. But there needs to be a balance. The speaker develop their arguments historically, recounting two millennia of public debt experience. They deploy a comprehensive database to identify the factors behind rising public debts and the circumstances under which high debts are successfully stabilized and brought down. Finally, they bring the story up to date, describing the role of public debt in managing the Covid-19 pandemic and recession, suggesting a way forward once governments now more heavily indebted than before finally emerge from the crisis.
About the Speaker
Barry Eichengreen is the George C. Pardee and Helen N. Pardee Professor of Economics and Professor of Political Science at the University of California, Berkeley, where he has taught since 1987. He is a Research Associate of the National Bureau of Economic Research (Cambridge, Massachusetts) and Research Fellow of the Centre for Economic Policy Research (London, England). In 1997-98 he was Senior Policy Advisor at the International Monetary Fund. He is a fellow of the American Academy of Arts and Sciences (class of 1997).
Professor Eichengreen has held Guggenhim and Fulbright Fellowships and been a fellow of the Center for Advanced Study in the Behavioral Sciences (Palo Alto) and the Institute for Advanced Study (Berlin). From 2004 to 2020 he served as convener of the Bellagio Group of academics and officials. He is a regular monthly columnist for Project Syndicate.
His most recent books are In Defense of Public Debt with Asmaa El-Ganainy, Rui Esteves and Kris Mitchener (Oxford University Press 2021), The Populist Temptation: Economic Grievance and Political Reaction in the Modern Era (Oxford University Press, 2018), How Global Currencies Work: Past, Present, and Future with Livia Chitu and Arnaud Mehl (November 2017), The Korean Economy: From a Miraculous Past to a Sustainable Future with Wonhyuk Lim, Yung Chul Park and Dwight H. Perkins (March 2015), Renminbi Internationalization: Achievements, Prospects, and Challenges, with Masahiro Kawai (February 2015), Hall of Mirrors: The Great Depression, The Great Recession, and the Uses--and Misuses--of History (January 2015), From Miracle to Maturity: The Growth of the Korean Economy with Dwight H. Perkins and Kwanho Shin (2012) and Exorbitant Privilege: The Rise and Fall of the Dollar and the Future of the International Monetary System (2011) (shortlisted for the Financial Times and Goldman Sachs Business Book of the Year Award in 2011).
Professor Eichengreen was awarded the Economic History Association's Jonathan R.T. Hughes Prize for Excellence in Teaching in 2002 and the University of California at Berkeley Social Science Division's Distinguished Teaching Award in 2004. He is the recipient of a doctor honoris causa from the American University in Paris, and the 2010 recipient of the Schumpeter Prize from the International Schumpeter Society. He was named one of Foreign Policy Magazine 's 100 Leading Global Thinkers in 2011. He is a past president of the Economic History Association (2010-11 academic year).
---
Certificate of Participants