In search of new economic growth: Is USA losing the leadership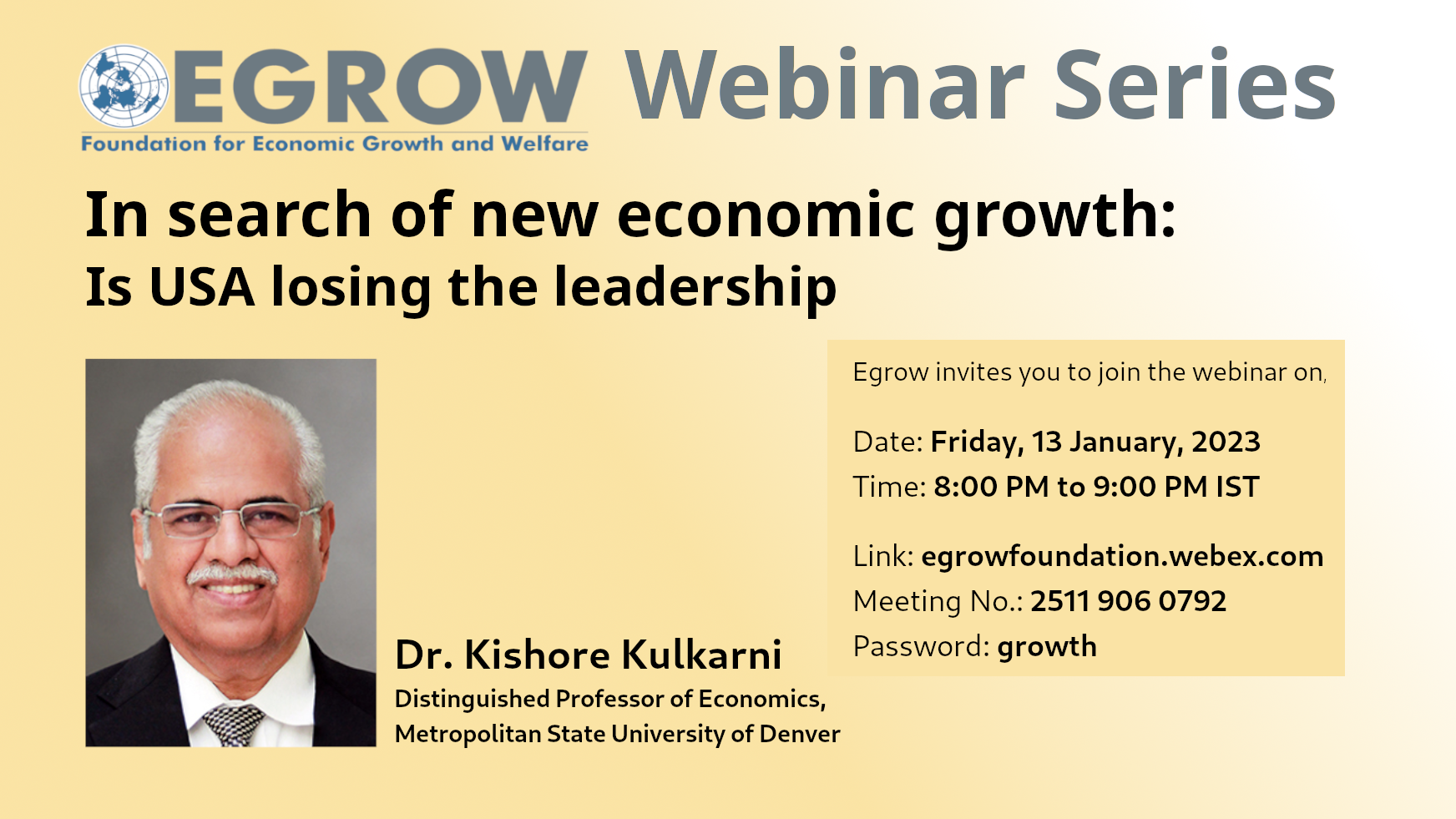 Meeting No: 2511 906 0792
Password: growth
---
Abstract
India has done well during the 2008 crisis and the 2019 Covid 19 pandemic and has stood as an exception to its peers. It is likely to increasingly become a key determinant of global growth in its upcoming future.
Focusing on the US, Japan, Germany China and India—five large economies that make up almost half of the world's GDP—this presentation analyses India's growth story in comparison to others.
About the Speaker
Kishore G. Kulkarni has been a Distinguished Professor of Economics at Metropolitan State University of Denver since 1989. He has also taught at the University of Colorado, University of Denver, Colorado State University and Colorado School of Mines as an Adjunct Professor. Dr. Kulkarni completed a B.A. in Economics, receiving a first rank in merit and an M.A. in Economics, receiving a second rank in merit, from the University of Poona, (now called Savitribai Phule Pune University) in India. He migrated to the U.S. in 1976 and completed an additional M.A. and Ph.D. in Economics from the University of Pittsburgh.
He has been teaching at MSU Denver since 1989. Kulkarni has also taught as an affiliate professor at University of Colorado in Boulder, Korbel School of International Studies at the University of Denver, Colorado State University and Colorado School of Mines. He has received numerous awards over the years, including the Distinguished Service Award in 2004 and Extra-ordinary Service Award handed by the university President in 2010 from MSU Denver. In 2012, Kulkarni was recognized as the first "Distinguished Professor" in College of Business by the Dean at MSU Denver. In May 2017, Non-Resident Indians (NRI) Welfare Society of India honored him with the "Pravasi Ratan" award; and in March 2019, the Federation of Business Disciplines (FBD) recognized him as the "Outstanding Educator Award" recipient. He also co-founded Indian Journal of Economics and Business (IJEB), which he managing from 2001-2016.
Kulkarni has authored, co-authored and contributed to nine books, some of which have become well-known textbook adoptions in American and Indian universities. The sixth edition of his "Principles of Macro-Monetary Economics" textbook was published in 2019. Kulkarni has authored and co-authored 160 refereed journal articles in Global Business Review, Indian Economic Journal and Indian Journal of Economics.
---
Certificate of Participants