Income Inequalities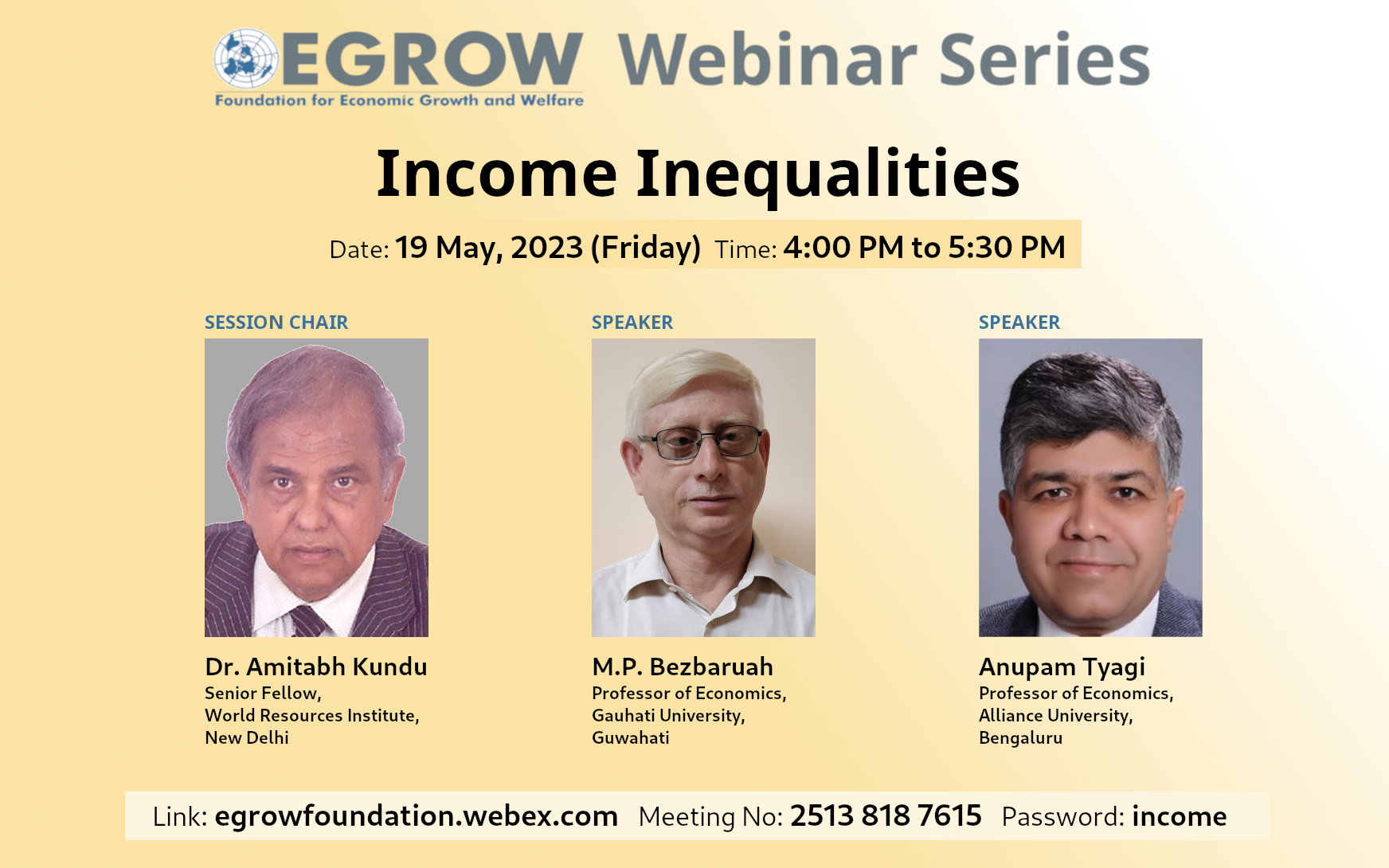 Meeting No: 2513 818 7615
Password: income
---
Certificate of Participants
To recieve certificates, please register and attend
---
About the Speakers
Dr. Amitabh Kundu
Dr. Amitabh Kundu is currently Senior Fellow at the World Resources Institute and Research and Information System for Developing Countries. He was Regional Advisor on Poverty at UNESCWA, Beirut during 2017 and Consultant to the Government of Sri Lanka during 2016. Until January 2014, he was Professor at the Jawaharlal Nehru University, New Delhi. He has been the Dean of the School of Social Sciences and has served as a member of National Statistical Commission during 2006-08. He is also the chairperson of Samarthan, a large grass root level institution working for the poor and vulnerable.
Currently, he is the co-chair of two Labour force surveys being conducted by the Ministry of Labour and Employment and advising the governments of Madhya Pradesh and Chhattisgarh on their statistical system and urban development. He chaired the committees on Swatch Bharat Missioin (Rural), Housing Start Ups (Reserve Bank of India), Slum Database and Housing Shortages (Ministry of Housing and Poverty Alleviation). He has been chairpersons of the Post Sachar Evaluation Committee and Diversity Index Committee, set up by the Ministry of Minority Affairs.
He has been a Visiting Professor at the University of Amsterdam, Sciences Po and Maison des Sciences de L'homme in Paris, University of Kaiserslautern and University of Wuerzburg in Germany. He has worked as Director at various institutes in India and is in the Editorial Board of Manpower Journal, Urban India, Journal of Educational Planning and Administration, Indian Journal of Labour Economics. He has about thirty five books and three hundred research articles, published in India and abroad, to his credit. His recent study is on Educational Development in North East India, sponsored by UNESCO. His edted books Rethinking Prosperity, Accessible Housing for South Asia and India Discrimination Report have come out in 2022-23.
M.P. Bezbaruah
M P Bezbaruah is a Professor of Economics at Gauhati University. He is the present Vice President of The Indian Econometric Society and was a Member of ICSSR, New Delhi till January 2023
He has authored/edited 6 books, the last two being
Agricultural Factor Markets and India's Small Farmers published by Sage Publications, New Delhi in 2022

Indian Agriculture After the Green Revolution: Changes and Challenges published by Rutledge, New York in 2017 as a part of Rutledge Studies in the Modern World Economy Series.
He holds an MA in Economics from the Delhi School of Economics and a PhD from Gauhati.
Anupam Tyagi
Anupam Tyagi is a professor of Economics at Alliance University, Bengaluru. He is a passionate teacher and researcher. He has had experience in academic and non-academic settings. He has worked and consulted for prestigious institutions, like Centers for Disease Control and Prevention (USA), Center for Chronic Disease Control, International Fund for Agricultural Development, Water and Sanitation Program (The World Bank), National Council of Applied Economic Research (NCAER) and PriceWaterhouseCoopers (UNICEF). He has previously taught at International Management Institute, Presidency University, Sharda University, University of Utah (U.S.A.) and Sriram College of Commerce (Delhi University).
He has occasionally written in print media outlets. He has also been an entrepreneur for a brief period. His research interests are in Development, Environment/Sustainable Development, Health, Income Inequality and Analysis of Household Surveys.
He did his B.A. (Honours) from Sriram College of Commerce, Delhi University, M.A. from Jawaharlal Nehru University, and Ph.D. from University of Utah, USA, all in Economics.