India@100 and beyond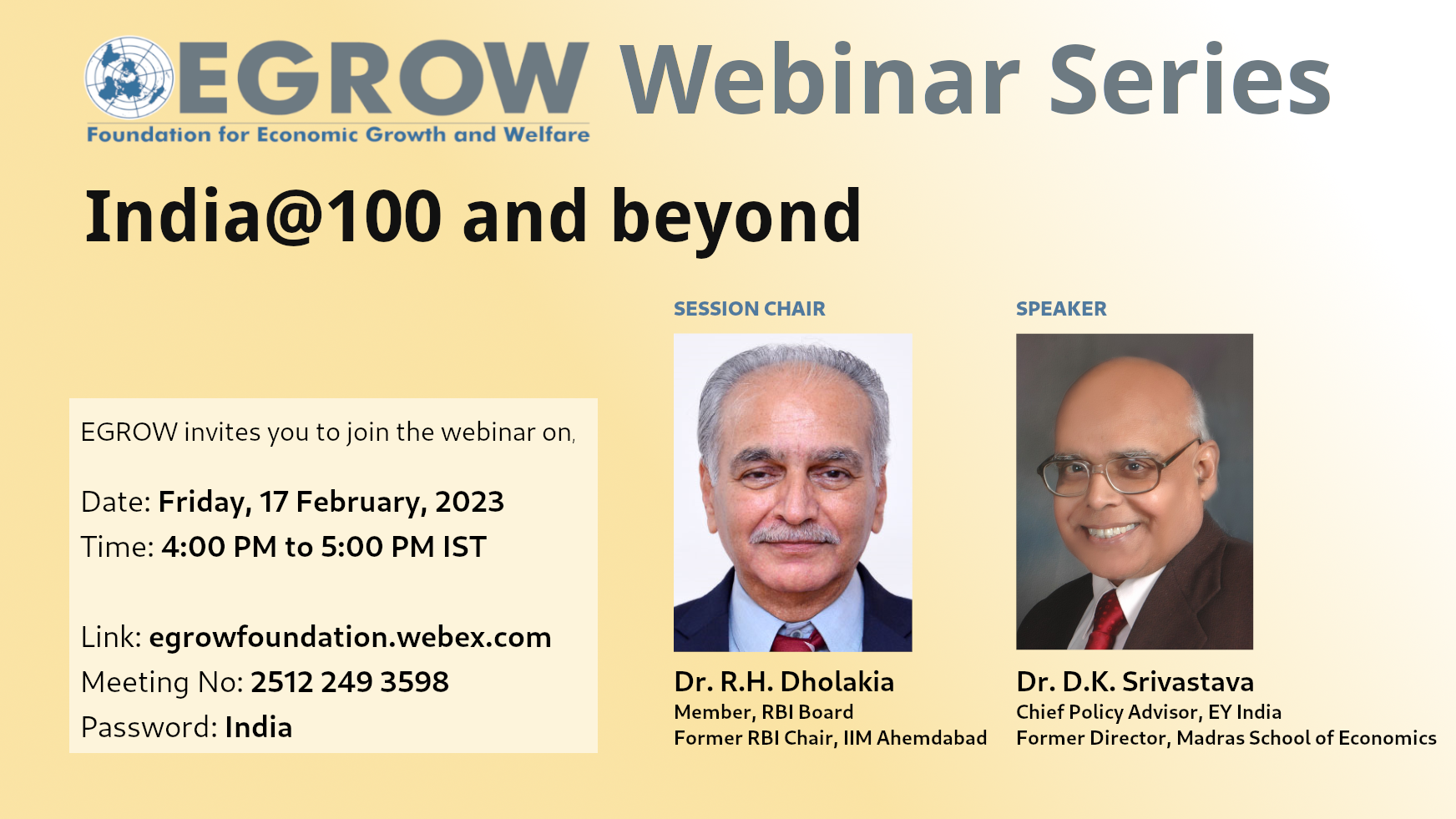 Meeting No: 2512 249 3598
Password: India
---
Abstract
This presentation summarizes the findings of a recent release entitled 'India@100: realizing the potential of a US$26 trillion economy' at the 2023 World Economic Forum in Davos, Switzerland. This analysis is based on a long-term growth model for India. It highlights how by taking advantage of India's unfolding demographic dividend and a number of supplementary growth enablers while minimizing the impact of economic shocks through instituting a set of suitable growth stabilizers, India can reach a size of US$26 trillion in market exchange rate terms by 2047-48, equivalent to $46 trillion in PPP terms. We take the projections forward up to 2060-61 and compare these with corresponding OECD and CEPR forecasts.
About the Speaker
Dr. R.H. Dholakia
Professor Dholakia was the Economics Area faculty at IIM Ahmedabad from 1985 to April 2018 when he superannuated. He received the Most Distinguished Faculty Award for the year 2017-18 at IIMA. He has about 41 years of experience of teaching Economics to different groups like students, executives, policy makers and senior government officers. He was a regular visiting faculty to teach at the European Management Institute (ESCP-EAP), Paris from 2002 to 2005. He has collaborated on a series of research projects with the Earth Institute of Columbia University from 2004-05 to 2012-13. He has considerable practical experience working in high powered policy making and evaluation bodies in both the Central and State Governments in India. He was on the Monetary Policy Committee of India (2016-21). He was a member of the Sixth Central Pay Commission (2006-08) deciding revision of the pay and pension of more than 10 million employees in India. He was also a Member of the High Level Committees on Leveraging Postal Network in India (2014), HR Issues in the Merger of Air India and Indian Airlines (May 2011- Jan.2012), Public Expenditure Management (2009-10), and on Savings and Investment Estimation (2008-09) appointed by the Government of India; a Member of the Expert Committee on Restructuring of the State Public Sector Units (2004-08), the Public Debt Management Committee (2005-06), and the State Public Finance Reform Committee (1998 – 2000) appointed by the Government of Gujarat. He has recently chaired a Committee on Financial Sector Statistics (2016-18) and is currently chairing a Committee on Sub-National Accounts appointed by the Ministry of Statistics and Programme Implementation, Government of India (2018 onwards) and had chaired a Committee on Cost Saving and Resource Use Optimization in Air India, appointed by Ministry of Civil Aviation, Government of India (2013).
Dr. D.K. Srivastava
Dr. D.K. Srivastava, Chief Policy Advisor, EY is a noted economist and a well-known academician. He brings more than 50 years of vast experience in areas of public finance and fiscal policy. He has extensively contributed to policymaking in India as well as internationally in the capacity of an academician, a policymaker and in his current role as the Chief Policy Advisor at EY.
He has been Economic Advisor to the Tenth Finance Commission, Principal Consultant to the Eleventh Finance Commission, Member of the Twelfth Finance Commission and a member of the Advisory Council to the Fifteenth Finance Commission. Dr. Srivastava has been associated with a number of committees set up by the central and state governments and by the RBI. He was Chairman, Committee on Fiscal Statistics set up by the National Statistical Commission in 2017 and Chairman - Working Group on 'Fiscal Management beyond FRBM', constituted by the RBI.
---
Certificate of Participants