India 2030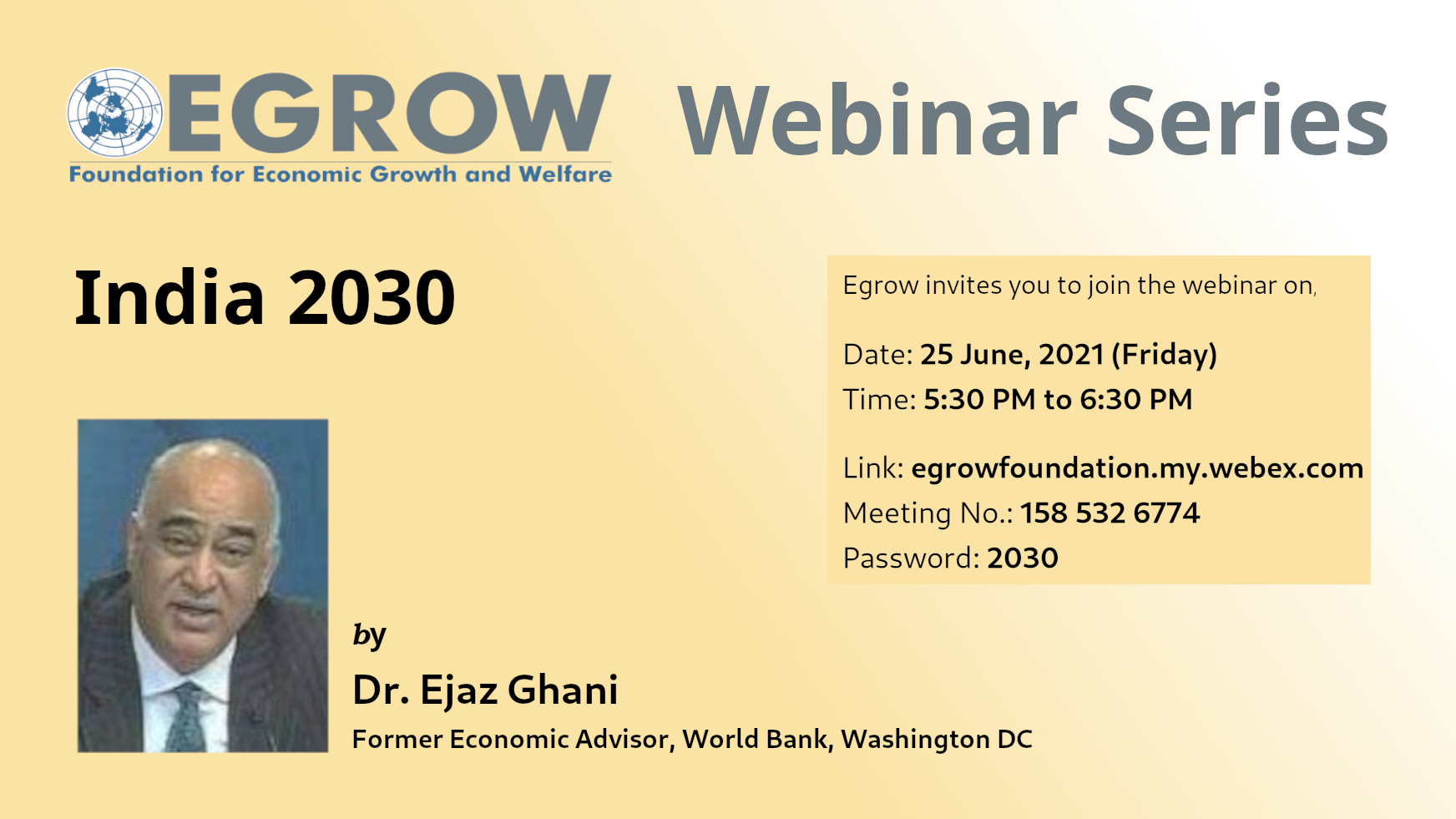 Meeting No: 158 532 6774
Password: 2030
---
Abstract
India's rapid economic growth in recent decades faces large challenges because of its huge population and its multi-faceted characteristics. This creates hindrance to cope with the present health crisis, creation of jobs, management of macroeconomic shocks, mitigation of climate change and other socio-economic issues. On the contrary, India currently has a large demographic dividend. Its' estimated that the median age of Indian population is 28.5 years with a population of 35.8 percent below 20 years and a life expectancy of 69.7 years.
Thus, India has a potential to grow faster than even the developed countries. Macroeconomists are in consensus that scaling up infrastructure spending remains correct response during an economic crisis and previous empirical results suggest that investment in infrastructure remains pivotal for India's economic growth. In the present pandemic scenario majority of the developed countries has announced large fiscal stimulus packages that have a major infrastructure component.
India's biggest initiative towards infrastructure development is the creation of the National Investment and Infrastructure Fund. However in order to reach its growth target in 2030 India requires to scale up investments. This can be carried out through a lenient fiscal stance along with dynamic and prudent monetary policy.
About the Speaker
Ejaz Ghani, an Indian national, is currently Economic Advisor at The World Bank. He has worked on Africa, East Asia, South Asia, Corporate Strategy, and Independent Evaluation Unit. He has written on economic growth, macro policies, poverty, employment, entrepreneurship, urbanisation, gender, trade, decentralisation, and agriculture. He has been a consultant at ILO, UNCTAD, and UNICEF.
He has edited several books including Reshaping Tomorrow--Is South Asia Ready for the Big Leap? Oxford University Press 2011; The Poor Half Billion in South Asia, Oxford University Press 2010 The Service Revolution in South Asia, Oxford University Press 2010; Accelerating Growth and Job Creation in South Asia (with S. Ahmed) 2009, Promoting Economic Cooperation in South Asia (with S. Ahmed and S. Kelegama), 2009; and Growth and Regional Integration (with S. Ahmed) Macmillan 2007.
Prior to joining The World Bank, he taught economics at St. Anne's College (Oxford University) and Shri Ram College of Commerce (Delhi University). He obtained an M.Phil. & D.Phil. in Economics from Oxford University. He did his schooling in Bihar; Bachelors at St. Stephen's College; and Masters at Jawaharlal Nehru University, India. He is an Inlaks scholar.
---
Certificate of Participants