India and Asian Geopolitics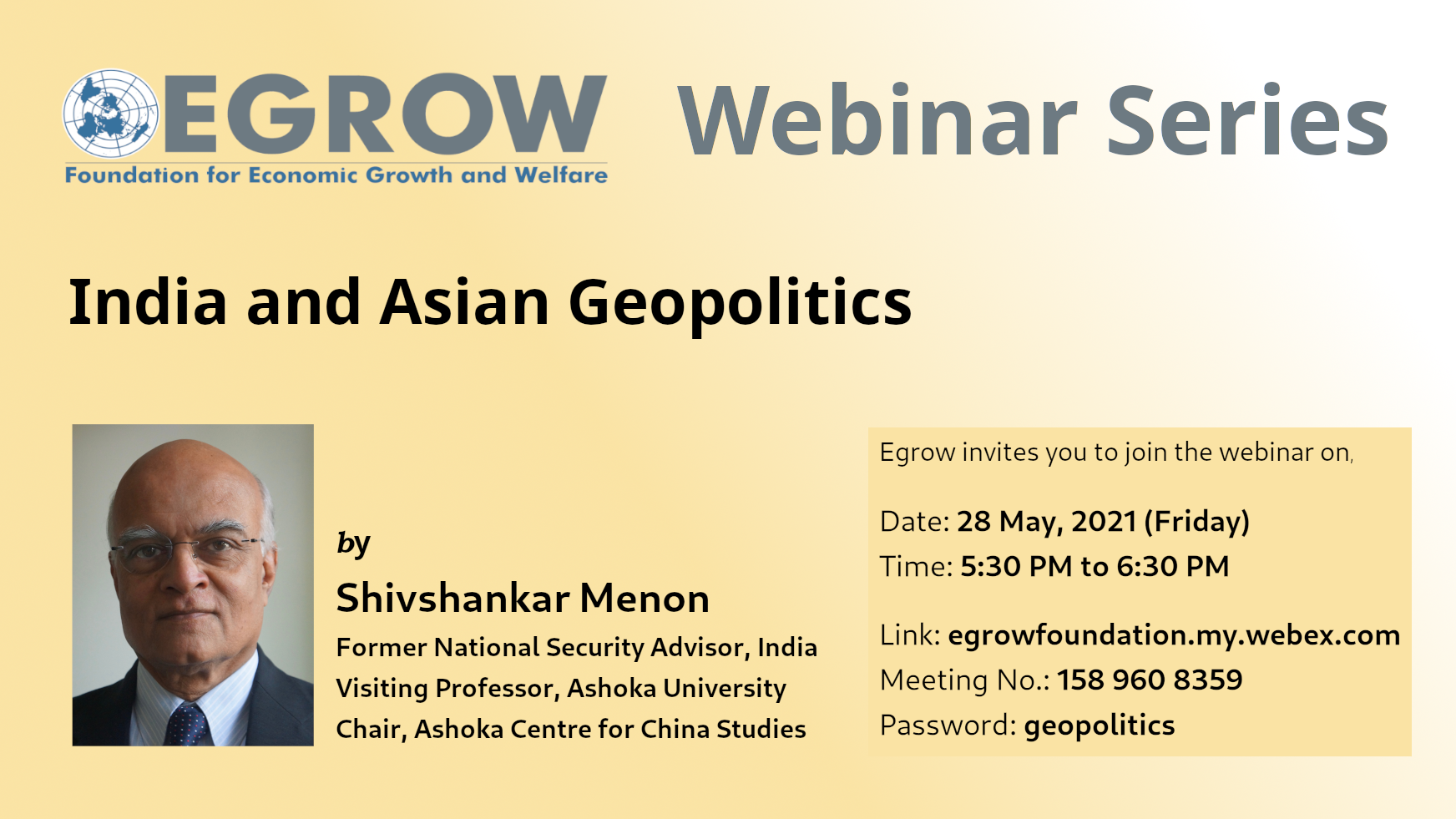 Meeting No: 158 960 8359
Password: geopolitics
---
Abstract
In this presentation the speaker addresses the many questions, which perplex India as the nation seeks to find its way in the increasingly complex world of Asian geopolitics. From its leading role in the 'nonaligned' movement during the Cold War to its current status as a perceived counterweight to China, India often has been an after-thought for global leaders-until they realize how much they needed it. Examining India's own policy choices throughout its history, the author focuses in particular on its responses to the rise of China, as well as other regional powers. He also looks to the future and analyses how India's policies are likely to evolve in response to current and new challenges. As India gains new stature across the globe, both its domestic preoccupations and international choices become more significant. Authoritative, comprehensive and deeply engaging, in India and Asian Geopolitics Menon makes a powerful geopolitical case for an India increasingly and positively engaged in Asia and the broader world in pursuit of a pluralistic, open, and inclusive world order.
---
About the Speaker
Ambassador Shivshankar Menon is currently visiting professor at Ashoka University, India, and Chair of the Ashoka Centre for China Studies.
He was previously National Security Advisor to the Prime Minister of India, Jan 2010-May 2014; Foreign Secretary of India, October 2006-July 2009; and has served as the Indian Ambassador or High Commissioner to China, Pakistan, Sri Lanka and Israel.
In 2016 he published Choices; Inside the Making of Indian Foreign Policy. His book on India in Asian Geopolitics; The Past, Present (Brookings Press USA, & Penguin Random House India) was released in April 2021.
He has been a Fisher Family Fellow at the Kennedy School, Harvard University, and Richard Wilhelm Fellow at MIT in 2015. He was chosen one of the "Top 100 Global Thinkers" by Foreign Policy magazine in 2010.
He is also Chairman, Advisory Board, Institute of Chinese Studies, New Delhi; Distinguished Fellow of the Centre for Social and Economic Progress, India; Distinguished Visiting Research Fellow at the National University of Singapore; Member, Board of Trustees, International Crisis Group; and, a Distinguished Fellow, Asia Society Policy Institute, New York.
---
Certificate of Participants