India-China Trade Deficit and Wider Trade Narrative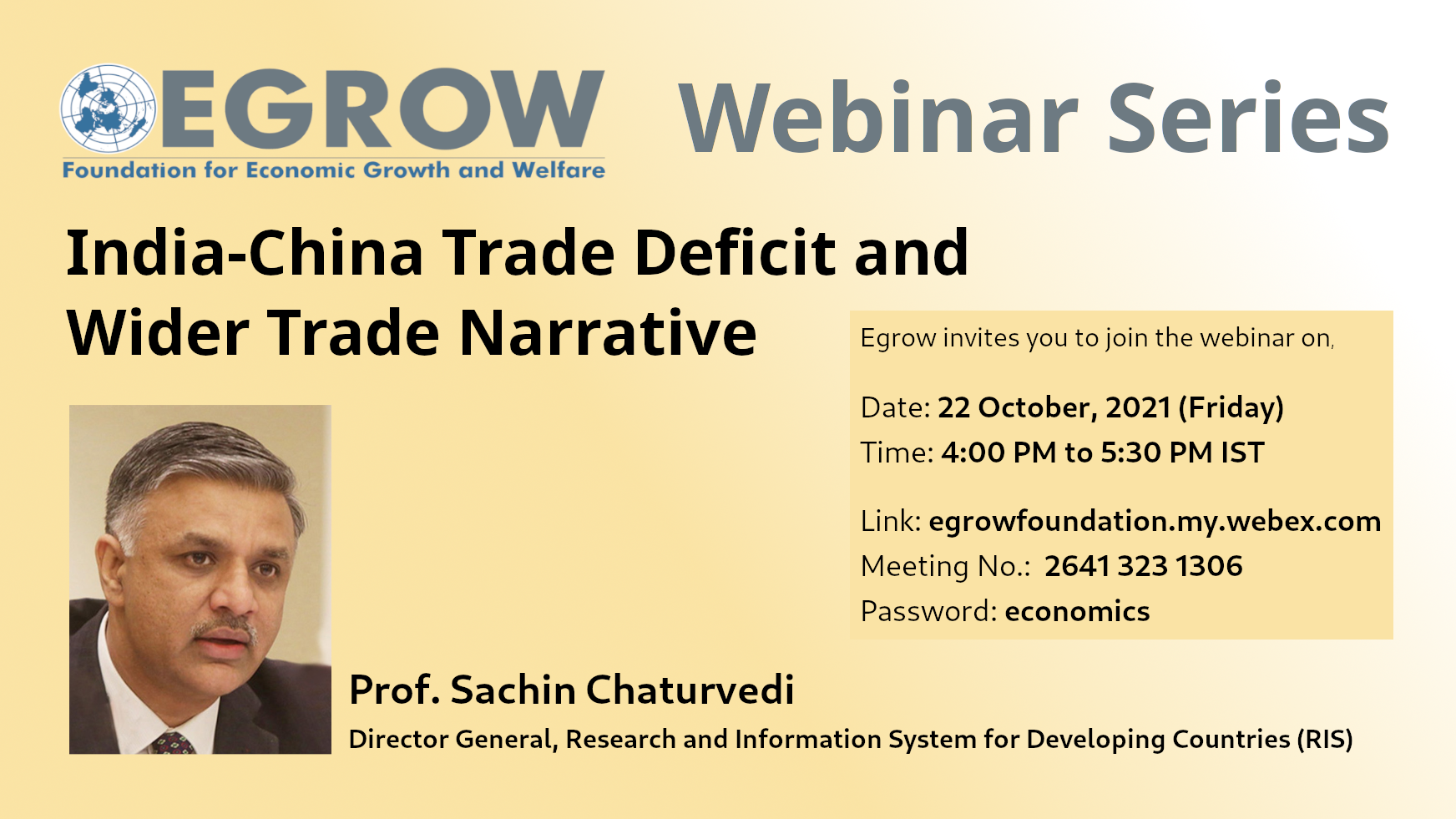 Meeting No: 2641 323 1306
password: economics
---
Abstract
The presentation will discuss on some striking findings by RIS research. It is found that China is not the most competitive exporter to India, as commonly perceived in various quarters. Out of the 4,044 items imported from China, 3,326 products were found to be such where China was not the most competitive supplier to India in 2018. There are 327 imported products which were found to be critical for India to import from China.

India can find other alternative suppliers for over 90 percent of its total products which it currently imports from China, and thus reduce the over-dependence on a single-supplier which perhaps weakens our bargaining power with China.

Of the $66.6 billion-worth critically-sensitive products that India imports from China, more than $10 billion can be source from other supplier nations. In the first year, alternative suppliers can absorb over 16 percent of India's critically-sensitive imports from China. In the subsequent years the switching can take place more intensively.

This way forward for India's international trade is clear; enhancing our production standards for robust connect with the external sector. At the domestic level, India would have to work on three important constraints. First, reduce the cost of electricity for our exporters; second, reduce the logistics costs and for both of them at least one project of SEZ would be needed for demonstrative success. The third would be to address the anxieties on imports.

Local jobs and global competitiveness is the only way forward. Focus on export promotion and export orientation in domestic industrial production are necessary building blocks for effecting a paradigm shift in our economic structure.
About speaker
Prof. Sachin Chaturvedi is currently Director General at the Research and Information System for Developing Countries (RIS), a New Delhi-based Think-Tank. He works on issues related to development economics, involving development finance, SDGs and South-South Cooperation, apart from trade, investment and innovation linkages with special focus on WTO. He is also Member, Board of Governors, Reserve Bank of India.

Professor Sachin Chaturvedi has been part of several important initiatives of the Government of India and takes keen interest in transforming economic policymaking towards integrated and evidence based approaches. He is one of the foremost commentators on India's external sector economic engagements and partnerships. He is considered as most dynamic and affable by his peers and has mentored several bright scholars and researchers in the profession.

He has authored/edited more than 20 books, apart from contributing several chapters in the edited volumes and also publishing several research articles in prestigious journals. He is on the Editorial Board of several journals including the South Asian Economic Journal, IDS Bulletin, Sussex, UK among others. His book "The Logic of Sharing – Indian Approach to South-South Cooperation" has been acclaimed internationally as one of the best volumes on international development cooperation.

Professor Sachin Chaturvedi was also the 'Global Justice Fellow' at the MacMillan Center for International Affairs at Yale University (2009-2010) and has served as a Visiting Professor at the Jawaharlal Nehru University (JNU) and was a Developing Country Fellow at the University of Amsterdam (1996), Visiting Fellow at the Institute of Advanced Studies, Shimla (2003), and Visiting Scholar at the German Development Institute (2007).

Professor Chaturvedi has taken keen interest in building of institutions and in launching of networks. He is credited with the launch of Network of Southern Think Tanks (NeST) and Forum for Indian Development Cooperation (FIDC) . He has also created "Delhi Process", a major forum for exchange of ideas on South-South Cooperation.
---
Certificate of Participants