India's Economy From Nehru To Modi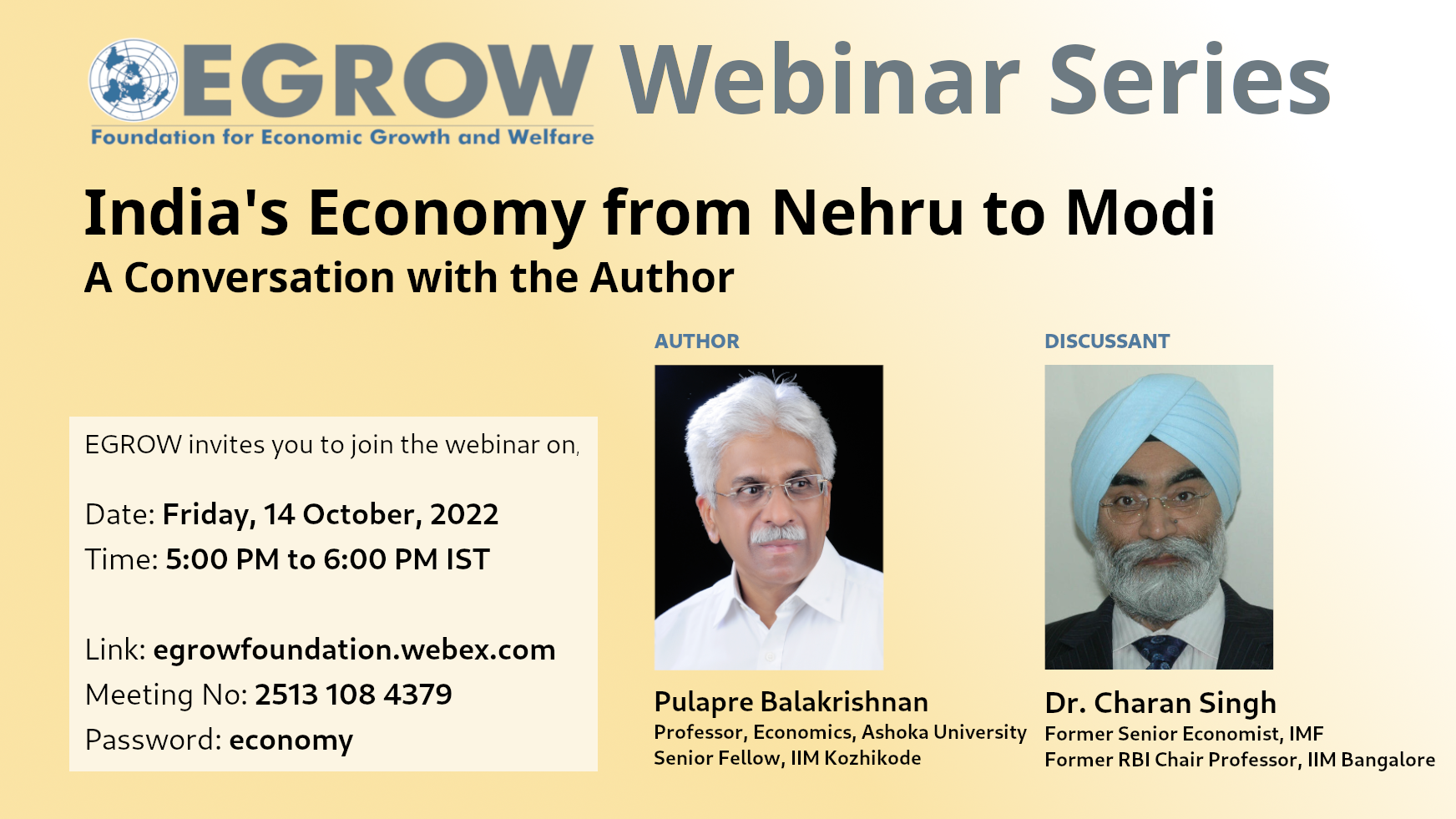 Meeting No: 2513 108 4379
Password: economy
---
Abstract
This conversation examines India's economic journey of India and its impact on its citizen in the past seventy years since independence. Given India's large population, there has always been great interest internationally in the steps taken to shape the country's economy and its consequent advance. The discussion further argues that the country undoubtedly progressed. It is now self-sufficient in food, industrially capable, and globally recognised for its software services. A critical analysis will be put forward that the economy focused largely on growth instead of equally on well-being – which can come about only with substantial public provision of education and health – ignores a founding premise of the Indian republic.
About the Speakers
Pulapre Balakrishnan
Pulapre Balakrishnan is currently Professor of Economics at Ashoka University. He was educated in Moscow, Madras and New Delhi, and trained as an economist at University of Oxford and University of Cambridge. His published work spans the inflationary process in the Indian economy, productivity growth in manufacturing, the macroeconomics of the transition to a market economy in Ukraine, agricultural involution in Kerala and economic growth in India.
He has written in professional journals and is the author of books like Pricing and Inflation in India and Economic Growth in India: History and Prospect. Balakrishnan has held appointments at the University of Oxford, the Indian Statistical Institute (Delhi Centre) and the Indian Institute of Management (Kozhikode).
He has served as Country Economist for Ukraine at the World Bank, and been a consultant to the International Labour Organisation, the Reserve Bank of India and the United Nations Development Program. He has for over two decades participated in the public discourse on India's economy via his popular writings. He is a recipient of the Malcolm Adiseshiah Award for Distinguished Contribution to Development Studies.
Dr. Charan Singh
Dr. Charan Singh is the former Non Executive Chairman of Punjab & Sind Bank. He was full time visiting faculty and former RBI Chair Professor (Dec 2012 to Dec 2016) at the Indian Institute of Management Bangalore, India where he taught comparative monetary policy and policy issues in Indian economy.
Earlier, he was a Senior Economist at the Independent Evaluation Office of the International Monetary Fund, Washington DC from August 2009 to November 2012 and Research Director (Departments: Economic Policy, Debt Management) at the Reserve Bank of India (1997–2009). Singh earned his doctorate in Economics from the University of New South Wales, Sydney, Australia. He was a visiting scholar for more than a year each at Department of Economics, Harvard University and the Stanford Center for International Development, Stanford University. He is former Director on the Board of National Housing Bank, Delhi and now serving as Director in NABARD Financial Services Ltd, Bangalore. He is also Member, Governing Board at Policy Foundation, New Delhi; Member of Research Advisory Committee, BIRD, National Bank for Agriculture and Rural Development; Honorary Fellow, SKOCH Development Foundation; and Member of the Informal Advisory Group on Housing Sector Issues, IMF, Washington DC.
---
Certificate of Participants