India's Soft Power: Digital Platforms & Cultural Entrepreneurship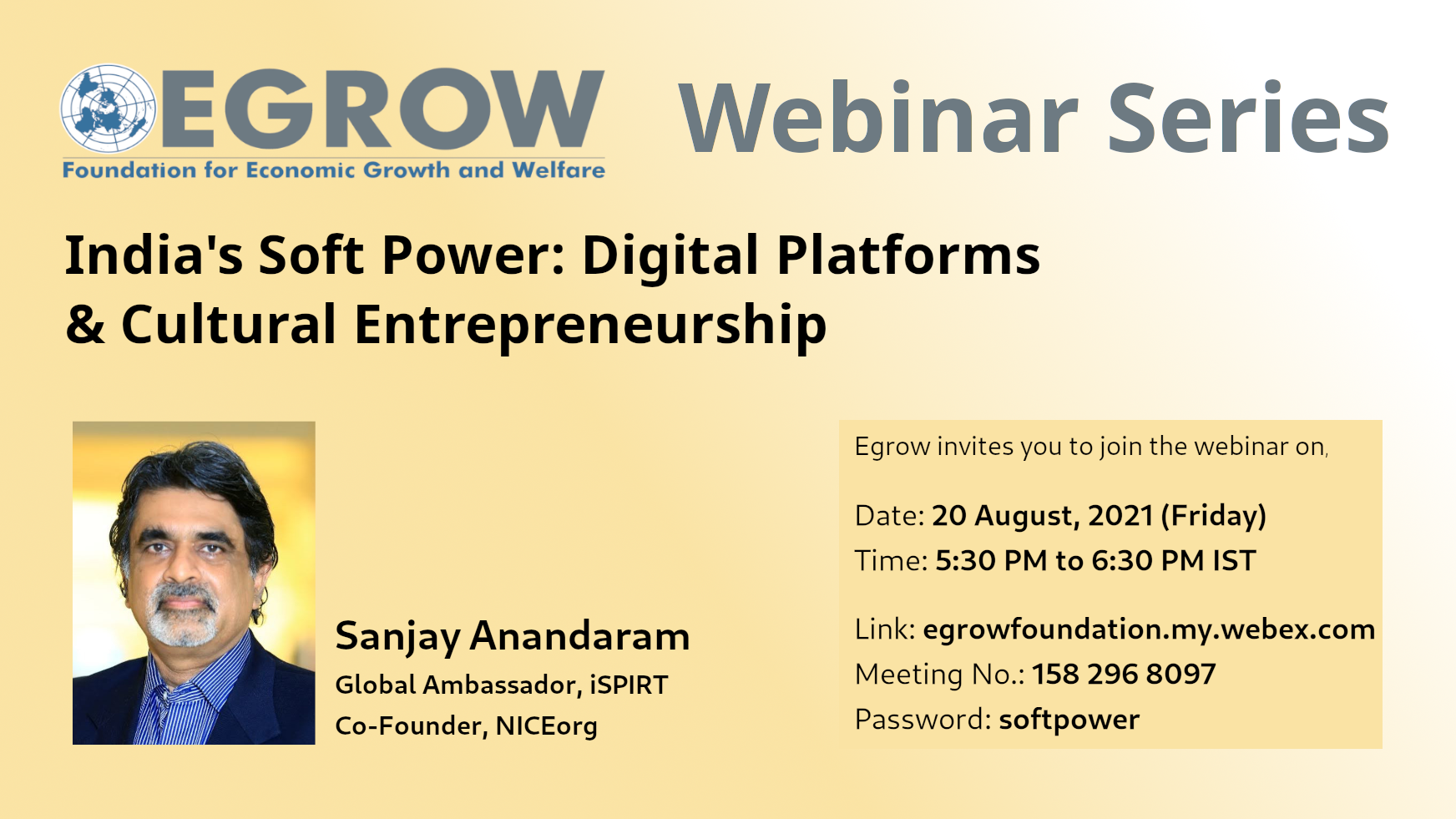 Meeting No: 158 296 8097
Password: softpower
---
Abstract
Indian soft power has usually been woven around Gandhian values, yoga, pluralism, its civilization, Bollywood, cuisine, craftsmanship, and so on. There have been multiple festivals of India around the world showcasing these and more. Tangible geopolitical and economic benefits have yet to accrue to India on account of its soft power in any meaningful manner. For example, Yoga is a $80b global industry and India's share of this is less than miniscule. The time has come to re-think India's soft power and cast it in 21st century, post-industrial era terms, namely, by leveraging India's pioneering and globally recognised digital public platforms such as Aadhaar, UPI and others. In addition, we need to look at treating our traditional artefacts of soft power eg. arts, crafts, food, beverage, tourism, yoga, from the lenses of brands and economic value rather than as commodity products.
About the speaker
Sanjay Anandaram has over 30 years of experience in India and overseas as an entrepreneur, investor, executive, board member, teacher and mentor. As a passionate believer in entrepreneurship and technology for effecting societal change, he is involved with several funds and organizations to further entrepreneurship and innovation. He is also a keen observer of geo-politics especially as it relates to technology and has written for publications such as Mint, Financial Express, Swarajya, and various blogs and presented over the years at various fora including at the Sushma Swaraj Institute of Foreign Affairs, India-Canada Track 1.5, T20 policy briefs for the G20, METI, Japan, among other places.
Sanjay is currently a volunteer global ambassador with iSPIRT (ispirt.in), a not-for-profit technology think and do tank, Executive Board member of MOSIP (mosip.io) an open-source ID platform for countries and co-founder of NICEorg (niceorg.in) a Section 8 company that works to enable Brand India by creating an ecosystem for Indian cultural entrepreneurship.
---
Certificate of Participants