Insurance in India - 2047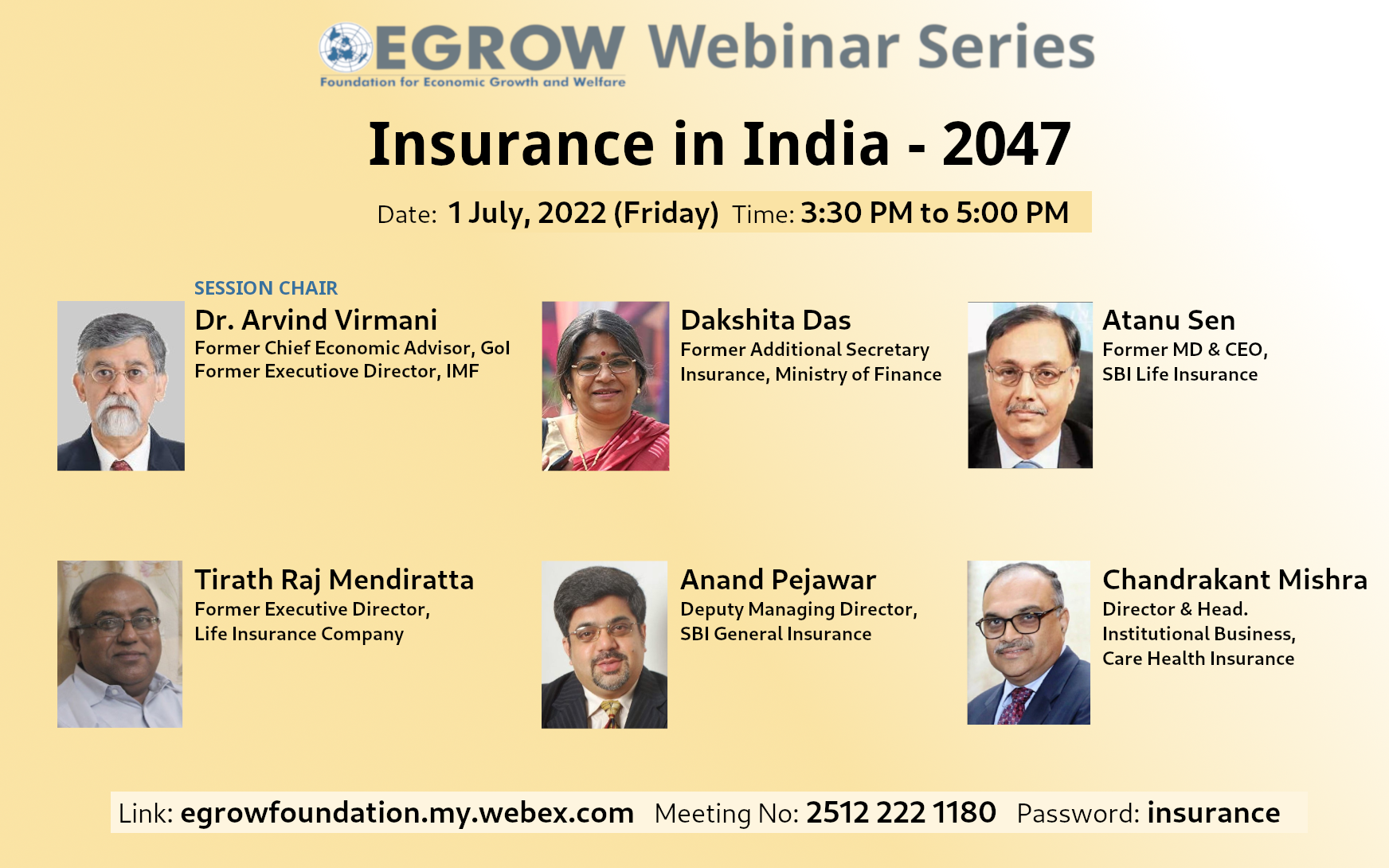 Meeting No: 2512 222 1180
Password: insurance
---
Abstract
A well developed insurance sector strengthens the country's economy and provides long term support for infrastructural development of the country. Although the insurance sector is growing at a decent rate but there are issues like low penetration of insurance. Even certain ultra low cost scheme by the government has failed to increase this ratio. This discussion evolves around how will the Insurance sector evolve in 2047. It also examines the role of IRDA for strengthening the sector and roles of commercial banks for expansion of the sector. Further, deliberations will be required on development of certain instruments such that in a collosal market a risky buyer is clearly identified.
About the Speakers
Dr. Arvind Virmani
Arvind Virmani is Chairman of the Foundation for Economic Growth and Welfare (EGROW) and President of the Forum For Strategic Initiatives (FSI, Delhi). He has been a Mentor (economic policy) to FICCI & a member of RBI Technical Advisory Committee on Monetary policy He was earlier Executive Director, IMF and Chief Economic Advisor, Ministry of Finance and Principal Advisor, Planning Commission. During his tenure he advised on a host of economic policy reforms, through 100s of policy papers, notes and committees. He has served as Member, Telecom Regulatory Authority of India (TRAI) and as Director & Chief executive of the Indian Council for Research on International Economic Relations (ICRIER). He has published 35 journal articles and 20 book chapters and written over 50 other working papers in the areas of Macroeconomics, growth and finance, tax reform, International trade & Tariffs, International relations, and national security strategy.
Dakshita Das
Dakshita Das was born in Lucknow, India. She studied in Loreto Convent Lucknow and graduated from Lady Sriram College, New Delhi . In 1986 she entered the Indian Civil Services where she continues to work till now.
Her earlier forays into writing were on matters of Public Finance and she featured in various prestigious Indian publications such as the Economic and Political Weekly, The Indian Express, The Financial Express, Sage publications, etc. She took to writing fiction in 2016 and 'Myself Meean IAS' is her maiden book which is a story of self exploration and hope in the life of a young girl form a typical middle tier town of India
Atanu Sen
Mr. Atanu Sen is a nominee director of State Bank of India since 24.09.2015. He has done M.A in Economics from Calcutta University and CAIIB. He has over 3 decades of experience in banking and life insurance. He was Dy. Managing Director and Chief Credit & Risk Officer with SBI. He retired as Managing Director & CEO of SBI Life Insurance Company Ltd. He is serving as Independent Director in several Companies.
Tirath Raj Mendiratta
Born at Rewari on 29.11.1959, Shri Tirath Raj Mendiratta is a Commerce Graduate from MDU University, Rohtak.
He joined LIC on 17.02.1986 and retired as Executive Director in November 2019. During his long career spanning over 3 decades, he gained expertise in almost all the areas of marketing, personnel admin, Finance & General management.
Before joining LIC, he has also served in the Ministry of External Affairs and State Bank of India.
Post retirement, he served as a Shareholder Director of Punjab and Sind Bank w.e.f 01.07.2017 to 30.06.2020. He has again been re-elected as Shareholder Director w.e.f. 12.05.2021 and he continues to be on the Board of the Bank till date.
Anand Pejawar
Shri Anand Pejawar has been appointed as the Deputy Managing Director (DMD) of SBI General Insurance Company Ltd., and joined the company w.e.f December 6, 2021.
Just prior to his appointment as DMD with SBI General, he was associated with SBI Life Insurance as President reporting to the MD & CEO. Backed by a vast experience of 39 years which ranges from Life Insurance Corporation of India (LIC) to Banking (local and international), Financial Distribution to the Top Management of SBI Life Insurance, Shri Pejawar is a decorated professionally with several national & international awards / recognition, latest being the Mumbai Ratna Award by the Hon. Governor of Maharashtra on July 19, 2021 at Raj Bhawan, for his contribution in the field of Insurance. He is an eminent thought leader with an eclectic vantage point on various insurance related matters. He has also represented the Insurance industry on various committees constituted by GOI & Regulator's, both (IRDAI & RBI).
Shri Pejawar is an alumnus of the Columbia Business School, Manhattan, New York, with a Certificate of Management Development Programme, (MDP) others certification from IIM Kolkata, ISB, Hyderabad. He has completed his Post graduation in Financial Management (PGDFM) form KC College and holds a Bachelor of Science (Hons) from University of Bombay.
Chandrakant Mishra
Chandrakant Mishra is a founder team member at Care Health Insurance and heads the Rural & Corporate Businesses for the organization. A veteran in the insurance domain, Chandrakant has over 28 years of experience in managing various portfolios including Financial Inclusion, Weather Insurance and Mega Corporate Risk. He has previously held leadership roles in reputed organizations like ICICI Lombard, Chola MS & National Insurance and has spearheaded many industry initiatives for transformational change.
Chandrakant is a Economics honours graduate and a Masters in Economics from the prestigious Delhi School of Economics.
---
Certificate of Participants