Lessons from Reforms in India and Looking forward to 2047 - A Dialogue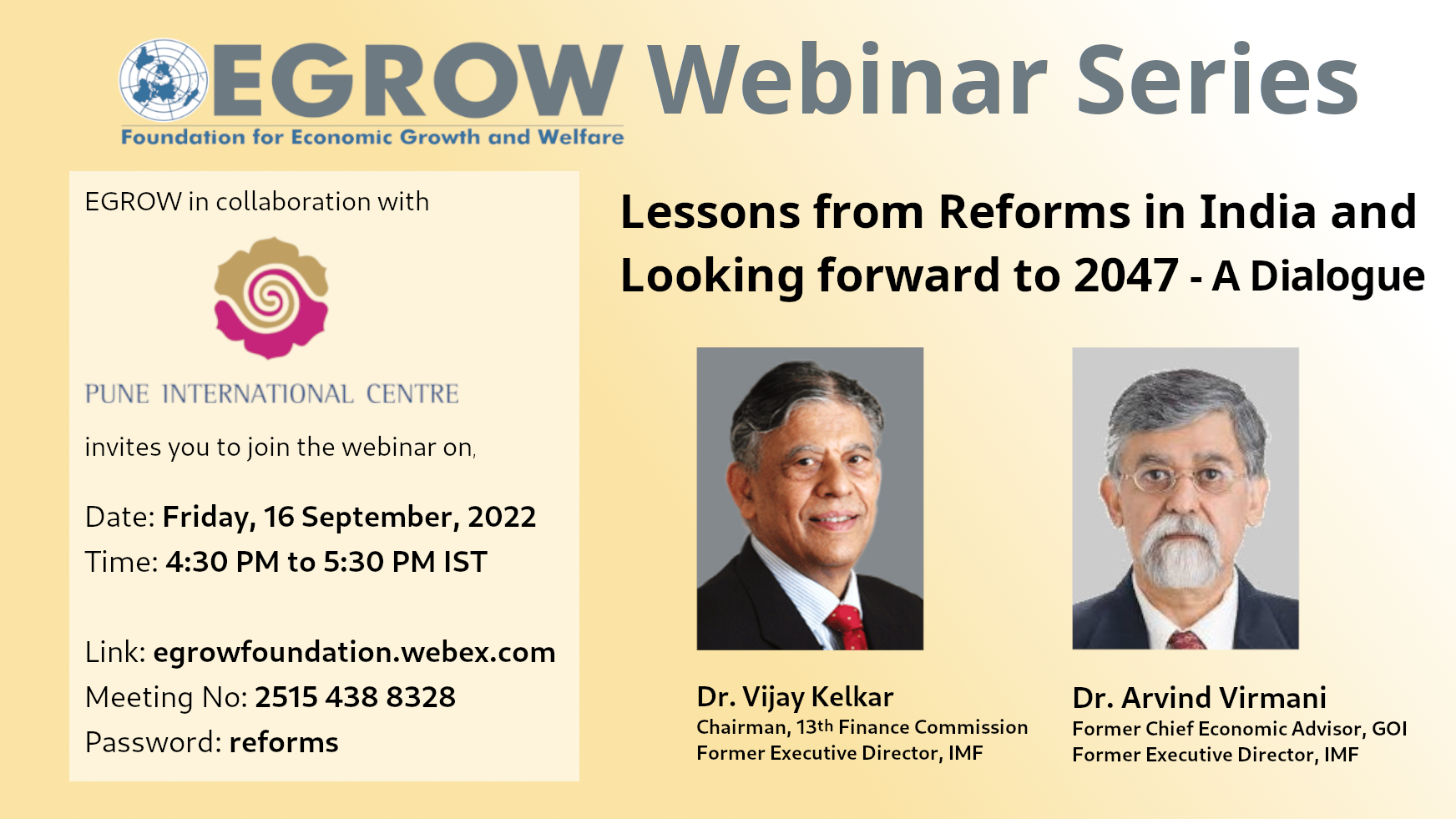 Meeting No: 2515 438 8328
Password: reforms
---
About the Speakers
Vijay Kelkar
Dr. Vijay Kelkar is one of India's pre-eminent economists. He is a former Finance Secretary and was Chairman of the Thirteenth Finance Commission of India.For his services to the country, he was awarded the Padma Vibhushan, India's second-highest civilian award, in January 2011.Known as the architect of the GST, Dr. Kelkar was Advisor to the Minister of Finance (2002-2004). He was the Finance Secretary in 1998-99, and in 1999 he was nominated as Executive Director of India, Bangladesh, Bhutan and Sri Lanka on the Board of the International Monetary Fund.
Besides, he has held various notable positions in government, public and private sectors. Dr. Kelkar is also Chairperson of a committee constituted by the Government of India on revisiting & revitalizing the PPP model of infrastructure development, and Chairman for a Committee constituted by the Government of India to prepare a roadmap for enhancing the domestic production of oil and gas with sustainable reduction in import dependency by 2030. He has also been Chairman of the Indian Statistical Institute and the India Development Foundation.
Dr. Arvind Virmani
Arvind Virmani is Chairman of the Foundation for Economic Growth and Welfare (EGROW) and President of the Forum For Strategic Initiatives (FSI, Delhi). He has been a Mentor (economic policy) to FICCI & a member of RBI Technical Advisory Committee on Monetary policy He was earlier Executive Director, IMF and Chief Economic Advisor, Ministry of Finance and Principal Advisor, Planning Commission. During his tenure he advised on a host of economic policy reforms, through 100s of policy papers, notes and committees. He has served as Member, Telecom Regulatory Authority of India (TRAI) and as Director & Chief executive of the Indian Council for Research on International Economic Relations (ICRIER). He has published 35 journal articles and 20 book chapters and written over 50 other working papers in the areas of Macroeconomics, growth and finance, tax reform, International trade & Tariffs, International relations, and national security strategy.
---
Certificate of Participants