Lockdown or Economic Destruction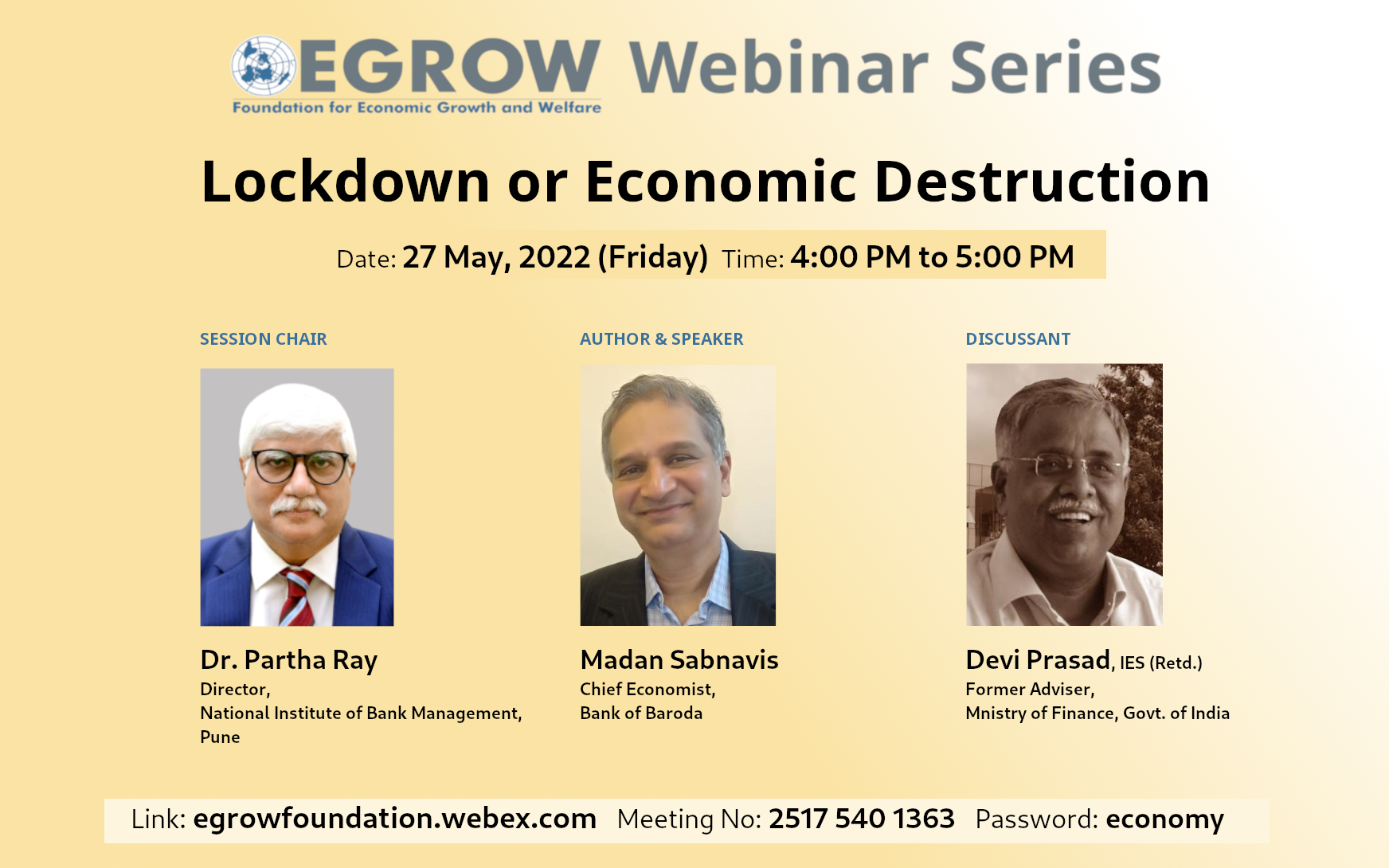 Meeting No: 2517 540 1363
password: economy
---
Abstract
The presentation is a book review and provides a candid picture of the effect of the Covid-19 pandemic at micro and macro levels. It looks at various economic facets that were distorted due to the the Covid19 and also does some crystal ball gazing of what the future will look with this new experience of working from home amid panic and fear as no one knows if the pandemic will return even if it seems to end.
About the Speakers
Dr. Partha Ray
Dr Partha Ray is Director of National institute of Bank Management, Pune. His research interests Macroeconomics, India and the Global Economy, Issues in Monetary Policy, Crisis and Contagion: Contemporary Challenges to Macro-Financial Policies, Global Political Economy. He is working as Director, Department of Economic and Policy Research, Reserve Bank of India, Mumbai, Adviser to Executive Director, International Monetary Fund, Washington D.C and Professor, Indian Institute of Management Calcutta (2011 – April 2021).
He is Working also various projects "State Finance of West Bengal", for NITI Aayog in 2018, "Fiscal Implications arising out of Implementation of Fifth and Sixth Pay Commission on Finances of Union and State Governments (with special reference to committed liabilities, tax and non-tax revenue and debt sustainability)" for Seventh Central Pay Commission in 2014, "Gold as a Formal Investment Asset: Possible Contours of a People Oriented Gold Policy in India" for World Gold Council in 2013.
Dr Partha Ray hold Ph.D.(Economics) University of Mumbai, India, Certificate in Advanced Management Programme, University of Oxford, UK , PG Diploma in Development Policy, Indira Gandhi Institute of Development Research, Mumbai, India, MSc. (Economics): University of Calcutta, India, BSc (Economics): Presidency College, Calcutta, India.
Madan Sabnavis
Madan Sabnavis, B.A.(Hons. in Economics) from St. Stephen's College(D.U.), MA. (Economics) from Delhi School of Economics, has been a corporate economist since 1987. He is currently the Chief Economist with Bank of Baroda and has worked with erstwhile ICICI Limited, ICICI Bank, L&T, NCDEX, and CARE Ratings. In these 34 years' career in various fields, he has picked up some experience in various industries and, hence, believes that he has some understanding on the practical aspects of the subject.
Being a non-conformist and, hence, a contrarian, he has tended to question and be critical rather than eulogize policies which is done well by other 'opinion driving' establishment economists. This has helped him to write over 2500 articles in publications like Financial Express, Mint, Business Standard, Business Line, Indian Express, Free Press Journal, and Economic Times besides First Post (in the past).
He is the author of four books entitled Macro Economics De-mystified, Eco Quirks, Economics of India: How to Fool All People for All Times, and Hits & Misses: The Indian Banking Story. His other interests are in English literature, classical music and new age Western music.
Devi Prasad
Devi Prasad retired from the Indian Economic Service (IES) of Government of India after an illustrious service of over 30 years (1982 to 2014). He was the Founding Director of Fiscal Policy Institute, Bengaluru, Government of Karnataka and had served as Advisor to Executive Director at the International Monetary Fund, Washington DC. He carries technical and administrative experience from the Departments of Economic Affairs (Budget Division and Capital Markets Divisions), Department of Commerce, Forward Markets Commission Mumbai, Ministry of Rural Development, Ministry of Health and Family Welfare, Delhi Development Authority, Programme Evaluation Organisation Hyderabad, and Ministry of Overseas Indian Affairs (now part of Ministry of External Affairs). He holds a PG Diploma in Public Policy (George Mason University, USA), MPhil in Public Administration (Punjab University), LLB (Bombay University), PG Diploma in Population and Development (CDS, Trivandrum), PG Certificate in Demography (IIPS, Mumbai), and MA Economics (Kakatiya University, Warangal). He has been delivering lectures on fiscal policy, budget management, macroeconomic management, public policy, public financial management, military budget, and right to information at several institutions such as ASCI, Hyderabad; IIPA, New Delhi; IIM Lucknow and Bangalore; Indian Business School, Bangalore and Gurgaon; National Institute of Financial Management, Faridabad; Administrative Training Institute, Mysore; NIT Warangal; Centre for Land Warfare Studies, New Delhi.
---
Certificate of Participants