Macro Economics for Decision Making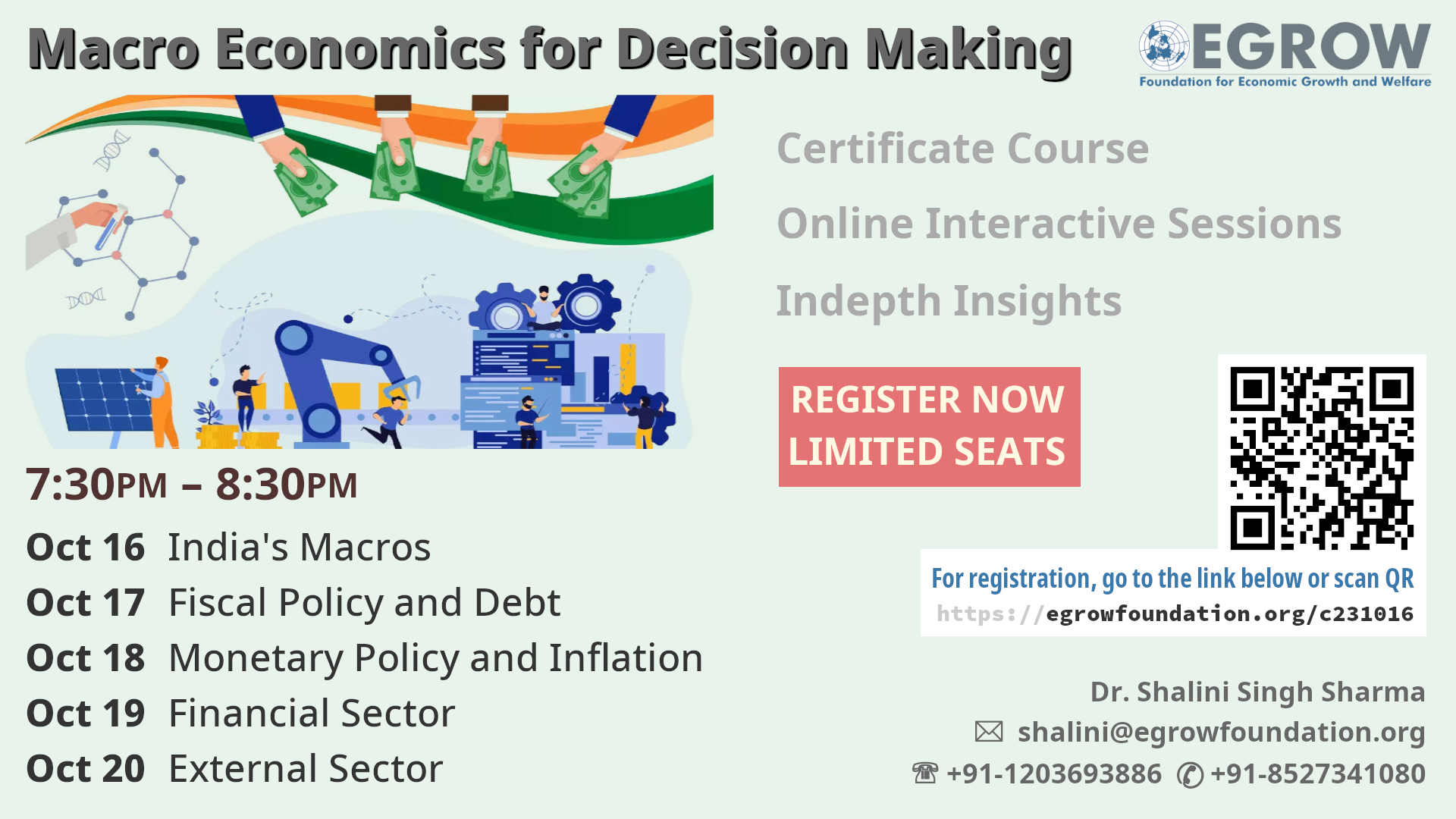 ---
---
Need for the Course:
Macro Economics for Decision Making is a comprehensive course designed to provide participants with a clear and practical understanding of fundamental economic concepts and their application in making informed decisions. The course covers essential topics such as macroeconomics, national income, fiscal policy, monetary policy, inflation and the financial sector. Participants will gain valuable insights into how these economic principles impact business, finance, policymaking, and personal decision-making. Join us in this enlightening journey through the realm of economics, and empower yourself to make better decisions in a complex and dynamic world. Whether you're a novice or already familiar with economics, this course will provide you with the confidence and knowledge to navigate economic landscapes with ease. Participants will have the opportunity to engage with the instructor and their peers to deepen their understanding of the topics covered.
Key Program Contents:
India's Macro
Fiscal Policy and Debt
Monetary Policy and Inflation
Financial Sector
External Sector
Training Program Highlights
Objective: The course aims to equip learners with decision-making skills in various contexts, such as business, finance, and policymaking,
Eligibility : Professionals, entrepreneurs, policymakers, students and anyone interested in gaining a simplified understanding of economics and its practical applications. No prior background in economics is required.
Methodology : There would be mix of online lectures, case studies, success stories and Group Discussions.
Faculty : Experts from the respective field including Former IIM faculty, Former RBI officials and Former IES, ISS officials of Government of India.
Platform : Cisco Webex
Duration : October 16 - October 20, 2023, (7:30 PM - 8:30 PM),
Program Director: Dr. Shalini Singh Sharma, Professor & Head Banking Research, EGROW Foundation
Email ID: shalini@egrowfoundation.org
Phone: +91 120 3693 886 (Mon-Sat, 10:30am-6:00pm)
Mobile: +91 8527341080
Program fee : Rs. 2,000 (inclusive of 18% GST) per participant.
Certificate : Every participant who successfully completes the training will be provided with a digital certificate of participation.