Mainstreaming Gender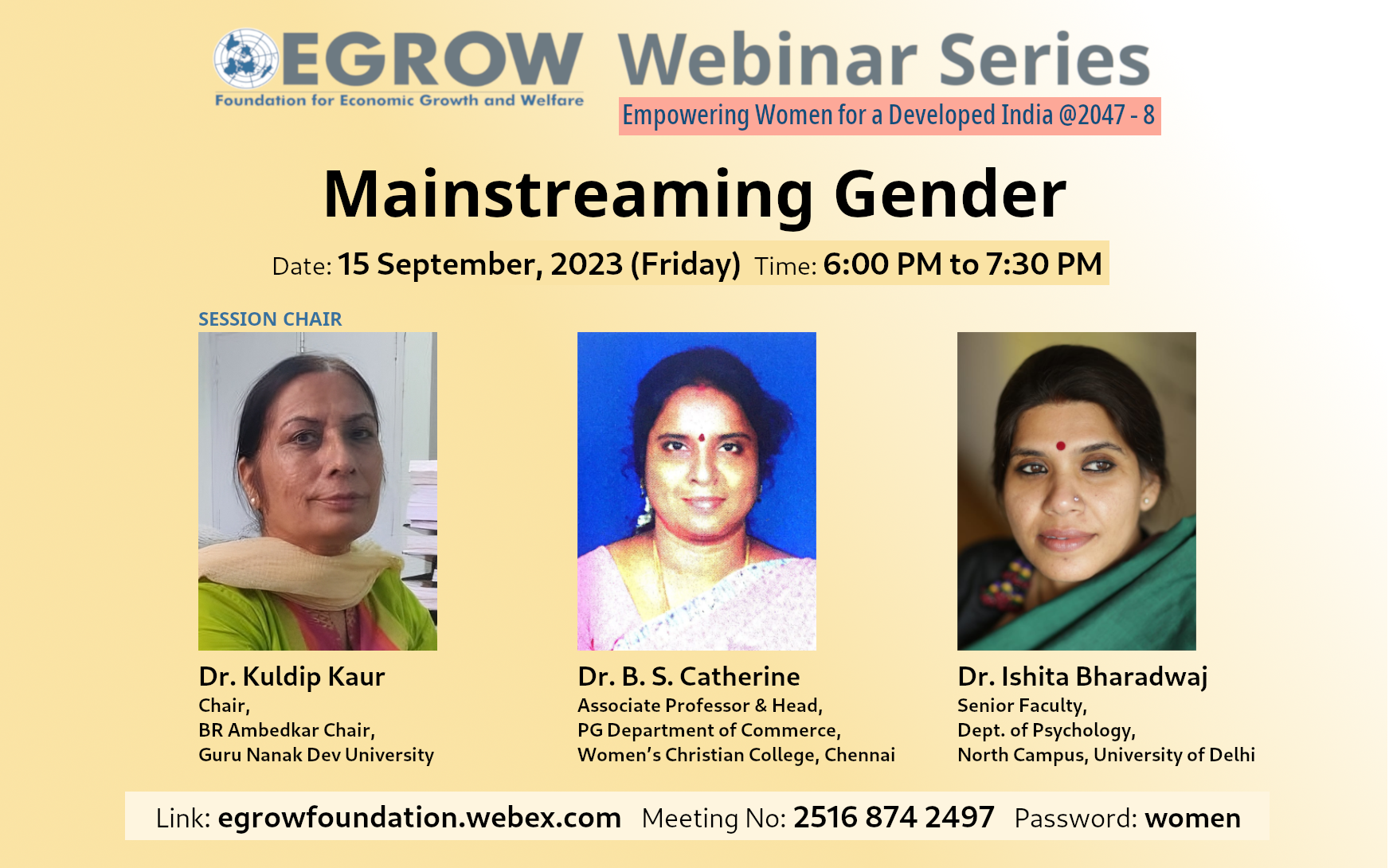 Meeting No: 2516 874 2497
Password: women
---
Certificate of Participants
To recieve certificates, please register and attend
---
Abstract
Mainstreaming gender refers to the integration of gender perspectives and considerations into all aspects of policies, programs, and practices, aiming to achieve gender equality and address gender-based disparities. This approach acknowledges that gender is a crucial factor influencing people's experiences, opportunities, and vulnerabilities. Incorporating gender mainstreaming ensures that decision-making processes and resource allocation are not biased but consider the diverse needs and experiences of both men and women. It promotes equity in areas like education, healthcare, and the workplace by identifying and rectifying systemic gender-based discrimination. By implementing gender mainstreaming, societies can unlock the full potential of their populations. It encourages women's empowerment, fosters economic growth, and contributes to social cohesion. Furthermore, it aligns with international commitments such as the Sustainable Development Goals (SDGs), which prioritize gender equality as a fundamental goal for sustainable development. However, achieving effective gender mainstreaming requires sustained commitment from governments, organizations, and individuals. It involves creating policies that promote gender equity, collecting sex-disaggregated data to monitor progress, and fostering a culture of inclusivity. Overall, gender mainstreaming is a critical strategy for dismantling gender-based inequalities and promoting a fairer, more just world for all.
About the Speakers
Dr. Kuldip Kaur
Kuldip Kaur is Chair at BR Ambedkar Chair, Guru Nanak Dev University, Amritsar. Previously, she was Head of School of Social Science and Economics at Guru Nanak Dev University. She has extensive teaching and research experience in industrial economics and Indian economic problems. She is member of many national and international economic research bodies.
Dr B.S.Catherine
Dr B.S.Catherine is Presently working as Associate Professor & Head, PG Department of Commerce, Women's Christian College, Chennai-600 006, Tamil Nadu. She passionate towards teaching, teaching students to think out of box, to be hard core achievers and yet to remain compassionate towards fellow human being.
Dr. Catherine's teaching career began in 1995 as a lecturer in the Department of Commerce at Anna Adarsh College in Chennai. She later worked as a lecturer at G.S.S. Jain College in Chennai from 1997 to 2000. Over the years, she has risen to the position of Associate Professor in Commerce and Since June 2000, joined as lecturer in Department of Commerce, Women's Christian College, and working as Associate Professor in Commerce since 2010.
Within Women's Christian College, Dr. Catherine has held various significant positions Coordinator of Entrepreneurship Development Cell of WCC and Faculty representing NEN (National Entrepreneurship Network), India, Dean for Students Services in the Self Finance Section of Women's Christian College, from the academic year June 2011 to April 2013, Member of Women's Christian College, Academic Council, from November 2011 to October 2013, Member of Internal Quality Assurance Cell (IQAC) of Women's Christian College since June 2012 to May 2015, Treasurer, WCC Alumnae Association, since July 2014 till date, Member of Finance Committee of WCC Executive Board, since July 2014 till date.She is the author of the book Micro Finance and Livelihood Promotion and edit few books also.
Dr B.S.Catherine holds Ph.d- Thesis title "Social Performance Management and Growth of select Micro Finance Institutions (MFIs) in Tamilnadu and their impact on the Self Help Groups (SHGs)", University of Madras, Chennai. She has M.H.R.M Annamalai University, Chidambaram, M.Phil University of Madras, Chennai, M.Com University of Madras, Chennai, and B.Com Stella Maris College, University of Madras, Chennai.
Dr. Ishita Bharadwaj
Dr. Ishita Bharadwaj is currently working as Senior Faculty at Department of Psychology, North Campus, University of Delhi. currently working on socio-clinical facets of embodied self and sexualities in gender discourses. inclined towards alternative practices of teaching learning. committed towards rigorous qualitative inquiry on issues of power, silence & voices, psychic violence, existential concerns and reflexive research processes. Previous work Experience as Research Associate in a project on 'Emotion and Cognition' under Prof. rukmani Bhaya nair and prof. purnima Singh, IIT , Delhi ( 2010) and Worked as Assistant Professor in Ambedkar University(2010-2011). Dr. Ishita Bharadwaj Areas of Interest Qualitative inquiry, Culture and Psyche, Existentialism and Phenomenology, religion and spirituality, Gender discourses, self in indian thought, emotion and cognition. Dr. Ishita Bharadwaj is Currently guiding 4 research students for their doctoral work. Their work is in the area of insights into women and madness, challenges and concerns of identity and gender in marital context, issues of vulnerability in the experiences of women police officers. Have supervised 9 dissertation works so far. She is Gold medalists IN M.SC PSYCHOLOGY( BHU). Dr Ishita Bharadwaj is Engaged in the counseling centre of the Department ( MASATHA). She Hold, D.Phil ( Awarded) University of Allahabad, Master Degree ( M.Sc) Banaras Hindu University, Bachelors Degree( Bsc) University of Calcutta.