Medium Term Security Challenges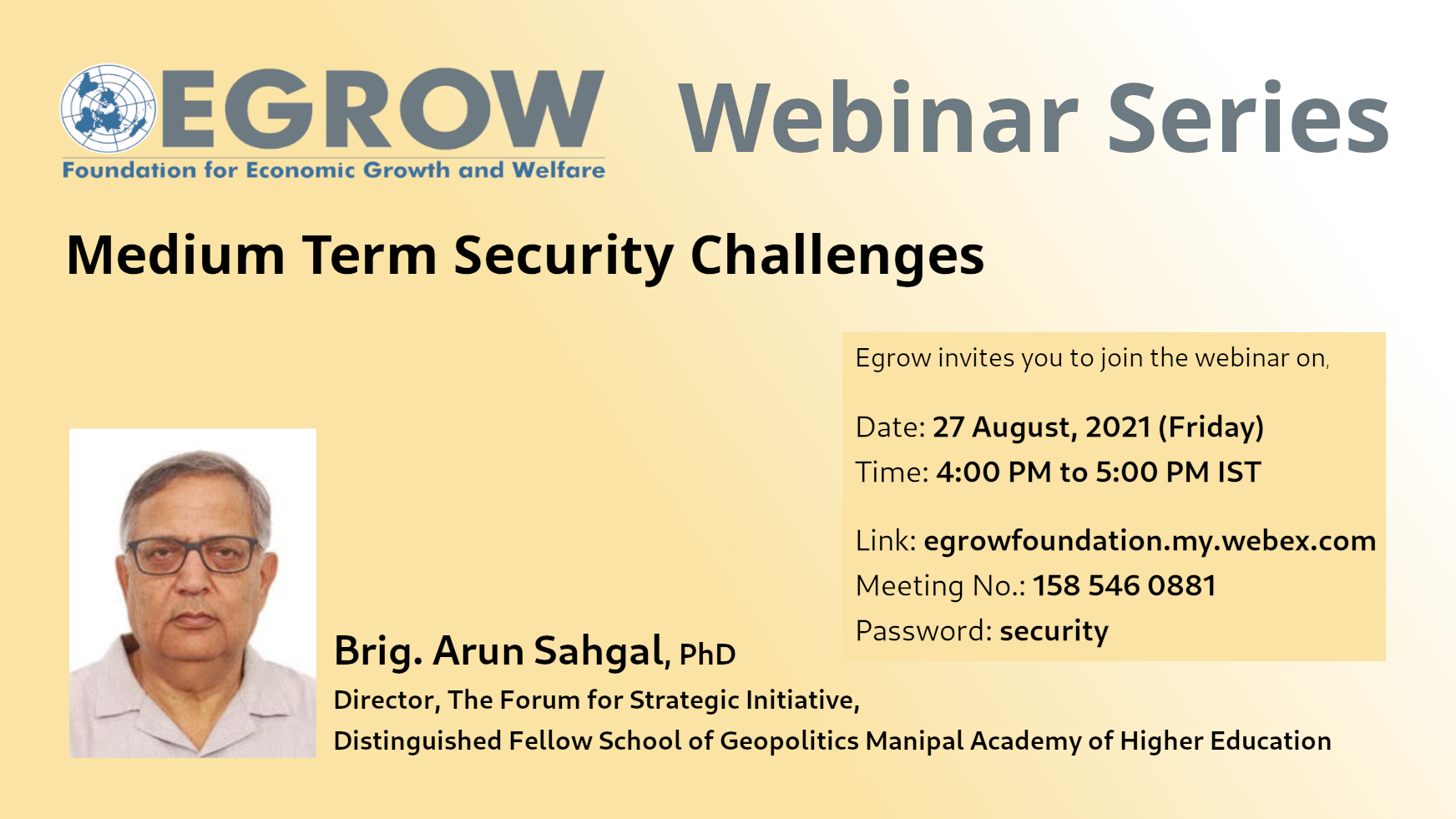 Meeting No: 158 546 0881
Password: security
---
Abstract
Chinese intrusions in Ladakh, build up in the East, continuing tensions along the LOC, situation in J&K, deteriorating maritime environment, developments in Afghanistan and turbulence in our neighbourhood, pose serious security challenges to India. ·As a consequence the security situation in the subcontinent is extremely unstable and fluid and has potential to deteriorate into a conflictual scenario. An important challenge for India is that even as the immediate territorial challenges (Ladakh and J&K) are managed, a conflictual security environment will continue to pervade in the sub-continent over the next few decades that could prevade into maritime domain.
India's core security interest, therefore, is to come up with multiple threat-specific solutions that safeguard its core interests in the near-to-medium terms both in the continental and maritime domains. Brig Sahgal, in his talk will address these challenges, their manifestations and possible coping strategies.
About the Speaker
Brigadier Arun Sahgal, PhD (Retd) is the founder Director of the Office of Net Assessment, Indian Integrated Defence Staff, created to undertake long-term strategic assessments. Other academic pursuits include Head Center for Strategic Studies and Simulation, United Service Institution of India, Senior Fellow, Institute for Defence Studies and Analyses.
Research areas include scenario planning workshops for Indian and International participants, geopolitical and strategic dimensions of Asian security with focus on China, India's neighbourhood and Indo-US strategic relations. Recent works include study of Nepali Maoists, and Madhesi Movement in Nepal, co authored books include "Relinking India and Central Asia: Security and Economic dynamics" by John Hopkins University, Washington, book on Sino – Indian CBM's, by IPCS and Afghanistan and India. Other works include Net Assessment studies on Pakistan, Myanmar, Sri Lanka, and India – China Military Balance 2020. Currently he is working on two important projects, Anti Access and Non Contact War, doctrinal and technological perspectives and Base Line Scenarios in the time frame 2027 (coincide with LTIPP).
He was a member of National Task Force on Net Assessment and Simulation, under NSC and continues to support them through consultancy assignments.
---
Certificate of Participants