MSMEs in Short and Medium Term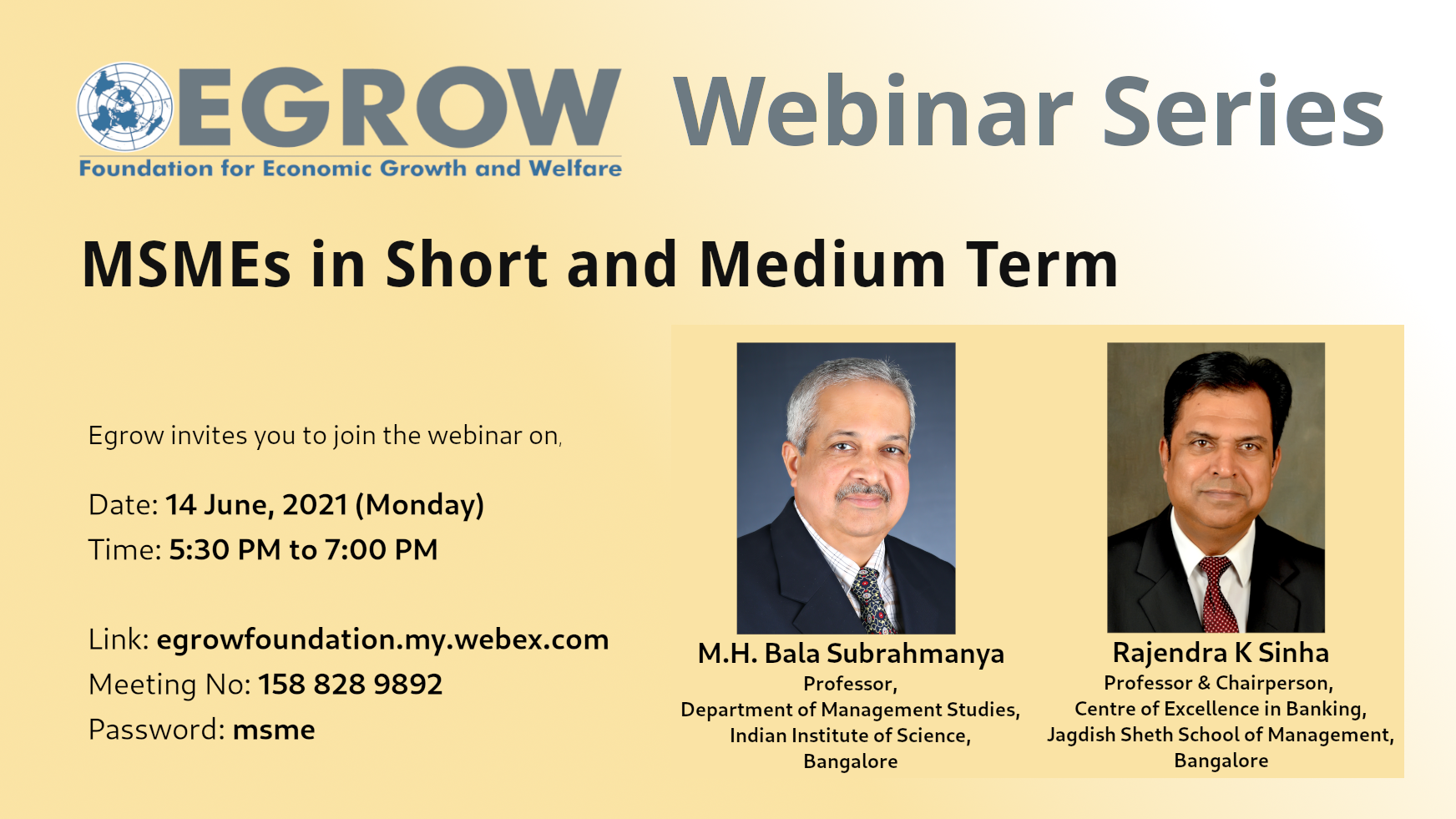 Meeting No: 158 828 9892
Password: msme
---
Abstract
The COVID-19 health pandemic has impacted all the realms of human life. The aggregate demand and supply shocks has resulted in to a slump in employment opportunities due to production cuts and business shutdowns across economies. India remains no exception to this. However, it is rightly perceived that in India the most vulnerable sectors are the Micro Small and Medium Enterprises (MSMEs) which was employing approximately 115 million during the pre-pandemic era and had a huge employment potential.
The government and central banks of different countries have come up with policies that were beyond the conventional norms. Credit has been eased to a huge extent. Further there has been large scale monetisation of fiscal deficits. The Indian central bank has also not remained behind and on the onset of pandemic the The Reserve Bank of India (RBI) has announced several measures to protect MSMEs, individual borrowers from the adverse impact of the crisis. It has also expressed its resolve to do everything at its command to 'save human lives and restore livelihoods through all means possible'. The presenters critically examines the policies taken by RBI for the MSMEs and also looks at the contribution of MSMEs in growth and employment in pre and post pandemic era.
About the Speakers
M.H. Bala Subrahmanya
Dr. M. H Bala Subrahmanya is currently a Senior Professor at Indian Institute of Science, Bangalore. His teaching specialization lies in Managerial Economics, Macroeconomics, Industrial Economics. He was a Fulbright-Nehru Senior Research Fellow at University of California, Davis, USA, from 2009-2010. He has also served as a visiting research fellow at the National Graduate Institute for Policy Studies, Tokyo, Japan from 2005-2006; and Foundation for Small & Medium Enterprise (SMEs) Development, University of Durham, Durham, United Kingdom in 2000. He has acted as the principal coordinator for several research projects in the field of social sciences & supported research in areas of R&D- technology Business Incubators in India, internationalization of SMEs, technological innovations on the growth of manufacturing SMEs; among others. His research has been highly appreciated and published across Economic & Policy journals & magazines.
Rajendra K Sinha
Dr. Rajendra K Sinha is an enterprising leader & planner with 30+ years of extensive experience with State Bank Group including Top Executive Grade Assignments in SME & Industry Studies. He is also the Professor & Chairperson, Centre of Excellence in Banking at Jagdish Sheth School of Management (6th AACSB accredited B-School in India) and only B-School from India which is ranked in the World
University QS Global Masters Rankings 2021.
He has served as the business Head-SME at SBI's Mumbai Circle, with the largest and all varietal portfolio amongst all Circles. As the Industries Studies Vertical Head at SBI Corporate Centre, Dr. Sinha headed the team for tracking 37 Industries in SBI's credit portfolio and issued advisories for the operational functionaries of Corporate Account Group, Mid-corporate Group handling ticket
size Rs 500 Cr above and Rs 50 Cr above respectively, besides Retail Network; also, a member of Credit Committee for Mid-Corporate Group. Dr. Sinha has undertaken the positions of Regional Business Head across 3 different geographies comprising 45-50 branches. He has also held positions as Founder Secretary, Advisory Council on Training & Research in SBI at State Bank Academy,Gurugram; Advisory Board member SME Chamber of India. He is a recipient of "CH Bhabha Research Scholarship & Award" on "Cost of Bank services", from Indian Banks Association; and 21st century Finance
Minister Book Writing Award in 2000 under IBA auspices on "Jokhim Prabandhan Aivm Vyatpunna" (Risk Management & Derivatives), among his many accolades.
Dr. Sinha has published over 50 research papers/ articles in reputed journals & magazines relating to risk management in Banking. He has authored a Book in 2009 on "Bankon mein Jokhim Prabandhan
Aivm Vyatpunna ka Mahatava", approved by CCTH, RBI.
---
Certificate of Participants