Myanmar - Geopolitical Implications for India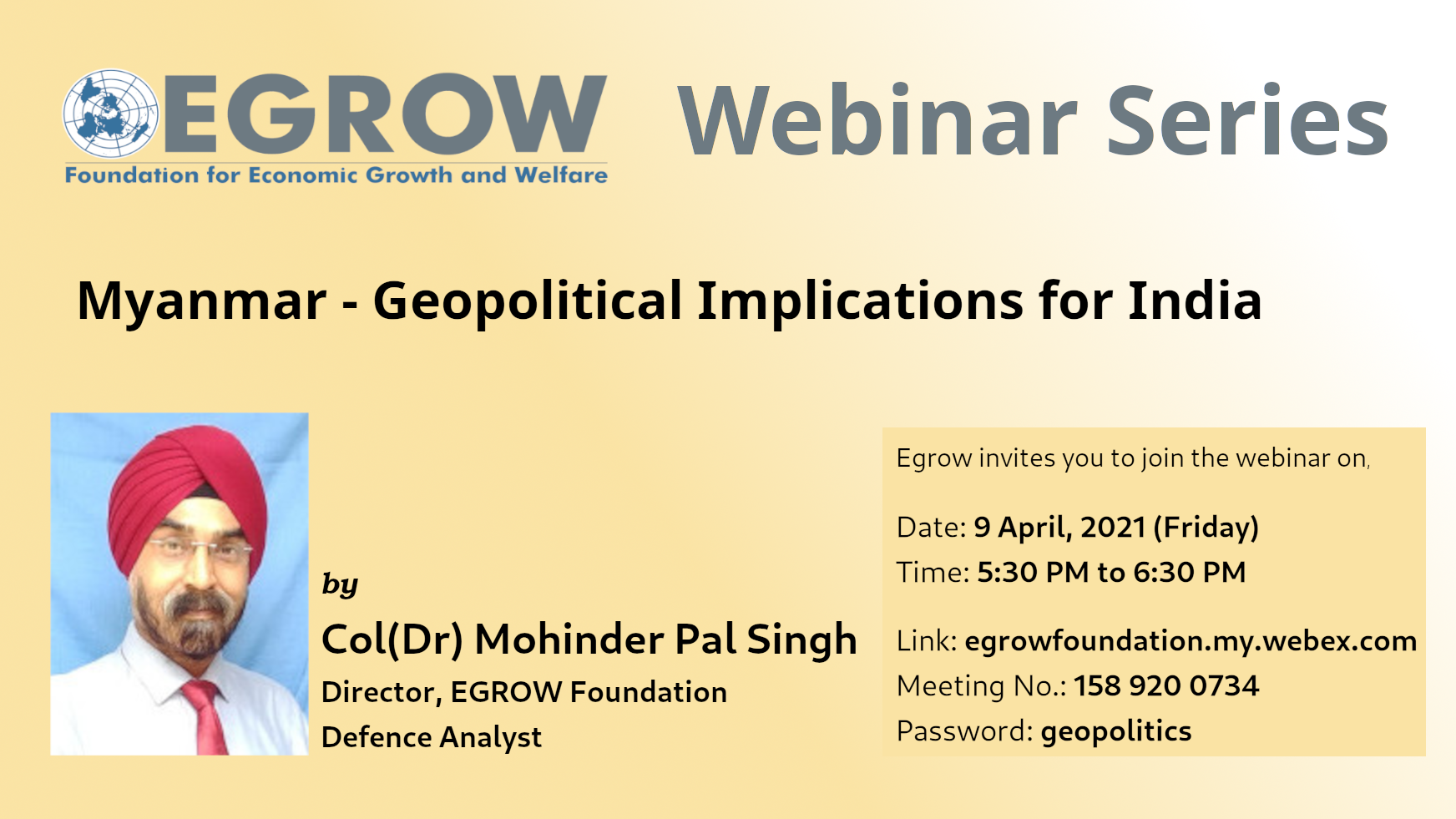 Meeting No: 158 920 0734
Password: geopolitics
---
Abstract
Myanmar and India share an umbilical relationship going back to the British era when they were ruled as one nation till 1937. The cordial relations continued even after both countries became independent almost at the same time and embraced democracy. On the other hand China-Myanmar relations have seen a lot of undulations in the last 70 years of Myanmar's existence. However in the last three decades there has been a total flip in the relations leading to Myanmar's Military regime becoming almost a colony of China. The restoration of democracy in 2015 elections saw the return of a civilian government, heralding a new era of development and changes. The recent times has seen the lifting of economic sanctions by the western world and thus lowering of dependency on China.
Undoubtedly the two Asian giants, India and China have strong strategic interests in Myanmar. While maintaining their newly formed identity, Myanmar is deftly engaged in the balancing relations with them. The discussion will focus on the current situation in Myanmar and its geopolitical implications for India
About The Author
Col (Dr) Mohinder Pal Singh is a graduate in science form prestigious St Xaviers College, Mumbai. He is an MBA from IIFT , New Delhi and a gold medalist in MSc from Allahabad University. He has completed his Doctorate in international relations from the Department of Defense and Strategic Studies, University of Allahabad. He has published number of articles in all leading journals and websites on strategic issues.
He has served in the Indian army, in the elite Infantry Regiment for thirty years tenating various appointments in all kinds of terrain and operations . He was also awarded 'Chief of Army Staff Commendation' for his work. He has been an instructor in Infantry School and an Assessor in the Officer Selection Process for over six years. He successfully commanded administrative battalion.
Apart from his extensive experience in army and his academic pursuits he is also a prolific writer who has to his credit many articles in books on strategic and national security subjects and has individually authored five books. His two recent books 'Teams of Tomorrow' and 'Myanmar and its Strategic Dilemmas' have been well received in the environment. He is currently Director of EGROW Foundation
---
Certificate of Participants