NBFCs in India in 2047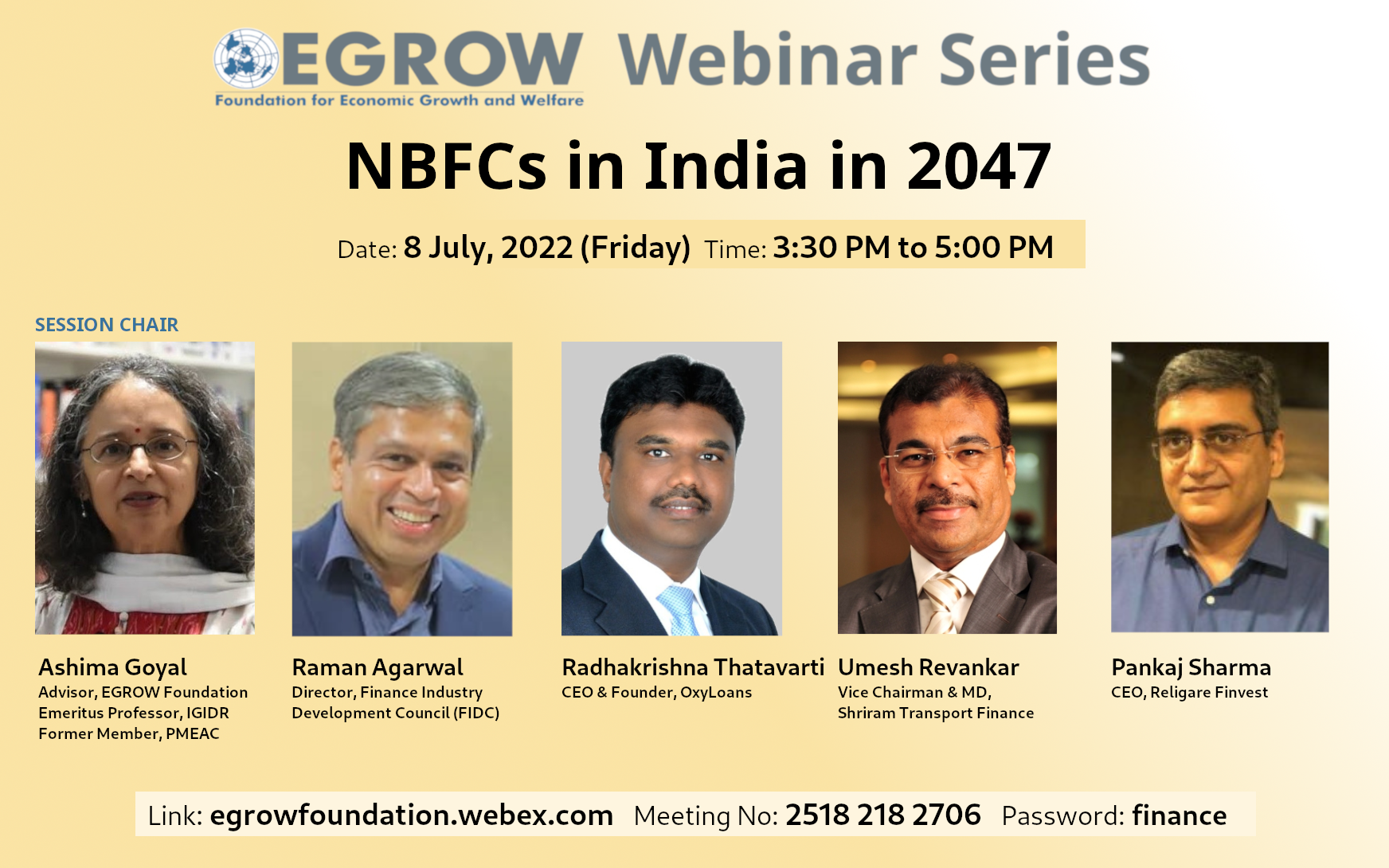 Meeting No: 2518 218 2706
Password: finance
---
Abstract
The sector is around 80 years old and post 1997 certain structural reforms has strengthen the sector to such an extent that post 2006 its being addressed as the 'shadow banking' system.
The average growth rate of the sector in past two-three years has been 15 percent at least and profitability has been going up by 20-30 percent.
The NBFC has grown up and become specialist in their own product line, and that is why they are able to withstand the turmoil.
Also India requires a much larger number of banks to take banking to every corner. This is because India has only about 500-600 banks, including the regional rural ones which is low when compared to other countries like USA and China.
Large and strong NBFCs need to be given much freedom so that they can provide banking to each corner of the country.Thus increasing competition in the sector.However this should be done after putting in place an adequate amount of risk-mitigation measures prescribed by the Reserve Bank of India (RBI).
The discussion will delve into the nuances of the advantages and disadvantages of such policy and enlighten about policies that can be taken to improve the sector along with minimization of the risks.
About the Speakers
Ashima Goyal
Ashima Goyal is widely published in institutional and open economy macroeconomics, international finance and governance, with more than a hundred articles in national and international journals. She has also authored and edited a number of books including Macroeconomics and Markets in Developing and Emerging Economies (Routledge: UK. 2017) and A Concise Handbook of the Indian Economy in the 21st Century (OUP: India, 2019). She edits the Routledge journal Macroeconomics and Finance in Emerging Market Economies; has provided consultancy to ADB, DEA, GDN, UNDP, RBI, UN ESCAP and WB; is active in the Indian policy debate; and has served on several government committees, including the Economic Advisory Council Prime Minister and the RBI technical advisory committee for monetary policy, and boards of educational and of financial institutions. Currently she is a Member of RBI's Monetary Policy Committee, an independent director at Edelweiss Financial Services and SBI General Insurance. She edits a Routledge journal in macroeconomics and finance and contributes a monthly column to the Hindu Business Line. She was a visiting fellow at the Economic Growth Centre, Yale University, USA, and a Fulbright Senior Research Fellow at Claremont Graduate University, USA. Her research has received national and international awards. She won two best research awards at GDN meetings at Tokyo (2000) and Rio de Janeiro (2001), was selected as one of the four most powerful women in economics, a thought leader, by Business Today (2008); was the first Professor P.R. Brahmananda Memorial Research Grant Awardee for a study on History of Monetary Policy in India since Independence (2011), which was published by Springer in 2014; received the SKOCH Challenger Award for Economic Policy (2017); Hindu College OSA Distinguished Alumni Award and 20th FLO FICCI GR8 Beti Award for Excellence in Economics (2018).
Raman Aggarwal
Raman Aggarwal is the Director of Finance Industry Development Council (FIDC) – A Representative body cum Self-Regulatory Organization for Non-Banking Finance Companies. He is currently working as Sr.Vice President, Head – Corporate Affairs with SREI Equipment Finance Ltd, which is the leading financier of construction and mining equipment in India. He has more than 27 years of working experience in the NBFC sector.
He has been actively representing the NBFC sector, being a member ofAdvisory Groups to Ministry of Finance & RBI, Core Group setup by Ministry of Corporate Affairs,and Special Task Force at FICCI. He is theChairman of National Council on NBFCs& Member, Managing Committee at ASSOCHAM and the Co-ConvenorIndustry Govt Interface Panels at Indian Construction Equipment Manufacturers' Association (ICEMA). He was the signatory to the Engagement Letters signed by World Bank Group with FIDC.
He was awarded the "Best NBFC Exemplary Leader" Award at the ET NOW BFSI Awards and "100 Top Most Influential BFSI Leaders" award at the World BFSI Congress in 2018& 2019. He has addressed major events and seminars,like Global Convention on Corporate Governance and Sustainability at London, IFC's Financial Infrastructure Workshop for Da Afghanistan Bank, EuroFinance India 2010 – 13, The Economic Times Summit on Financial Inclusion, National Summit on NBFCs and World Auto Congress organized by ASSOCHAM. He has been an invitee to the Pre-budget discussion of the Finance Minister with representatives from banking and financial institutions. He is a Member of Academic Advisory Council of New Delhi Institute of Management and Guest Faculty at Institute of Chartered Accountants, India (ICAI) & International Management Institute (IMI), New Delhi.
Raman is Masters in Urban Planning from School of Planning &Architecture, New Delhi and Bachelor of Civil Engineering from Thapar Institute of Engineering and Technology, Patiala. He has also undertaken a Special Training Programme for the Personnel of Non-Banking Finance Companies at RBI College of Agricultural Banking, Pune.
Radhakrishna Thatavarti
Radhakrishna has over 22 years of experience in working for software companies and clients in the area of Banking and Financial Services. His latest passion is Bridgital – Bridging rural and urban using digital tools and platforms.
Radhakrishna is a CEO & Founder of OxyLoans – RBI approved P2P NBFC, BMV.Money – Java-based Bridgital technology platform connecting rural and urban offering banking & financial services, medical services, education services, EV services, Logistics services and securities services.
Before founding OxyLoans, He was VicePresident for Value Labs. He was responsible for establishing Banking Practice, business growth in the Middle East. His entrepreneurial 1.0 drive enabled him to set up his own successful venture, Thatavarti Technologies, which was focused on providing testing services to clients.
Radha has done his Executive Program in Management from Columbia Business School, New York, and holds Masters in Computer Applications(MCA) from Sir MVIT, Bangalore.
Umesh Revankar
Mr. Umesh Govind Revankar holds a bachelor's degree in Business Management from Mangalore University and MBA in Finance.
He has attended Advanced Management Program at Harvard Business School. Mr. Revankar started his career with Shriram Group as an Executive Trainee in the year 1987.
He is with Shriram group for the last 35 years and possesses extensive experience in the financial services industry.
During his stint with the Shriram Group, he has shouldered various responsibilities and worked in several key roles of business operations.
Pankaj Sharma
Pankaj is a Bachelor of Technology (Hons.) Mechanical Engineering from N.I.T. Kurukshetra - 1989 Batch. Pankaj brings with him over 32 years of rich experience in Engineering and Finance. He helmed Credit, Risk & Operations and worked with many reputed organisations like L&T, RPG Itochu Finance Ltd., Citibank / Citicorp Finance (India) Ltd (CFIL) and Religare.
Pankaj helmed Credit, Risk & Operations as President & CRO for Religare Finvest for more than 5 years and is now leading as CEO and steering long-term vision & business strategies of the company.
---
Certificate of Participants