Nehru, Tibet and China - Historical Perspective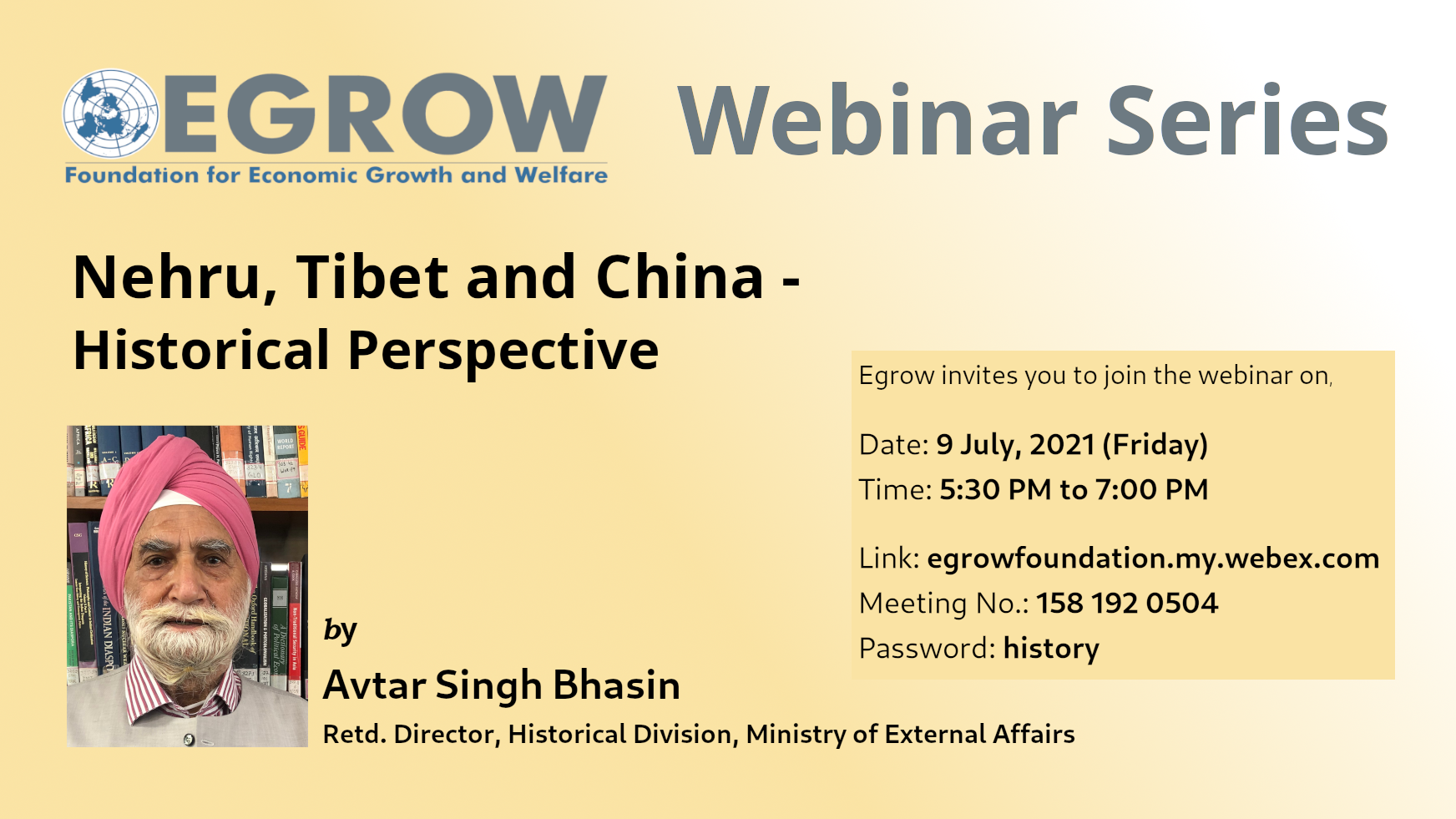 Meeting No: 158 192 0504
Password: history
---
Abstract
The speaker will speak on his latest book published only last month on the subject of "Nehru Tibet and China". It re-reads the event which took place in the first decade and a half of India's post- independence history, and which had led to the India-China war of 1962. The events of those days are still shrouded in mystery. As things stand even after six decades the people are unaware what exactly caused the war. The book after meticulous research among the archives of those day, which have been accessed for the first time challenges the conventional narrative that has been handed over to us since then that while Nehru was anxious for China's friendship it were the Chinese who betrayed India and stabbed it in the back.
About the Speaker
Avtar Singh Bhasin is a retired director of the Historical Division of the Ministry of External Affairs. Since retirement 1993 he has taken to academic studies.
His main focus has been India's relations with its neighbours. He has over the years succeeded in publishing a documentary study of India's relations with Sri Lanka, Bangladesh, Nepal and China in 5 volumes each. His study on Pakistan is spread over in ten volumes running into 10,000 pages.
He published an annual series called 'India's Foreign Relations' for the Ministry of External Affairs from 2002 to 2013.
On the occasion of the Golden jubilee of Indian independence in 1997 he published a book under the title "SOME CALLED IT PARTITION SOME FREEDOM'. His book "India in Sri Lanka: Between Lion and the Tigers" was published both in India and Sri Lanka by two independent publishers. It analysed the ethnic conflict in the Island nation and Indian involvement in it.
His last book before the current one was 'India – Pakistan: Neighbours at Odds' which was published in 2018 by the Bloomsbury Publishing House.
The present book "Nehru Tibet and China, published by Penguin Random House about which he will talk at the Webinar on 9 July was released only a month ago on 7 June, 2021.
---
Certificate of Participants