Pandemic, Poverty and Inequality: Evidence from India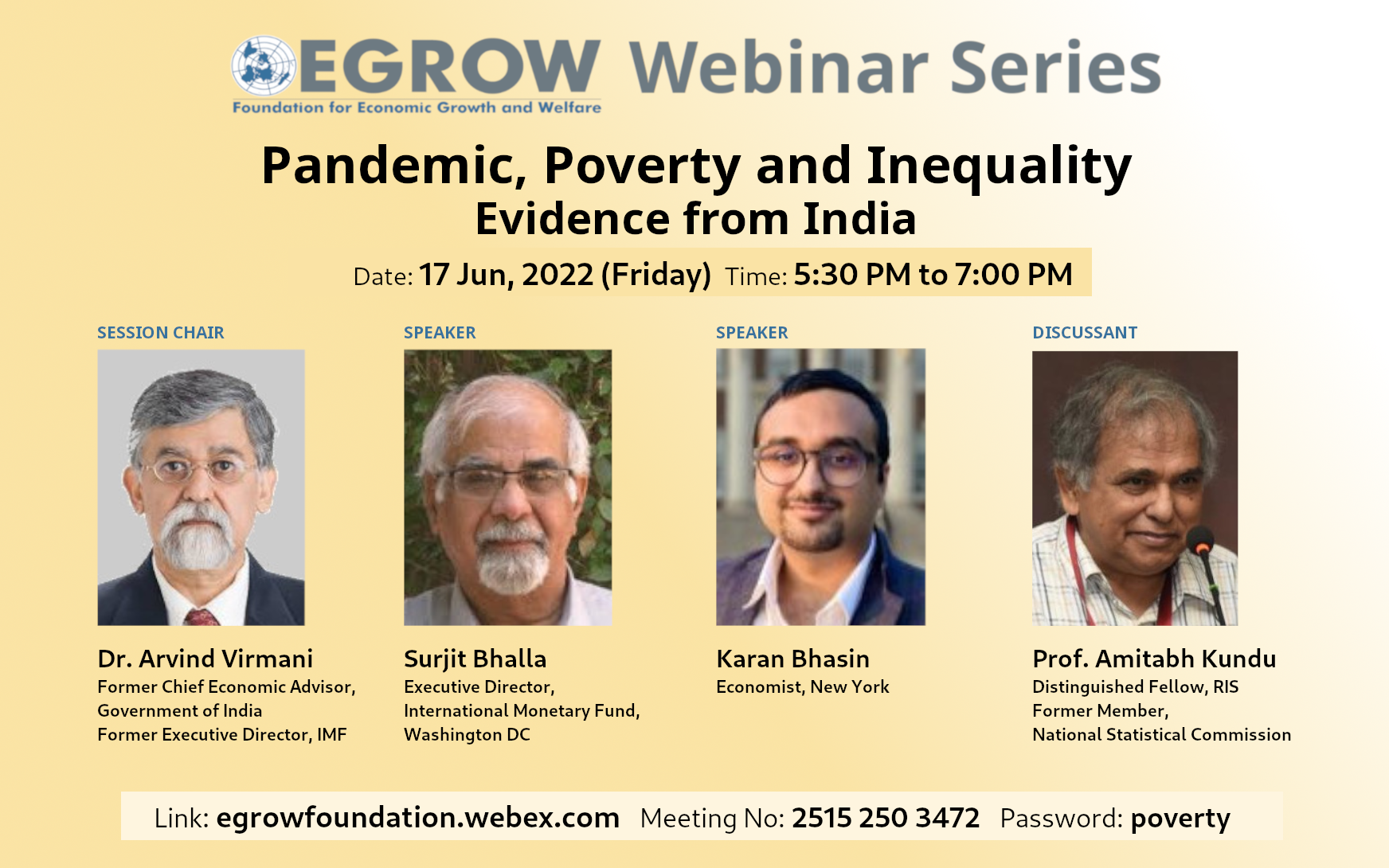 Meeting No: 2515 250 3472
Password: poverty
---
Abstract
The COVID – 19 pandemic has led to renewed interest in the estimation of poverty, and in measuring the impact of policy interventions on poverty alleviation. For India, such an exercise is challenging given the 2017-18 "ill-fated" survey. The last available consumption distribution from the NSSO is the 2011-12 Consumption Expenditure Survey. Based on the 2011 distribution, the paper arrives at poverty estimates for every year (2004-05 to 2020-21) using the World Bank's 1.9$ PPP and 3.2$ PPP poverty line. The paper uses growth factors derived from national Private Final Consumption Expenditure (PFCE) and State Gross Domestic Product for 33 states, and several other instruments to validate these growth factors. In addition, the paper argues the need for the inclusion of in-kind food transfers while making poverty estimates whose importance has increased since the introduction of the National Food Security Act in 2013. There has been a substantial expansion in the extent of support to the poor in the form of subsidized food transfers and these transfers made up for 10-20 % of the poverty line in 2020 for the bottom 10-20 % of the population. Post incorporation of in-kind transfers, poverty (1.9$ PPP) in India was less than 1 per cent in 2019-20 and it remained at that level in the pandemic year 2019. The doubling of entitlements under the Pradhan Mantri Garib Kalyan Anna Yojana (PMGKAY) played a major role in absorbing the impact of the pandemic on the poor.
About the Speakers
Dr. Arvind Virmani
Arvind Virmani is Chairman of the Foundation for Economic Growth and Welfare (EGROW) and President of the Forum For Strategic Initiatives (FSI, Delhi). He has been a Mentor (economic policy) to FICCI & a member of RBI Technical Advisory Committee on Monetary policy He was earlier Executive Director, IMF and Chief Economic Advisor, Ministry of Finance and Principal Advisor, Planning Commission. During his tenure he advised on a host of economic policy reforms, through 100s of policy papers, notes and committees. He has served as Member, Telecom Regulatory Authority of India (TRAI) and as Director & Chief executive of the Indian Council for Research on International Economic Relations (ICRIER). He has published 35 journal articles and 20 book chapters and written over 50 other working papers in the areas of Macroeconomics, growth and finance, tax reform, International trade & Tariffs, International relations, and national security strategy.
Surjit Bhalla
Dr Surjit S Bhalla is the Executive Director IMF, representing India, Sri Lanka, Bangladesh and Bhutan. He holds a PhD in Economics from Princeton University. He is a former part-time member of Hon'ble Prime Minister Narendra Modi's Economic Advisory Council. In addition, he served as Chairperson for the Ministry of Commerce High Level Advisory Group on Trade; Economic Adviser to the Fifteenth Finance Commission, Government of India. He is a regular Invitee to the Aspen Institute Program on World Economy, USA, 2002-present. He was also a Contributing Editor for Indian Express (2014-2019). He was Founder-Chairman of Oxus Research & Investments 1997-2017.
Karan Bhasin
Karan Bhasin is an Indian columnist, researcher and regular tv panelist. He's worked with several think-tanks and has been a vocal supporter of India's current government on its economic performance.
He attended Delhi's St. Columba's School. He graduated with a Bachelors degree in economics (Hons) from The University of London and he obtained a Masters degree in Economics from TERI School of Advanced Studies.
He has worked with Pahle India Foundation, Public Policy Research Centre and other New Delhi based think tanks. His research areas are in the field of economics and public policy. Over the last couple of months, he has been a vocal supporter of cash transfer programs as a solution to India's subsidy leakages. He has been contributing to numerous magazines and digital news platforms as a regular columnist such as Governance Now, The Print, Swarajya, Organiser Weekly and OpIndia. Over the last months, he has also been a regular panelist at several debates organized by Business Television India, Times Now and NDTV.
Prof. Amitabh Kundu
Professor Amitabh Kundu is a Senior Fellow with the Sustainable Cities and Transport program at WRI India.
Dr. Kundu has been a Distinguished Fellow at Research and Information System for Developing Countries. He was Professor and Dean of the School of Social Sciences at Jawaharlal Nehru University, a member of National Statistical Commission and chaired the Post Sachar Evaluation Committee and that for estimating Urban Housing Shortage. He was Regional Adviser on Poverty at UNESCWA, Beirut and Consultant to Sri Lankan Government on Population Census.
Currently, he is chairing a committee to monitor the national survey, being conducted for Swatch Bharat Mission for the Ministry of Drinking Water and Sanitation. He was Visiting Professor at the University of Amsterdam, Sciences Po and Maison des Sciences de L'homme, University of Kaiserslautern and University of Wuerzburg. He was Director at various institutes in India and is in the Editorial Board of a large number of national and international journals. He has about twenty five books and two hundred research articles, published in India and abroad, to his credit.
---
Certificate of Participants