Psychological Vulnerabilities in Contemporary Society: Insights & Reflections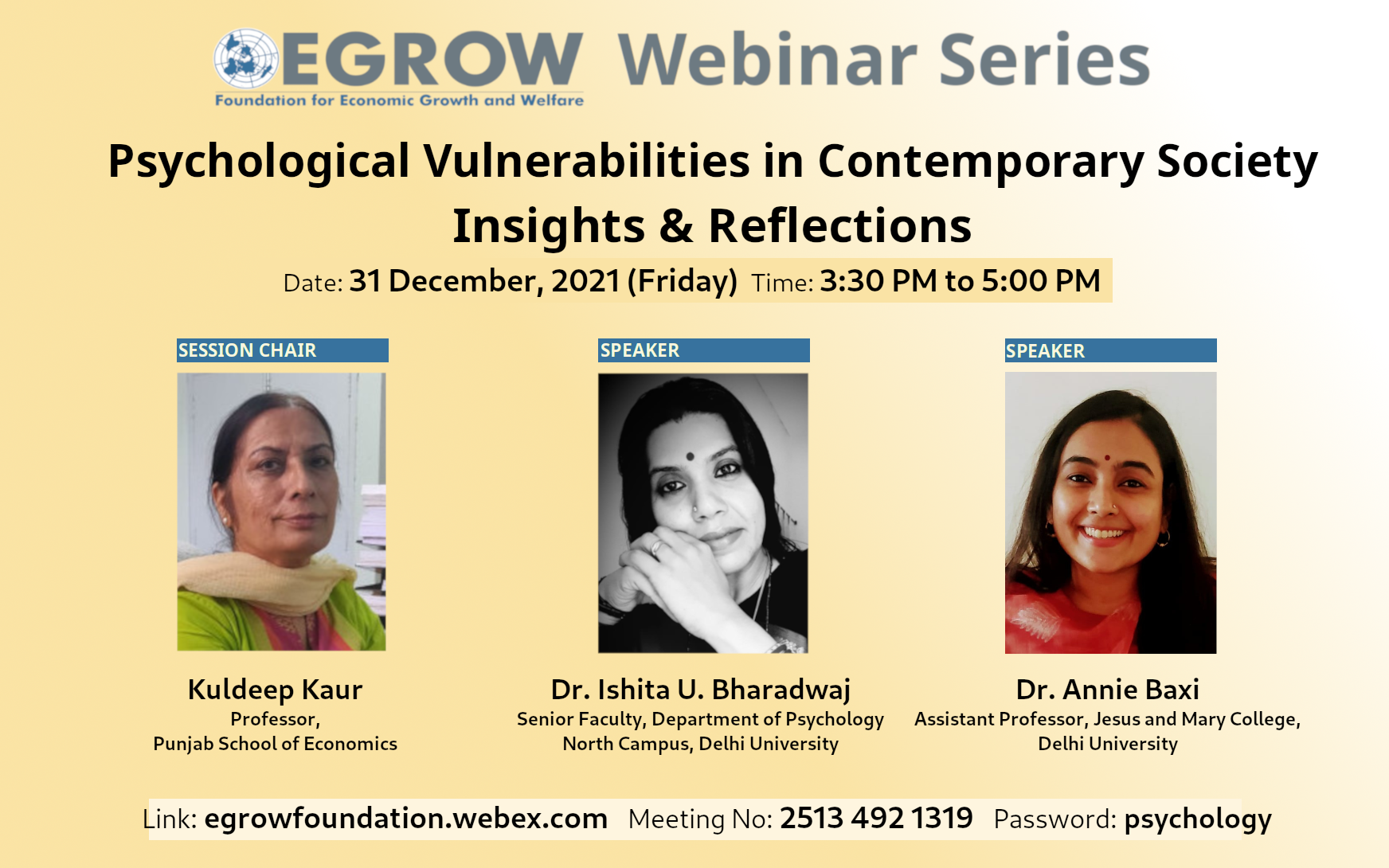 Meeting No: 2513 492 1319
password: psychology
---
Abstract
The discipline of psychology has been largely centred on human capacities and vulnerabilities. Vulnerabilities, an increased susceptibility to emotional pain and loss, changes in its conception and experience with social transitions. Hence, it becomes important to locate the concept of vulnerability in diverse lived realities, varying sites and historical contexts. The book looks at the narratives of marginalization and victimization across a range of issues and concerns as shared by participants belonging to different gender, caste, age and health related identities. The volume offers ways to reimagine selected groups and their realities, engage in their subjectivities and reflect on their and one's own vulnerabilities
About the Speakers
Kuldeep Kaur
Kuldeep Kaur is head of School of Social Science and Economics at Guru Nanak Dev University, Amritsar. She has extensive teaching and research experience in industrial economics and Indian economic problems. She is member of many national and international economic research bodies.
Dr. Ishita U. Bharadwaj
Ishita U. Bharadwaj is a senior faculty member in Department of Psychology at the University of Delhi. With a PhD in existentialism, she is keenly committed to exploring the nuances of qualitative research for understanding the socio-clinical interface around the self and being, gender, psychology of margins, narratives of illness and alternative education. She has been actively engaged in building Manastha, the counselling centre run by the Department of Psychology, University of Delhi. Her recent doctoral supervisions have been in the area of woman and madness, suicide-attempt survivors, psychic pain and healing.
Dr. Annie Baxi
Annie Baxi is currently working as an assistant professor at Jesus and Mary College, University of Delhi. Her PhD thesis was on topic "Exploring Discourses around Normalcy and Madness in Women's Lives: A Study of Contemporary Indian Society". Her areas of interest include quantative analysis, gender studies and clinical psychology. In her work as an academician and clinician, she attempts to unravels the social and intrapsychic patterns of identity and relational meaning making.
---
Certificate of Participants