Recent Developments in Afghanistan and its Geo-political Implications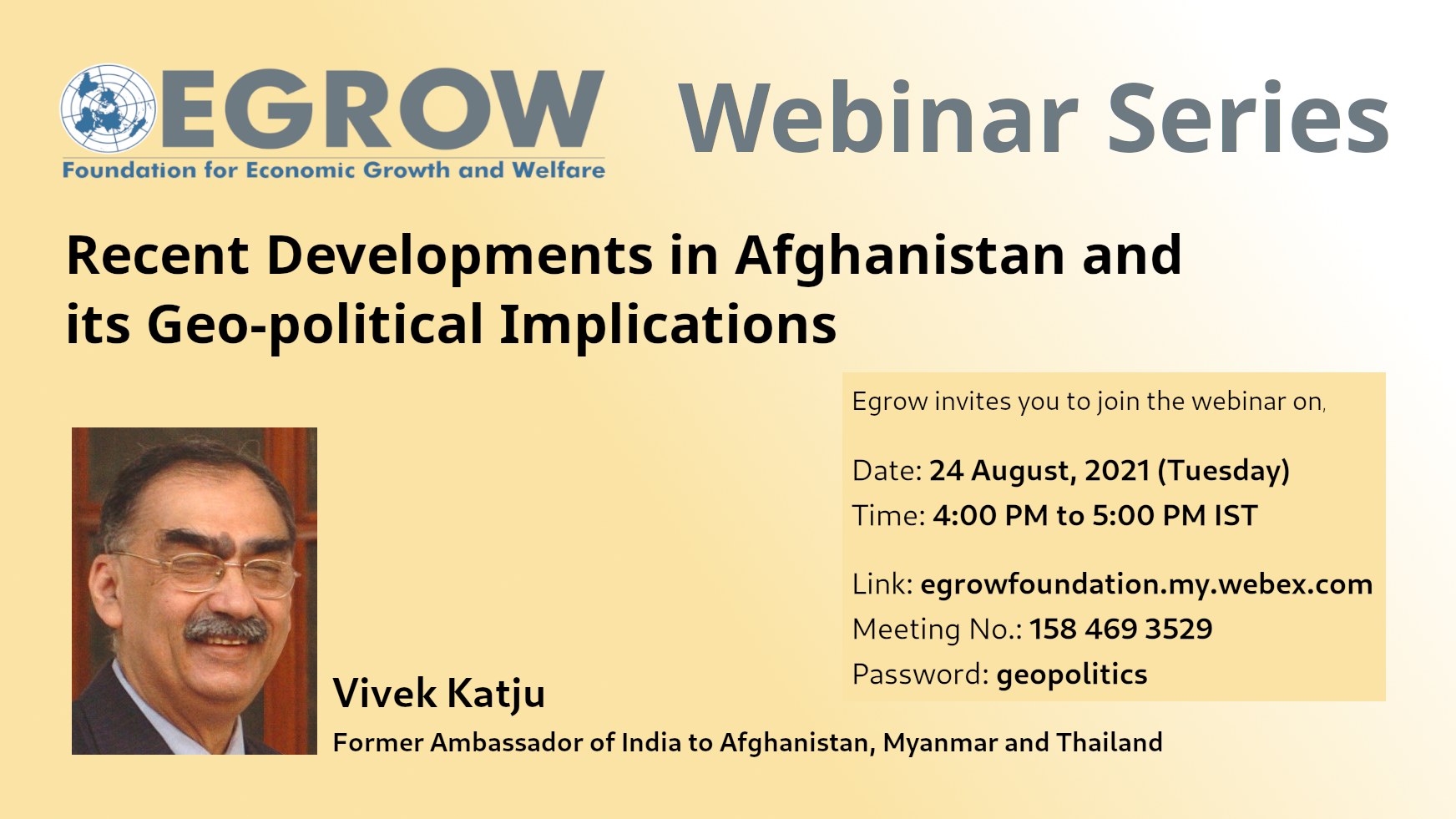 Meeting No: 158 469 3529
Password: geopolitics
---
Abstract
The United States President's recent decision to withdraw all its troops from Afghanistan has paved the way for Taliban to capture Kabul.
The political future of Afghanistan is under huge uncertainty and post the capture of Kabul by Taliban a exodus has been seen.
India, has strategic interest in Afghanistan and has invested over $3 billion in reconstruction and relief work since 2001 when US-led troops drove the Taliban out of Kabul. However, since the scenario has changed India has to take a stand such that under this constrained circumstances it's interest are served.
The speaker will examine the current scenario of Afghanistan and its plausible effects on India. He will also discuss the different strategies that can be taken by India to deal with the changing dynamics of power shift in the region.
About the Speaker
Ambassador Vivek Katju is a senior Indian diplomat who retired as the Secretary of the Ministry of Foreign affairs in New Delhi in 2011. In 1975 he joined the Indian Foreign Service and served in Cairo , Abu Dhabi and Kuala Lumpur . He served as Deputy Secretary for the Departments: Iran, Pakistan, Afghanistan and as additional and special Secretary for Political and International Organizations, Western Secretary. In December 1985 he was secretary of the embassy in Washington, DC . In 1990, he was embassy secretary in Suva and compared Kailash Nath Katju's biography to My Struggle . In 1999 he negotiated on the Indian Airlines Flight 814 . In 1999, during the Kargil War, he was the enclave secretary of the Pakistan department in the ministry of foreign affairs. In July 2001, he was a member of the negotiating team at the Agra Summit . From August 2001 to February 2002 he was ambassador to Myanmar. He was ambassador to Afghanistan 15, 2002 to January 2005. From February 2005 to October 2006 he was ambassador in Thailand.
---
Certificate of Participants