Recovery from Shocks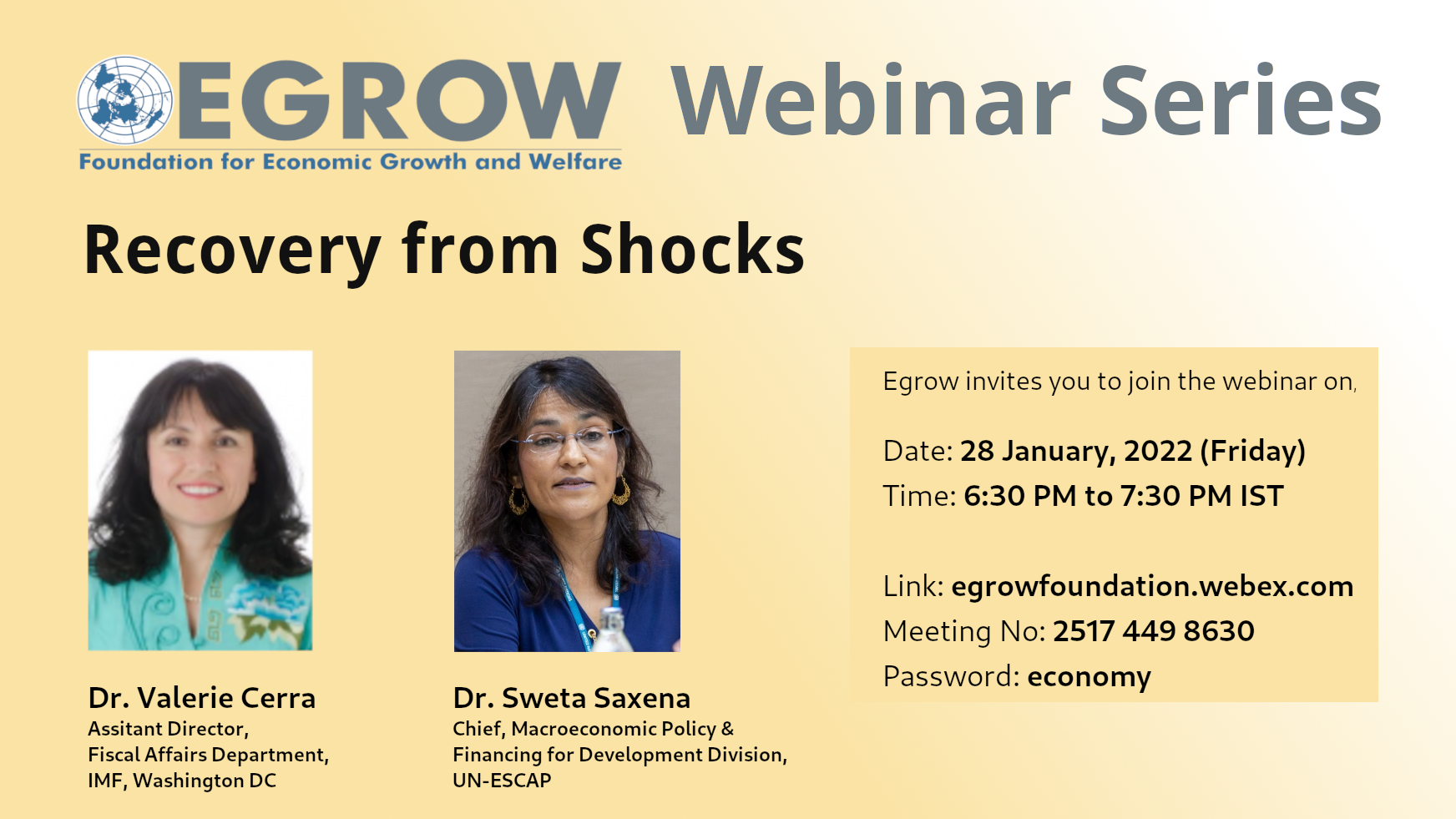 Meeting No: 2517 449 8630
password: economy
---
About the Speakers
Dr. Valerie Cerra
Valerie Cerra is an Assistant Director in the Fiscal Affairs Department of the International Monetary Fund and was recently the Division Chief of the Inclusive Growth and Structural Policies Division in the IMF's Institute for Capacity Development. She has been involved in policy advice, lending, and capacity development in the IMF's Western Hemisphere, African, European, and Asia and Pacific departments, and the IMF Institute.
She has published widely in leading economics journals, including the American Economic Review, Journal of Economic Literature, and Journal of International Economics, on topics related to international macroeconomics, financial crises, economic scarring, and inclusive growth. Her research has won the Emerald Award and has been cited by the media, including the Washington Post and the Financial Times, and by policy leaders, including U.S. Treasury Secretary Janet Yellen. Her most recent book on How to Achieve Inclusive Growth has just been published by Oxford University Press. She obtained undergraduate degrees in finance and engineering from the University of Pennsylvania, a PhD in Economics from the University of Washington, and is a Chartered Financial Analyst.
Dr. Sweta Saxena
Sweta C. Saxena is currently on leave from the IMF to serve as the Chief in the Macroeconomic Policy and Financing for Development Division at the UN Economic and Social Commission for Asia and the Pacific (UNESCAP) in Bangkok, Thailand. She has led 3 flagship reports at ESCAP: 2019 "Ambitions beyond growth", 2020 "Towards sustainable economies", and 2021 "Towards post-COVID-19 resilient economies." At the IMF, she has worked on multilateral surveillance for the G20 countries in the Research Department and on fragile countries in the African Department.
Her research has focused on policy-relevant macro-financial issues, namely, crises and recoveries, contagion, and exchange rates. Her more recent work focuses exclusively on sustainable development. Sweta has published extensively, including in the American Economic Review, Journal of Economic Literature and the Journal of International Economics.Prior to joining the IMF, she worked at the Bank for International Settlements in Basel, Switzerland, and as an Assistant Professor at the University of Pittsburgh. Sweta obtained her PhD in economics from the University of Washington and an M.A. in Economics from the Delhi School of Economics.
---
Certificate of Participants