Recruitment Policies in Defence Services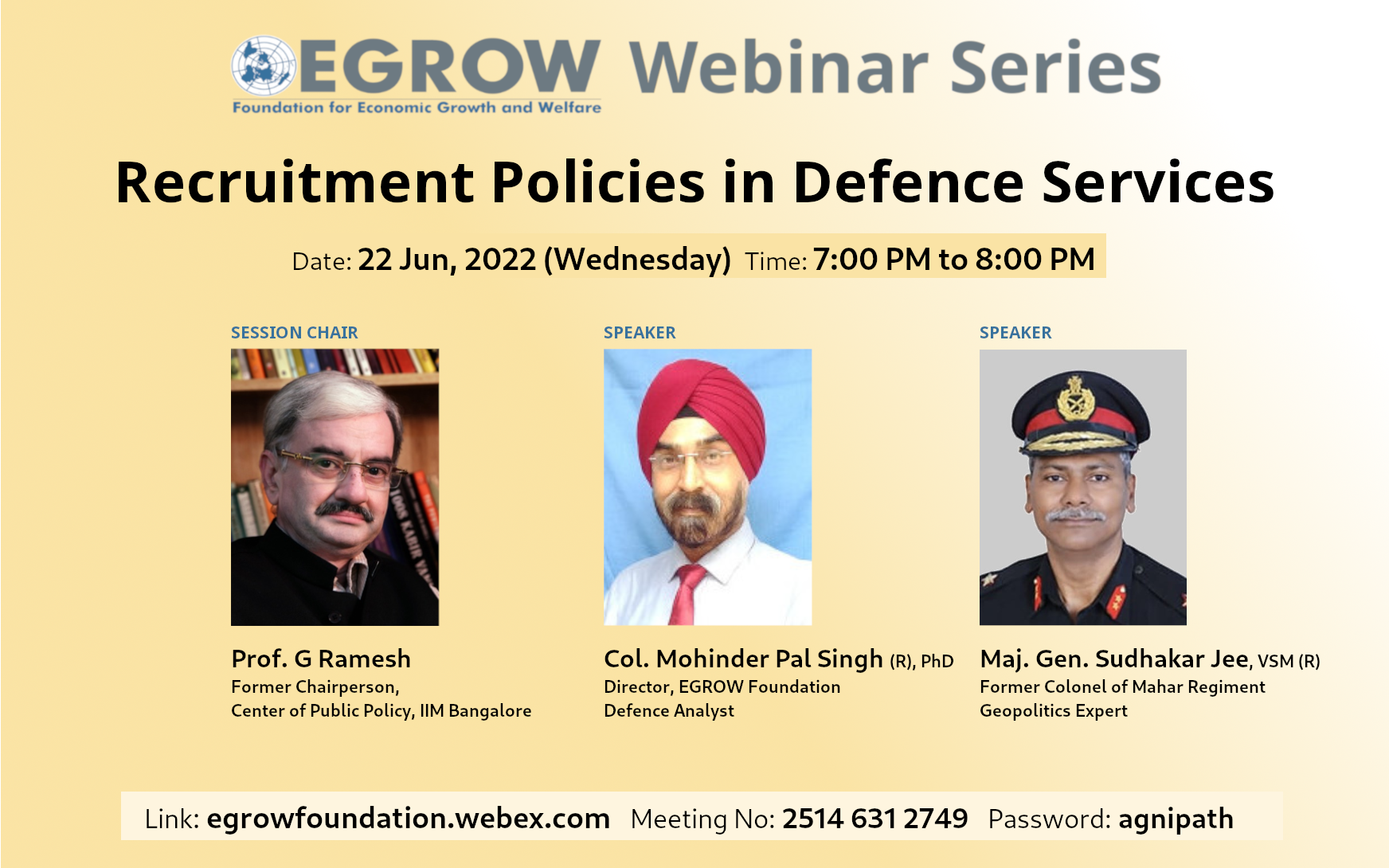 Meeting No: 2514 631 2749
Password: agnipath
---
Abstract
The Union Cabinet took a decision approving an recruitment scheme for Indian youth to serve in the Armed Forces for which a scheme has been introduced with the name Agneepath. The youth selected under the Agneepath scheme will be categorised as Agniveers. The Armed Forces will be recruiting 46,000 Agniveers in 2022 through this scheme. With the announcement of this Agnipath Scheme, a window of opportunity has been opened for the youths to serve their nation for a period of 4 years. In this presentation, the speakers critically evaluate the scheme.
About the Speaker
Prof. Ramesh G
Professor G Ramesh retired recently from IIM Bangalore as Professor at the Center for Public Policy. He is a Fellow of the Indian Institute of Management, Ahmedabad (1990) with specialization in Finance and Accounts. He was Member of the Indian Economic Service (1980) for a brief period.
His research interests are in the areas of Public Policy, Governance, and Public System Reform; with domain interests in Urban Infrastructure, Technology, and Banking. He has offered several mid-career
training programmes for senior civil servants of Government of India from various services such as IAS, IRS, IFS, etc. He has also been Member in various Committees of Central and State Governments.
He has published books and has several publications to his credit. He likes mentoring technology startups and is currently writing a book on entrepreneurship. He is editor of a digital magazine, indiachapter.in and is active in social media.
Col (Dr) Mohinder Pal Singh
Col (Dr) Mohinder Pal Singh is a graduate in science form prestigious St Xaviers College, Mumbai. He is an MBA from IIFT , New Delhi and a gold medalist in MSc from Allahabad University. He has completed his Doctorate in international relations from the Department of Defense and Strategic Studies, University of Allahabad. He has published number of articles in all leading journals and websites on strategic issues.
He has served in the Indian army, in the elite Infantry Regiment for thirty years tenating various appointments in all kinds of terrain and operations . He was also awarded 'Chief of Army Staff Commendation' for his work. He has been an instructor in Infantry School and an Assessor in the Officer Selection Process for over six years. He successfully commanded administrative battalion.
Apart from his extensive experience in army and his academic pursuits he is also a prolific writer who has to his credit many articles in books on strategic and national security subjects and has individually authored five books. His two recent books 'Teams of Tomorrow' and 'Myanmar and its Strategic Dilemmas' have been well received in the environment. He is currently Director of EGROW Foundation.
Maj. Gen. Sudhakar Jee
Major General Sudhakar Jee, Vishisht Seva Medal is an alumnus of Sainik School, Bhubaneshwar and National Defence Academy, Khadakwasla. He was commissioned into The Mahar Regiment of the Indian Army in June 1983 and has vast experience in operations across a wide spectrum of conflict and terrain profiles within India and abroad. The General Officer is presently holding the appointment of Deputy Commandant, Army War College, Mhow where the present and future leaders of the Indian Armed Forces and Friendly Foreign Countries are trained in Strategy and the Art of Warfare. He was elected as Colonel of the Mahar Regiment and has been holding the appointment since 01 Sep 2017.
Major General Sudhakar Jee gave an institute lecture on the 25th of February. Watch Out! decided to interview him to know more about his way of life and gain a better view of his opinions about the nation's security and the role we're supposed to play within it.
---
Certificate of Participants