Role and Adequacy of Multilateral Development Banks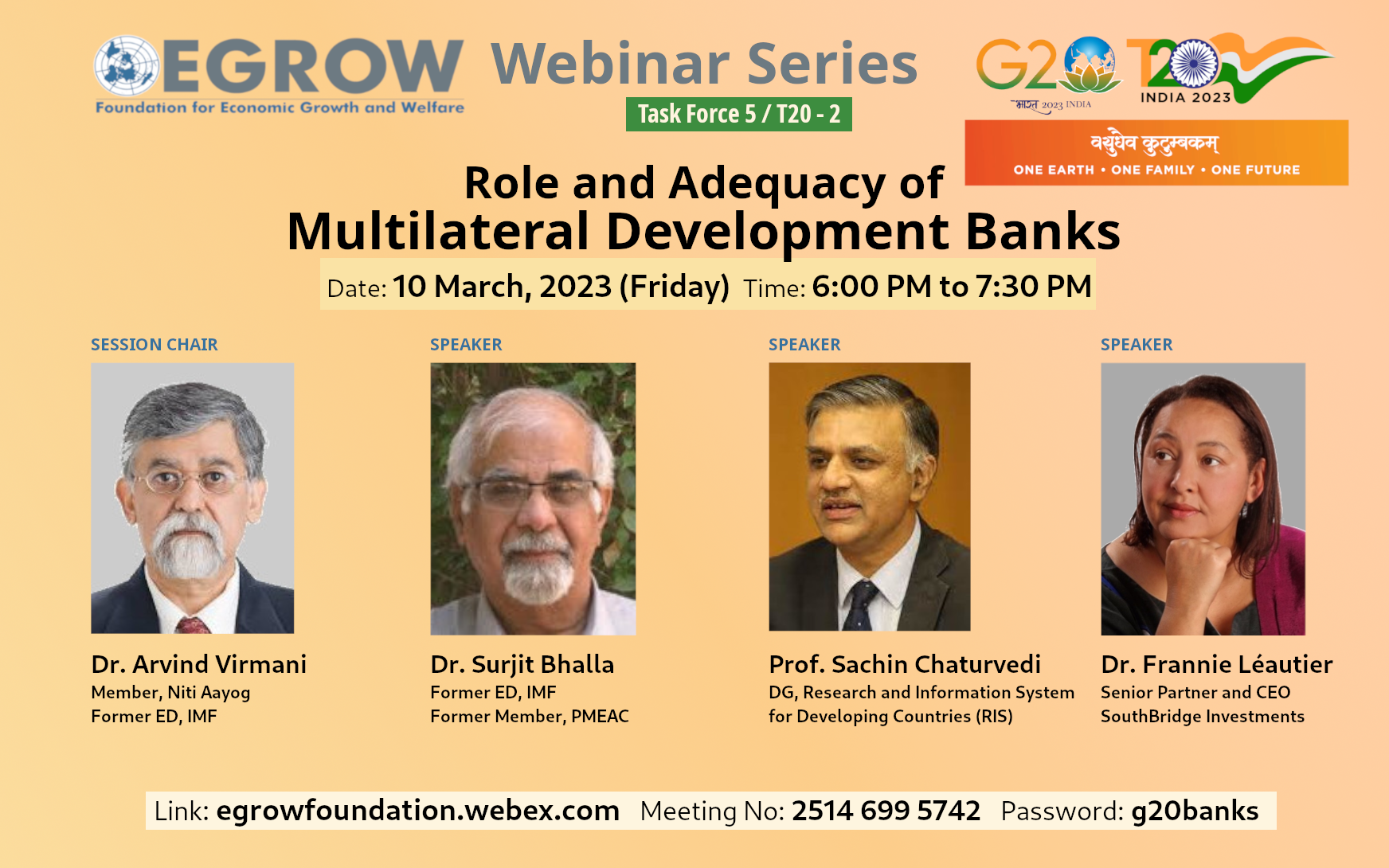 Meeting No: 2514 699 5742
Password: g20banks
---
About the Speakers
Dr. Arvind Virmani
Arvind Virmani is member of NIti Aayog. He was Chairman of the Foundation for Economic Growth and Welfare (EGROW) and President of the Forum For Strategic Initiatives (FSI, Delhi). He has been a Mentor (economic policy) to FICCI & a member of RBI Technical Advisory Committee on Monetary policy He was earlier Executive Director, IMF and Chief Economic Advisor, Ministry of Finance and Principal Advisor, Planning Commission. During his tenure he advised on a host of economic policy reforms, through 100s of policy papers, notes and committees. He has served as Member, Telecom Regulatory Authority of India (TRAI) and as Director & Chief executive of the Indian Council for Research on International Economic Relations (ICRIER). He has published 35 journal articles and 20 book chapters and written over 50 other working papers in the areas of Macroeconomics, growth and finance, tax reform, International trade & Tariffs, International relations, and national security strategy.
Dr. Surjit Bhalla
Dr. Surjit S Bhalla is the Former Executive Director IMF, representing India, Sri Lanka, Bangladesh and Bhutan. He holds a PhD in Economics from Princeton University. He is a former part-time member of Hon'ble Prime Minister Narendra Modi's Economic Advisory Council. In addition, he served as Chairperson for the Ministry of Commerce High Level Advisory Group on Trade; Economic Adviser to the Fifteenth Finance Commission, Government of India. He is a regular Invitee to the Aspen Institute Program on World Economy, USA, 2002-present. He was also a Contributing Editor for Indian Express (2014-2019). He was Founder-Chairman of Oxus Research & Investments 1997-2017.
Prof. Sachin Chaturvedi
Professor Sachin Chaturvedi is currently Director General at the Research and Information System for Developing Countries (RIS), a New Delhi-based Think-Tank. He works on issues related to development economics, involving development finance, SDGs and South-South Cooperation, apart from trade, investment and innovation linkages with special focus on WTO. Currently, he is also Vice Chairman, Atal Bihari Vajpayee Institute of Good Governance and Policy Analysis; and ex-officio Vice Chairman of Madhya Pradesh State Policy and Planning Commission. He is also Member, Board of Governors, Reserve Bank of India.
Professor Sachin Chaturvedi has been part of several important initiatives of the Government of India and takes keen interest in transforming economic policymaking towards integrated and evidence based approaches. He is one of the foremost commentators on India's external sector economic engagements and partnerships. He is considered as most dynamic and affable by his peers and has mentored several bright scholars and researchers in the profession.
He has authored/edited more than 22 books, apart from contributing several chapters in the edited volumes and also publishing several research articles in prestigious journals. He is on the Editorial Board of several journals including the South Asian Economic Journal, IDS Bulletin, Sussex, UK among others. His book "The Logic of Sharing – Indian Approach to South-South Cooperation" has been acclaimed internationally as one of the best volumes on international development cooperation.
Professor Sachin Chaturvedi was also the 'Global Justice Fellow' at the MacMillan Center for International Affairs at Yale University (2009-2010) and has served as a Visiting Professor at the Jawaharlal Nehru University (JNU) and was a Developing Country Fellow at the University of Amsterdam (1996), Visiting Fellow at the Institute of Advanced Studies, Shimla (2003), and Visiting Scholar at the German Development Institute (2007).
Dr. Frannie Léautier
Dr. Frannie Léautier is a finance and development expert, with long-standing global experience leading and transforming organisations in the private, public and not-for-profit spheres. Prior to joining TDB, she served as Senior Vice President at the African Development Bank, Vice President at the World Bank Group, and Executive Secretary of the African Capacity Building Foundation. In addition to having founded two companies and being the CEO of SouthBridge Investments, Dr. Léautier is a Board Member, Trustee, Special Advisor, Founder and Member of a number of prestigious international organisations, including the World Economic Forum (WEF), Massachusetts Institute of Technology (MIT), OCP Group, African Risk Capacity Ltd (ARC Ltd), African Economic Research Consortium (AERC), Institute for Security Studies (IIS), King Baudouin Foundation USA (KBFUS), Nelson Mandela Institute for Science and Technology (NM-AIST), and others. She is a well-recognised author and academic, having published numerous books, articles and papers in international development and having taught Masters-level courses at Sciences Po, MIT, Harvard, Duke, and the University of Tokyo. In addition to her Civil Engineering Degree from Dar es Salaam University and a Transportation Masters from MIT, Dr. Léautier holds a PhD in Infrastructure Systems from MIT, and honorary degrees from North Central College and Lancaster University.
---
Certificate of Participants