Russia, Ukraine and Indian Economy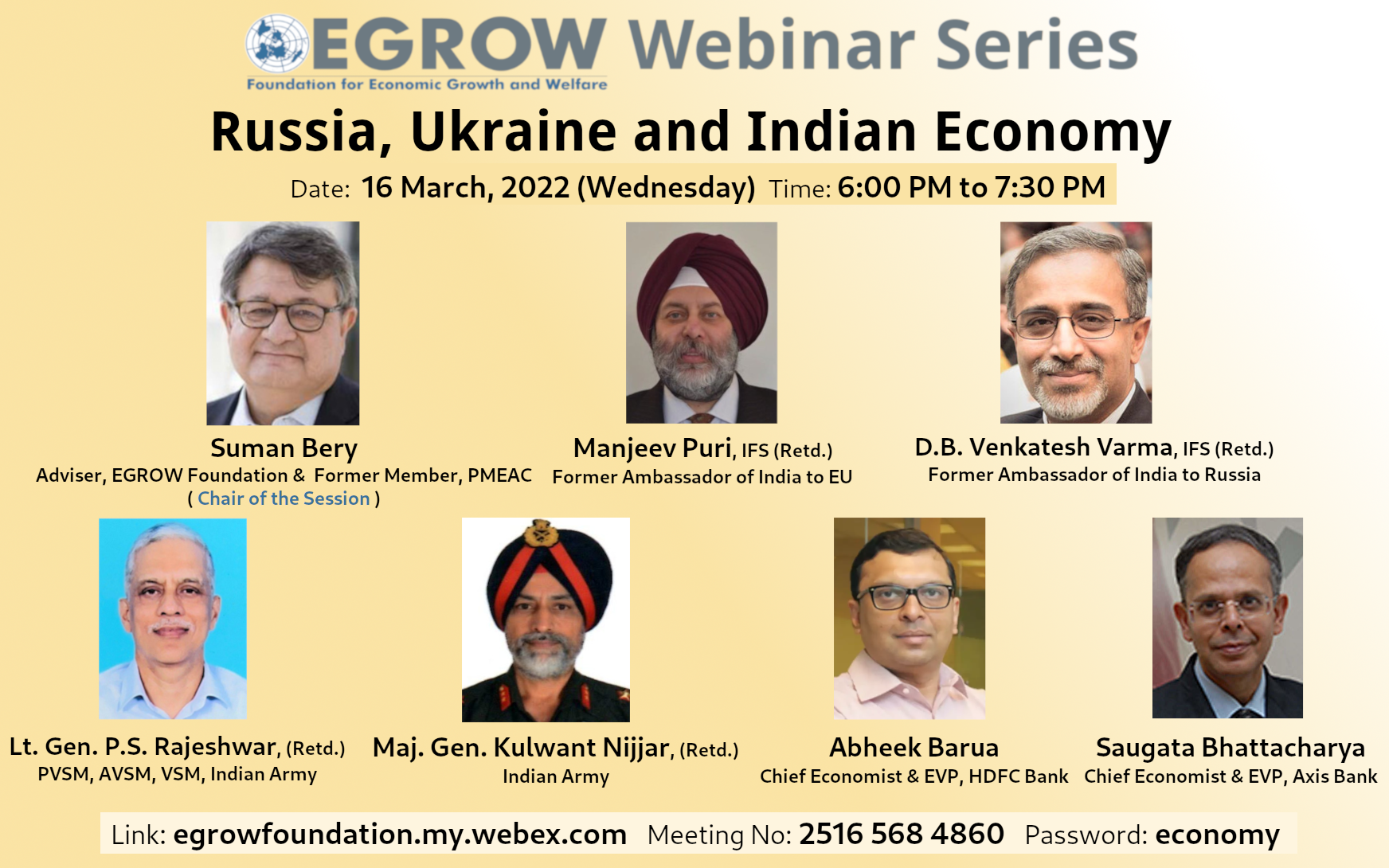 Meeting No: 2516 568 4860
password: economy
---
Abstract
The Russo-Ukraine war will have major impacts on the Indian economy. The crisis is related to the ongoing (2014–present) war in Donbas. The crisis emerged when Ukraine denied Russia's requests for "security guarantees", including a legally binding promise that Ukraine would not join the North Atlantic Treaty Organization (NATO). The situation was described as one of the most intense in Europe since the Cold War.
It is believed that Indian economy will face turbulence in days to come because of the ongoing war as certain goods prices will increase because of supply shortage.
On this background the discussion examines the causes of armed conflict between Russia and Ukraine and provides an account of how the Military Balance of the region was affected. Further, post liberalisation economy of India is integrated with the world economy. Therefore the discussion will also elaborate the effect of this conflict on Indian Economy.
About the Speakers
Suman Bery
Suman Bery was most recently Shell's Chief Economist, based in The Hague, The Netherlands. He is currently a Nonresident Fellow of the Brussels think-tank Bruegel, as well as a Senior Fellow of the Mastercard Center for Inclusive Growth. He is based in New Delhi.
Suman had earlier served as Director-General (Chief Executive) of the National Council of Applied Economic Research (NCAER), New Delhi. NCAER is one of India's leading independent non-profit policy research institutions. At various times Suman was a member of the Prime Minister's Economic Advisory Council, of India's Statistical Commision and of the Reserve Bank of India's Technical Advisory Committee on Monetary Policy.
Prior to NCAER, Mr. Bery was with the World Bank in Washington DC with a particular focus on Latin America and the Caribbean. At the time of India's economic reforms (1992-1994), on leave from the World Bank, Mr. Bery worked as Special Consultant to the Reserve Bank of India, Bombay. His professional writing includes contributions on the political economy of reform, financial sector and banking reform and energy trends and policy. He has been a monthly columnist for the Indian business newspaper Business Standard for more than a decade.
Manjeev Singh Puri
Ambassador Manjeev Singh Puri joined the Indian Foreign Service in 1982 and has served as Ambassador of India to the European Union, Belgium, Luxembourg and Nepal. Earlier he had served as Ambassador/Deputy Permanent Representative of India to the UN during the time that India was on the Security Council. He retired on 31 December 2019 in the rank of Secretary, Government of India.
Ambassador Puri has also headed the division in the Ministry of External Affairs dealing with UN issues on the social and economic side and been involved as a lead member of the Indian delegation at numerous global negotiations on climate change, sustainable development, migration, human rights and UN reforms. In addition, he has served twice in Germany (in Bonn and Berlin), in Cape Town, Muscat, Bangkok and Caracas.
Major areas of his experience relate to multilateralism (UN), Europe and Nepal. His professional focus has been on issues relating to the environment, climate change and sustainable development. He was a lead negotiator for India at the UN on issues relating to the post 2015 development agenda, Sustainable Development Goals and at the UN Conference on Sustainable Development held in Rio de Janeiro, Brazil in June 2012. He was a key member of India's delegation at various Climate Change negotiations, including the Conference of Parties of the UNFCCC in Copenhagen in December 2009 and before that at Montreal, Bali, Bonn and Poznan. Furthermore, he was involved with India's participation in the G8-G5 Summits from 2005 and was the point-person for the Major Economies Forum.
Ambassador Puri has a Master's degree in Management and did his BA (Honours) in Economics from St. Stephen's College, Delhi. He is presently Distinguished Fellow at The Energy and Resources Institute (TERI) and a Distinguished Visiting Fellow with the Ananta Centre.
D.B.Venkatesh Varma
Ambassador D.B.Venkatesh Varma was a Member of the Indian Foreign Service from 1988 to 2021. During his diplomatic career, he has worked in the Ministry of External Affairs, in the Office of External Affairs Minister and in the Prime Minister's Office. He served as India's Ambassador to Conference on Disarmament in Geneva, to the Kingdom of Spain and to the Russian Federation, until October 2021.
Amb. Varma has vast experience in India's Security and Defence policies, including its nuclear, missile, and space programs. He has more than 12 years of experience in the field of multilateral non-proliferation and disarmament—nuclear, chemical, biological and conventional weapons, having served three postings in the Conference on Disarmament in Geneva. He also served as Joint Secretary in charge of Disarmament and International Security in the Ministry of External Affairs between 2010-2013. He was a member of the UN Group of Government Experts on Missiles and on Disarmament and Nuclear NonProliferation Education. He was also a Member of the Indian Delegation to the UNGA in 1998-1999, 2003- 2005 and 2008-2016. He has attended 9 Sessions of the UN First Committee and 7 Sessions of the United Nations Disarmament Commission.
Amb. Varma was a key member of the Indian negotiating team involved in the Civil Nuclear Initiative with the US during his tenure as Director in the Prime Minister's Office during 2004-2007, and as a member of Indian Delegation to Conference on Disarmament and as Joint Secretary in the Ministry of External Affairs. He was involved in negotiations relating to all stages of the Civil Nuclear Initiative—the bilateral negotiations with the US, including the 123 Agreement; negotiations with the Nuclear Suppliers Group; and negotiations with the International Atomic Energy Agency. He was involved in negotiating bilateral nuclear agreements with other countries He has conducted bilateral negotiations with the US, Russia, UK, France, China and Pakistan as well as with Australia, Austria, Canada, Switzerland, Brazil, BRICS and CICA countries. He has vast experience with respect to India's Civil Nuclear Programme. Amb. Varma was key member of India's delegation to the Nuclear Security Summits during 2010-2013.
With three separate postings in Moscow, spanning three decades, Amb. Varma has vast experience in India's strategic relations with Russia. As Ambassador, he was closely involved with developing India's relations with Russia including Prime Minister Modi's Act Far East Initiative, deepening of India's Defence, Nuclear, Space, Energy, Commercial, Science & Technology and Cultural relations with Russia. He has spoken at the St. Petersburg Economic Forum and the Eastern Economic Forum in Vladivostok.
Amb. Varma was the first Recipient of the S.K.Singh Award for Excellence in the Indian Foreign Service in 2011 for his contribution to the negotiations of the Civil Nuclear Initiative.
Amb. Varma has an M.Phil in International Relations (Disarmament Studies) from the Jawaharlal Nehru University, Delhi. He has spoken at numerous think-tanks in Geneva, Washington, New York, Monterey, Vienna, Brussels, London, Melbourne, The Hague, Seoul, Madrid and Moscow. He has lectured at the Russian Diplomatic Academy, the Russian General Staff Academy in Moscow, the National Defence College, Institute of Defence Studies and Analyses and Foreign Service Institute, New Delhi, and the College of Defence Management, Secunderabad.
Lt. Gen. P.S. Rajeshwar
Lieutenant General Podali Shankar Rajeshwar PVSM, AVSM, VSM, ADC was a former General officer in the Indian Army. He last served as the 14th Commander-in-Chief, Andaman and Nicobar Command, from December 2019 to May 2020. He took office on 1 December 2019 when Vice Admiral Bimal Verma retired.[2][3][4] He superannuated on 31 May 2020, handing over command to Lieutenant General Manoj Pande. Earlier, he had served as the 12th Chief of Integrated Defence Staff, from November 2018 to November 2019.
Rajeshwar is an alumnus of Indian Military Academy, Dehradun and National Defence College, Delhi. He also holds a master's degree in national security administration from National Defense College, Philippines.
Rajeshwar was commissioned into the Indian army's Regiment of Artillery in December 1980. He has various operational experiences in high altitude areas, counter-insurgency areas in the North East, and counter-terrorist operations in Jammu and Kashmir. He has held commands of an artillery regiment during Operation Parakram, an infantry brigade at line of control, General-Officer-Commanding XII Corps, Director General of Perspective Planning at the Integrated Headquarters and GOC of Romeo Force in Jammu and Kashmir. He has also served in various United Nations Peacekeeping operations to Rwanda and Mozambique.
Rajeshwar served as 12th Chief of Integrated Defence Staff to the Chairman of the Chiefs of Staff Committee (CISC) of the Indian Armed Forces. He assumed the office on 1 November 2018 when Lieutenant General Satish Dua retired, and served in the same capacity till 30 November 2019 when Vice Admiral R. Hari Kumar took over.
During 38 years of his career, he has been awarded Ati Vishisht Seva Medal in January 2018 and Vishisht Seva Medal in January 2016 for his service.
Maj. Gen. Kulwant Nijjar
An accomplished professional and a distinguished senior leader with more than 38 years of experience in the Indian Army. Possesses strong decision making and problem solving skills along with the ability to develop and effectively implement action plans. An aviator and an avid sportsperson who successfully held staff appointments in various seniorities in Brigade, Corps and Commands of the Indian Army.
Gen Kulwant Nijjar is a renown disaster management expert and a conscientious leader who specializes in preparing plans and procedures for responding to natural disasters and other emergencies. He has the unique ability to enthuse those working with or around him with enthusiasm and zeal to attain a focused goal. His leadership during the floods in Kerala and Karnataka during 2017-18 was a shining example of his capabilities. His assessment of the damages, coordination of the resources and relief teams have been legendary. He had a wide spectrum experience in planning and execution of Disaster Management policies during natural and manmade calamities and I wish that his expertise be fully utilized. Proud to have known him for more than 40 years. An outstanding General who Indian Army is proud of . He is a visionary on strategic , economic and business issues at the highest level. A leader of extraordinary capabilities to deliver results against all odds.
Gen Kulwant Nijjar is passed out of Indian Military Academy in Dec 1982 and got commissioned into Regiment of Artillery. During the course of career he had the fortune of being together on numerous occasions; including some of the prestigious training courses. he continued to serve the nation till superannuation; and achieved great laurels and rank of a General. He is a very sincere, hardworking with perceptive mind and focused individual. He is a gifted and result oriented leader, highly competent and well accomplished person. He is professionally sound and has the potential to handle any complex issue with calm, confidence and maturity. Having managed strategic defence portfolios during his Army Career spanning over 37 years, he brings with him huge experience and academic credentials to handle relevant corporate role. He is an excellent leader and always leads from the front. His leadership skills and human management is par excellence. As GOC commanded 20000 troops under him and successfully achieved all missions assigned to him. An excellent human being and capable of heading any organization.
Abheek Barua
Abheek Barua is Experienced Chief Economist with a demonstrated history of working in the banking industry. Skilled in Banking, Econometrics, Portfolio Management, Risk Management, and Finance. Strong finance professional with a Master's degree focused in Econmics from University of Maryland at College Park.
Chief Economist and Executive Vice President –HDFC Bank –HDFC Bank is India's largest private sector bank with 4000 branches and is listed on the New York Stock Exchange. It is involved in every domain of banking ranging from micro-finance to investment banking. Member of apex ALCO, the risk committee, head of currency and interest research and advisory. Task involves advising clients ranging from small family businesses to India's largest conglomerates and transnational companies on the economic and financial environment and strategies to respond to this. I am also the bank's official spokesman for the media issues such as monetary policy, interest rate decisions. HDFC Bank FX research was voted best among domestic research houses by Asiamoney 2014 poll and second in the 2016. Voted Best rupee forecaster in India by Bloomberg for 2016
Chief Economist and Vice President, ABN-AMRO Bank,India. Member of core management committee advising the board on all strategic decisions, member of the bank's asset liability committee (ALCO) participating in balance sheet management for the bank, head of interest rate and currency research and advisor to the bank's head office in Amsterdam on country ratings.Strategist for ABN-AMRO equties.
Saugata Bhattacharya
Mr Saugata Bhattacharya is Executive Vice President and Chief Economist at Axis Bank. He was previously with Unilever in India and with Infrastructure Development Finance Company (IDFC).
He was part of the RBI's Working Group on Monetary Policy (2010) and the Finance Ministry Group on Estimating Foreign Savings (2011). He is a member of the Confederation of Indian Industries (CII) National Economic Growth and Investment Council, and co-Chair of the Economic Policy Committee of the Indian Merchants Chamber.
---
Certificate of Participants